Escape the Winter Chill with Aore
Winter. Cold hands. Frosty mornings. The flu. But it doesn't have to be.

Just a 2.5 hour flight from Australia and a 10 minute boat trip from the mainland, Aore Island Resort in Vanuatu delivers your Pacific island dream – white sandy beaches, friendly locals, cocktails and what's more, it's a balmy 27 degrees and full sunshine. The perfect easy Winter escape, Aore Island is a stunning Pacific Island retreat with an authentic and welcoming culture nestled in a unique natural paradise.

Dive on world class wrecks and snorkel through secret coral gardens teeming with tropical fish, swing from giant Banyan trees into crystal clear fresh water springs and discover a culture and customs unchanged for centuries.

Each afternoon sip cocktails by the pool before enjoying a dinner of the freshest seafood brought from the local fisherman daily.

The newly refurbished private bungalows are also the perfect place to relax to each night, and with each room complete with a complementary snorkel set for each guest, it's easy to simply walk out your door each morning, step onto the sand and snorkel along Aore's private reef to breakfast.

At the heart of the Aore (pronounced Ow-Ree) experience is the warm welcome and honest delight of the team led by Australian family Brad and Lisa Gray along with their children Montana and Zac.

Having bought the boutique island resort as their next life adventure, the Gray family hopes to share with you their pristine island home. From the newly renovated interiors, to the food, warm greetings and pristine waters, their intention is to make guests feel they've discovered an untouched paradise, reminiscent of nostalgic another time.

Aore Island Resort is a welcoming boutique escape with all the comforts of home yet none of the everyday distractions.

So this weekend why not book a flight and escape the Winter chill? The team at Aore are ready to welcome you!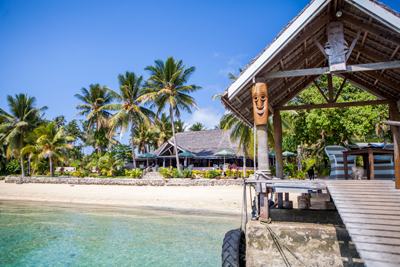 Interview with Lisa Gray, Aore Island Resort
Question: What originally inspired you to create the Aore Island Resort?

Lisa Gray: We were after "a lifestyle change", we had holidayed in Espiritu Santo, Vanuatu, so when we came across an island for sale in that part of the world, and we just went for it. We didn't end up buying the little island but a run-down old resort on another island instead; we had no experience but thought how hard could it be? How very wrong we were! But we could see this perfect location of little Bungalows along the water's edge and knew we could turn it into something really special, where people can just relax and reconnect with family without the disruption of televisions, telephones and limited Wi-Fi.


Question: How long have you lived in Vanuatu?

Lisa Gray: Just over 3 years.


Question: What was it like relocating to Vanuatu?

Lisa Gray: Even though Vanuatu is only 2.5 hours from Australia, it was a real culture shock, not only were we stepping back into the 60's, we had to learn to slow down, don't expect things to happen in a day, and whatever we thought should happen was definitely not going to happen that way in Vanuatu. We have learnt a lot from the Ni-Vanuatu people, they are the happiest, most giving people on this earth.


Question: How has moving change your family, positively?

Lisa Gray: Brad and I were to leave our young adult children behind in Australia, which was sad and not sure how I would cope, but after only a few months both kids decided to join us. At first it was an adjustment for everyone, we decided that if we were to work together we all can't live together, each has a house at the resort, some better than others, so a work in progress. We all work different shifts so each morning at 8:30am we come together for breakfast on the deck. Our lives are now very different, we drive a boat instead of a car, we don't have televisions, we spend most of our time outdoors and we feel better for it.


Question: What's the biggest challenge about owning a resort?

Lisa Gray: It's not glamorous at all, we're responsible for everything, our water, electricity, recycling everything that comes onto the island, buying sourcing and growing all food so its 24/7. We have 50 staff members and 53 guests at any one time, so sometimes I'm totally exhausted just from talking. You also need to be a jack of all trades as there are very few trades' people in our remote area, this falls into Brad's responsibility!


Question: Why will Australians enjoy Aore Island Resort?

Lisa Gray: Three things I tell people about Aore Island Resort and Vanuatu; it's people, they see joy in everything they do, Australia is so close to Vanuatu , and adventure. On any given day a guest can walk into a jungle, jump off a waterfall and float down a river, paddle up a stream with a local in a dugout canoe and end up in the most gorgeous blue lagoon, known as one of the famous Blue Holes, or simply snorkel out the front of the resort and be greeted by thousands and thousands of fish. Vanuatu is one of the last untouched communities in the world where industry, modern life or consumerism hasn't taken control. The local people still live simply, they fish for their food, grow their own vegetables and cook and live as a community. Espiritu Santo also has a lot of history, the Americans were here in WWII, they had 200,000 men stationed here during that time, Eleanor Roosevelt came to visit her country men and walked up our beach to meet them, James Michener wrote Tales of the South Pacific, Aore Island was there recreational base. Lots of memorabilia in the form of sunken boats, equipment and bunkers to be explored.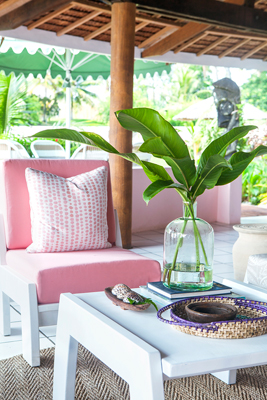 Question: What is the main feeling you hope visitors to Aore Island Resort have?

Lisa Gray: I know for a fact when our guests leave Aore Island Resort, they have a huge smile on their faces, they walk slower and they seem more gentle, most say they will be back. We hope they leave feeling relaxed and recharged to re-enter their busy lifestyle. The experiences they have been a part of will stay with them forever as Vanuatu is not only a holiday destination but an experience of a life time.


Question: What's a typical day like, for you at Aore?

Lisa Gray: I start a little later then everyone else, so hopefully a quick walk or swim before work, then into the office by 8am, say hi to guests along the way, check emails, family breakfast and debrief, head to housekeeping, talk to chef about the daily specials, fisherman usually arrives in the morning with last night's catch, buy lobsters, fish, squid, check rooms for arriving guests, we have three flights a day so will meet and greet the first flight and check in guests, now it's lunch time so it can get very busy with feeding 50 staff members and guests, so sometimes will end up washing up, second flight of the day arrives, meet and greet new arrivals, check emails again, staff change over at 3pm, brief restaurant for dinner and table setups, most guests get back from their adventures, so are ready to book tomorrows tour and tell you all about their day, check more emails, then our last flight of the day arrives around 6pm, after that it's a glass of something cold to watch the sunset at the front of the resort. I have to say the best part of my day is walking around and talking with not only guests but with staff members, you have no idea what they ask me, everything from my age to advancing money for a small loan to help someone in the community.


Question: What's next for you, your family and Aore Island Resort?

Lisa Gray: There is always something happening at the resort, we're currently finishing off renovating our One Bedroom Bungalows, just about to remodel our pool area including an outdoor shower made of coral, new private relaxing area's to watch the sunset. We also have a new Pig Pen in the design works, our Pigs are feed coconuts and are great supports for the left-over food from our kitchen, nothing is wasted on Aore, and everything is recycled. Oh yes, we have just started producing honey, our bees are collecting the pollen from 100 year old coffee trees planted by the French.


Interview by Brooke Hunter