Lindt Orange Semolina Syrup Cake
Recipe by Thomas Schnetzler, Lindt Maitre Chocolatier
Makes one 26cm Cake Ring Tin (ie Gugelhupf) and serves 10.
Preparation time 20 minutes, plus 60 minutes baking time. Level: Easy
"A delicious and moist cake that rises to any occasion. The semolina gives this cake an amazing texture, and generous chunks of Excellence Orange Intense make it a true chocolate indulgence. Other citrus fruits can be used to create the syrup which will give a bit of a tang, but for me nothing beats the classic combination of orange and chocolate. The final coat of delicious dark chocolate glaze is optional but if you are anything like me...the more chocolate the better." Thomas Schnetzler.
Cake

4 Oranges - zest only
250 g Unsalted butter at room temperature
180 g Caster sugar
Pinch Sea salt
1 Scraped vanilla bean
5 Eggs
450 g Semolina
200 g Almond meal
2 tsp Baking powder
150 g Natural yoghurt
200 g Lindt Excellence Orange Intense, chopped coarsely
Syrup

4-5 Oranges, zest and juice (depending on size)
200 g Caster sugar
1 Scraped vanilla pod
60 ml Orange liqueur, such as Grand Marnier
Chocolate Glaze (Optional)

100 ml Sugar syrup*
100 g Lindt Excellence 70% Cocoa
20g Unsalted butter
*for a simple sugar syrup place 100ml water and 125g of sugar in a saucepan and bring to the boil. Set aside.
Method

Preheat the oven to 170°C
Zest the oranges and combine zest, butter, sugar, salt and scraped vanilla bean in a bowl of an electric mixer. Mix until light and fluffy. Add eggs, one at the time and mix well after each addition.
Gently mix in the semolina, almond meal, baking powder and yoghurt. Lastly, stir through the chocolate chunks. Spoon mixture into buttered cake ring. Bake for around 60 minutes or until a skewer comes out clean.
In the meantime prepare the syrup by juicing oranges into a saucepan. Add sugar and vanilla pod.
Bring to a gentle boil and simmer for 5 minutes. Take off the heat and add the Grand Marnier. Set aside.
If using Chocolate Glaze, melt the chocolate in the warm sugar syrup and mix in the butter,
Whisk until smooth and glossy.
When cake is ready, remove it from the oven and, using a skewer, pierce some holes into the cake to allow the syrup to penetrate the cake. Gently pour ¾ of the syrup onto the cake.
Allow to sit for 20 minutes before turning out onto a serving platter.
Gently pour on the remaining syrup and then top with chocolate glaze.
Decorate with fine strips of orange rind and mini Lindt Gold Bunny.
For more recipes, visit
www.lindt.com
It wouldnt be Easter without the Lindt Gold Bunny; and this year, he introduces a fewnew friends and a big new range of irresistible Lindt Easter gifts and premium treats forthe whole family - all made with the finest Lindt smooth-melting chocolate.

Kids will love these milk chocolate
LindtMini Chicks
, 5-pack 50g, RRP $5.25,from Myer.
Lindor Milk and Assorted Egg PouchBags
, 432g, RRP 14.99, from Target.
Lindor Egg Pouch Bag
, 160g, Dark, Stracciatella andWhite (also available in Milk and Assorted), RRP $5.99,from Woolworths, Coles.
Individual filled Lindor Egg
, 28g, RRP $1.35.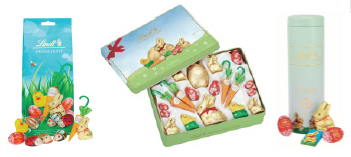 Lindt Easter Hunt Pouch Bag
, 240g, RRP $14.99,from David Jones, Myer
Lindt Easter Collection Tin
,295g, RRP $25.99, from Target.
Lindt Easter Tin
, 180g, RRP$19.99, from David Jones