Laura Rancie Joie de vivre Interview
Returning to the beautiful grounds of Como House and Garden, the extravagant Président Cheese Paris to Provence Festival will once again showcase the crème de la crème of France over three huge days, 21 – 23 November 2014, right in the heart of Melbourne.

In its fifth year, Président Cheese Paris to Provence will take guests on a journey to the French countryside, showering them with food, language, romance, culture and a truly decadent sense of joie de vivre, an enthusiasm and enjoyment for life.

Reminiscent of a French market village, the gardens of Como House will be transformed into an enchanting display of French retailers and producers, all bursting with Melbourne's finest mouth-watering regional French food, wine, fashion, books, music, children's clothing and toys, classes, home décor and 300 year old French traditions.

The Festival is unlike any other on the Australian events calendar; priding itself on being an interactive, visual and sensory experience that will bring a feeling of nostalgia to those who have visited the French countryside, and inspire those who haven't.

'I've been perfecting Paris to Provence over the last five years. My aim is for visitors to walk in and be immediately transported to the French countryside; everything from the smell, the sounds, the sights and the taste of Paris to Provence is designed to inspire an indulgent French sensory experience," Paris to Provence founder Laura Rancie said.

With cooking classes, indulgent food tastings, vibrant wines, roaming performers, 3D Notre Dame puzzle reconstructions and other French activities & traditions dotting the gardens this is a much-anticipated event that will entice both the young and young at heart.

This year the Festival has expanded to provide a truly authentic experience to visitors; including Je suis de, Les Santons de Provence and Le Projet des Écoles.

Visit Melbourne French Festival on Facebook or paristoprovence.com.au for further details.


Interview with Laura Rancie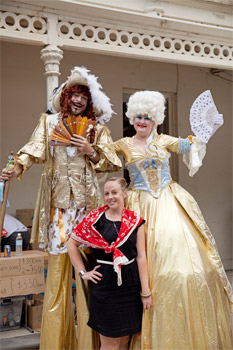 Question: What is the Président Cheese Paris to Provence Festival?

Laura Rancie: People often ask me this question, and the short answer is, it's the Melbourne French Festival. The more personal answer however is that it's my passionate love affair that I created to show Melbourne what it is that I (and in fact, so many other Aussies) love about France, the French language and it's culture. Now in it's fifth year, Paris to Provence captures the very essence of what we all love about France wrapped up into three whimsical days, with no detail left out and no expense spared to recreate my very own French fantasy right in the heart of South Yarra. It's really fun coming up with it all!


Question: What inspired the creation of this extravagant?

Laura Rancie: Six years ago I had just become a first time mum, and that was both exciting and daunting. I really felt I wanted a creative outlet that would let me express myself and still be a stay at home mum. Being from Marseille, my husband and I travel back to the south of France each year, specifically Provence and Paris. On one of these trips the idea came to me to recreate a small village style market like we had seen in Provence. I just ran with the idea and knew straight away that the Abbotsford convent would be a great place to have this small French themed market. I then randomly approached French shop owners and introduced myself, rather timidly, as a then 23 year old and explained my idea and if they could be involved. A lot said No, and others said oui – pourquoi pas? That initial market, still called Paris to Provence, attracted over 5000 visitors in a 6 hour period – which BLEW my mind! It was then that the idea for something bigger and more extravagant began …


Question: What is showcased at the Président Cheese Paris to Provence Festival?

Laura Rancie: Everything you could imagine that is reminiscent of France. In particular there are cooking demonstrations, food marquee's (think vienoisseries, patisseries, crepes, crème brulee, paella, charcuterie and of course with our fabulous new sponsor Président – there will be more than enough creamy Brie and Camembert on offer), French wines and a Pommery champagne bar, really flamboyant roaming French performers, plus loads of activities like the 3D Notre Dame puzzle reconstructions, escargot eating race, croissant throwing contests, and a Grand Ballroom showcasing hour long presentations on everything from buying your first French villa to barging the French Riviera. Having two littlies now myself, there's of course a French themed children's garden with free art classes, mini monet painting sessions, French story time and face painting and this year I have got an 1876 steam carousel that I am so excited about showcasing. It's magical to look at.


Question: Who have you created the Président Cheese Paris to Provence Festival for?

Laura Rancie: For myself first and foremost. I've really tried to be like Willy Wonka with this festival, in that if I can dream it in my head – then I have to have it at the festival. I want it to be an indulgent, visual, whimsical, interactive festival for the senses that people will just fall in love with and be reminded of why they fell in love with France in the first place. It's a festival for Frenchies who are now living here, and for Francophiles who are obsessed with all things Français.


Question: How is this festival unlike any other in Australia?

Laura Rancie: Well it's hard to define the festival – without attending, people have difficulty understanding its scale. It's not a food expo like Taste or Good food and wine even though the French food component is a HUGE part of Paris to Provence, and it's not a street based cultural festival like the Lygon street festival although we are a cultural festival.

It's a very unique stand alone event that is so much a part of me and all things I love about France. It's funny I've noticed that since starting this, other states have tried to follow and there's the newly created Gold Coast festival, and Sydney festival now too.

We've gone for a more 'Provence" feel to it this year too with a 120 kg shipment of Santons arriving the other day. These are little clay figurines depicting life in the south of France and are a 300 year old tradition. We'll have these on display with its history accompanying it so visitors can get a sense of the rich heritage this part of France has. Also new this year is that every exhibitor will have a sign up showing which part of France they're from – what a great way to incorporate all regions of France. Probably the biggest addition to the 2014 event though is 'Le Projet des Écoles" where we invited French speaking classrooms across the state to be involved by submitting a project as a class on -what France means to us'.


Question: What is involved in preparing for a festival, such as this?

Laura Rancie: 100 % focus all the time, every day, all year long. Owning your own business means that even when you're not technically on the clock, you're still thinking about it, still breathing it, still manipulating it in your head. I do everything and oversee every single aspect from budgeting and logistics to hiring performers and selecting the right exhibitors. My favourite part is always the creative side though where I can come up with things like the 'French Bulldogs in costume" contest – we have 2 French bulldogs so I was biased on that one a few years back. Or deciding that I want all my staff this year to wear 1800's folklorique costume. Usually all the staff are my own friends and family so hiring of staff is a breeze thankfully.




Question: What authentic French cuisine should attendees expect?

Laura Rancie: There's about 25 food marquees in the marketplace offering both eat on the spot food and take home goods. Président Cheese will be offering their creamy brie and camembert, there's always delicious vienoisseries and patisseries including the ever famous macarons. People love crepes and so we have 4 crepe marquees this year – the demand is just so huge. Charcuturie filled baguettes, and croquet monsieur – even raclette this year. But of coarse for the more adult crowd the pop up Pommery bar and garden will be a treat. Who doesn't love some good cheese with a glass of champagne in hand listening to French music and taking in French sights?


Question: How can we book a place in the cooking classes and other French activities?

Laura Rancie: The entry ticket allows access to the entire festival and we try to make absolutely everything free inside. It's best to pre book your entry ticket on the Paris to Provence website, as you won't have to wait in line on the day – queue's can get pretty long. But if you want to attend any of the workshops or demo's just have a read on the website at the schedule of events, and then one you're at Paris to Provence, show up 15 minutes prior that session to attend. For the hardcore Frenchy, we have the official Paris to Provence tee available online that reads 'Melbourne parle Français".

Tickets are available online at www.paristoprovence.com.au or at the door on each day of the Festival, November 21st – 23rd. For the hardcore Frenchy, we have the official Paris to Provence tee available online that reads 'Melbourne parle Français".


Interview by Brooke Hunter