Karen Tushaus KOOZA by Cirque du Soleil Interview
KOOZA is a return to the origins of Cirque du Soleil that combines two circus traditions - acrobatic performance and the art of clowning. The show highlights the physical demands of human performance in all its splendour and fragility, presented in a colourful mélange that emphasises bold slapstick humour.

'KOOZA is about human connection and the world of duality, good and bad," says the show's writer and director David Shiner. 'The tone is fun and funny, light and open. The show doesn't take itself too seriously, but it's very much about ideas, too. As it evolves, we are exploring concepts such as fear, identity, recognition and power."

The show starts with the Trickster bursting onto the scene like a jack-in-the-box in front of The Innocent, and that's just the first of many surprises to come. The Innocent's journey brings him into contact with a panoply of comic characters such as the King, the Trickster, the Heimloss, the Obnoxious Tourist and his Bad Dog.

Between strength and fragility, laughter and smiles, turmoil and harmony, KOOZA explores themes of identity, recognition and power. The show is set in an electrifying and exotic visual world full of surprises, thrills, chills, audacity and total involvement.

The name KOOZA is inspired by the Sanskrit word 'koza," which means 'box," 'chest" or 'treasure," and was chosen because one of the underlying concepts of the production is the idea of a 'circus in a box."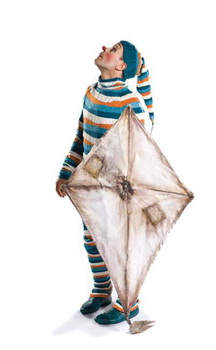 KOOZA by Cirque du Soleil

Sydney – Now playing until November 13 2016, Entertainment Quarter, Moore Park
Brisbane - From November 24 2016, Skygate Brisbane Airport (near DFO)
Melbourne - From January 20 2017, Flemington Racecourse
Perth - From April 13 2017, Belmont Park Racecourse, Victoria Park Drive (off Farmer Freeway), Burswood
Tickets at www.cirquedusoleil.com/kooza



Interview with Karen Tushaus, Wardrobe Assistant
Karen was born in Salvador, El Salvador and raised in Glendale, California. She went to college at the Fashion Institute Of Design and Merchandising for Fashion Design, soon after graduating she discovered theater. She has been working in theater and film ever since. She has worked for several regional theaters in the Southern California area including Pasadena Playhouse, and Civic Light Opera of the South Bay Cities. Her roles were all in costume related fields including wardrobe, costume construction, costume design, crafts, and set wardrobe. She was nominated for a regional Emmy for producing a commercial campaign.

After she moved to Vegas from Los Angeles, she applied to the show Believe, Cirque du Soleil's resident show and was hired in the Illusions Department in 2008. She worked for Believe as an Illusionaire for one year; Viva Elvis as Wardrobe Lead for 3 years; Zarkana as crafts technician for 2 and half years; and on Kooza as Wardrobe Assistant for 1 and half years.


Question: What can you tell us about KOOZA?

Karen Tushaus: KOOZA is a very traditional Cirque du Soleil show and I think one of the more beautiful shows. KOOZA is colourful, metallic and gorgeous.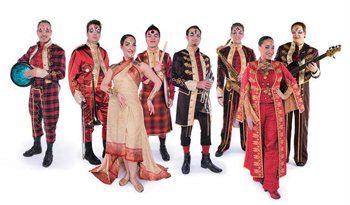 Question: Can you tell us about your role with Cirque du Soleil?

Karen Tushaus: I am a Wardrobe Assistant, there are two of us in that position and we have a Head of Wardrobe. As an assistant I do a little bit of everything; my major role is shoes – I take care of all the shoes, accessories and things of that nature however we all pitch in to do whatever needs to be done to get the job done. We use weights, thermal-plastics, prosthetics – a little knowledge of a lot of things to get everything that needs to be done, done!


Question: What's a typical day like, in Wardrobe?

Karen Tushaus: A typical day involves us going to work and there are two shifts; the first shift is to prep the show which is usually in the morning. All the laundry, that has been done the night before, has to be checked, pressed and we are required to fix anything that needs to be fixed; every single piece is checked. There are wigs, that are used and we need to press all of those along with regularly maintenance to ensure the costumes like fresh and crisp.

The second shift is the night shift and Dominic, Jason or I will do this shift, which involves maintaining the show, whilst the show is going on - which involves note-taking but also being there for the artists whether it's helping them with makeup, wigs or whatever problems may arise. Also if there is a change in the show, we help with all those little changes.


Question: How did you get your job with Cirque du Soleil?

Karen Tushaus: I worked in Las Vegas which lead me to KOOZA, eventually.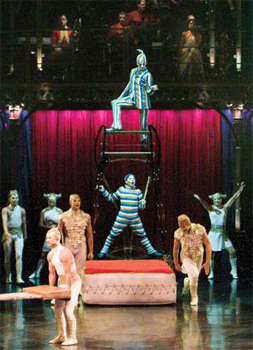 Question: Why do you enjoy most about working with Cirque du Soleil?

Karen Tushaus: What I enjoy most is that there is no day that is like another - there are things we do that are more or less the same but every single day is drastically different, it is very unique in that respect. And, we work with a lot of different personalities, cultures and dealing with all those different elements makes for an interesting day, every day.


Question: What inspired your passion for costumes?

Karen Tushaus: I have always loved art and I think this is an extension of that, it is so visually stunning. The costumes for KOOZA were all inspired by art.


Question: Can you tell us some of the interest facts about the costumes of Cirque du Soleil?

Karen Tushaus: Some of the analogy that goes into the costumes is all there to make it look like one thing when it serves a more aesthetic purpose. For example the contortionist costumes there are a lot of gold chains which look like metal chains but when you look up close it is a metallic plastic in a gold link; they also have stones on it which look like glass stones but they are silicone so the contortionist can fluidly move but still have the aesthetic of it, for the eye.


Question: What advice do you have for those who may want to work with Cirque du Soleil?



Karen Tushaus: The more versatile you are, in costumes or in every field or craft the better; you can specialist in one particular skill but if you are open to other things it is welcomed because you are on tour with this job – it's important to be flexible.


Interview by Brooke Hunter