Shandien Larance Cirque du Soleil Totem Interview
Cirque du Soleil is pleased to announce the long-awaited return of its trademark blue-and-yellow big top to Australia in October 2014 with an all-new, awe-inspiring production. Totem, a fascinating journey into the evolution of mankind, will open in Sydney on October 28th, 2014 and then tour to Melbourne, Brisbane, Adelaide and Perth.

Since its World Premiere in 2010, more than 3 million people across 25 cities worldwide have been mesmerized by the intimacy and beauty of Totem, winner of the 2013 Drama Desk Award for Unique Theatrical Experience. Featuring a cast of 45 acrobats, actors, musicians and singers, Totem is an uplifting array of athleticism, comedy, heartfelt emotions and surprising visual effects.

Written and directed by multidisciplinary artist Robert Lepage, Totem traces the fascinating journey of the human species from its original amphibian state to its ultimate desire to fly. The characters evolve on a stage evoking a giant turtle, the symbol of origin for many ancient civilizations.

Inspired by many founding myths, Totem illustrates, through a visual and acrobatic language, the evolutionary progress of species. Somewhere between science and legend Totem explores the ties that bind Man to other species, his dreams and his infinite potential.

To watch Robert Lepage's official interview about the concept of Totem, visit http://cirk.me/1a6CBhz.

For more information, visit www.cirquedusoleil.com/totem

Cirque Du Soleil: Totem – 2014/2015 Australian Tour

Sydney: From October 28th, 2014, Entertainment Quarter, Moore Park
Melbourne: From January 21st, 2015, Flemington Racecourse
Brisbane: From April 10th, 2015, Northshore Hamilton
Adelaide: From June 11th, 2015, The Plateau in Tampawardli
Perth: From July 31st, 2015, Belmont Racecourse

Tickets for all cities on sale at cirquedusoleil.com/totem.



Interview with Shandien Larance
Shandien grew up on a Hopi Native American reservation in New Mexico, USA. At the age of 10 years-old, she started learning the ancestral Hoop Dance often performed in cultural ceremonies and Powwows. She quickly discovered herself a talent for that discipline and started competing in various Native American Events throughout the country. Shandien's brother and mentor is Nakotah Larance, the current Hoop Dance World Champion. He greatly helped Shandien developing and perfecting her skills through the years.

In summer 2011, Cirque du Soleil Casting scouts were on the look-out for a second Hoop Dancer for the touring production TOTEM to perform alongside Shandien's brother Nakotah. Shandien, who already knew the TOTEM cast and employees, appeared to be a natural choice for the company. The 21-year-old has been touring with TOTEM ever since.

Question: Can you tell us about your role as a hoop dancer in Cirque du Soleil Totem?

Shandien Larance: I am called the Native Warrior Princess; I perform the traditional Native American Hoop Dance in the show as a duet with my partner Eric Hernandez. I represent the indigenous nations of North America. With 5 hoops, I create the shapes of animals the Native Americans were influenced by. It showcases the relationship between Man and Nature and somehow how our natural environment has had an impact in our evolution and in who we have become as a civilization. Through the shapes that I create, the Hoop Dance also tells the story of the evolution of an eagle, from birth to adult age.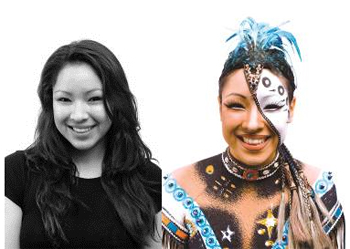 Question: What originally inspired you to begin Hoop Dance?

Shandien Larance: My older brother, Nakotah Larance, started Hoop Dance at a young age and quickly became World Champion in this discipline. Looking at him every day practicing made me want to learn as well. I started learning the dance 12 years ago at the age of 10 years old.


Question: How did joining Cirque du Soleil come about, for you?

Shandien Larance: The director of TOTEM, Robert Lepage, wanted to celebrate aboriginal cultures from across the Globe in this new show about evolution. The Hoop Dance was a perfect option for the TOTEM as its signification fits with the theme of evolution. Cirque du Soleil's casting team found my brother Nakotah on YouTube and invited him to join the cast of the show. I first encountered Cirque du Soleil when I visited my brother on tour with TOTEM. I got to know the team and they got to see me practice with him backstage. After 1.5 year or touring, they decided to create a second Hoop Dancer role for the show in case the Hoop Dancer would be out. As they knew me and knew I would work well with my brother, they offered me the role and I packed my suitcases and left with the show.


Question: Had you always dreamed of performing for Cirque du Soleil?

Shandien Larance: I had no clue what Cirque du Soleil was before my brother got contacted for TOTEM. Although, after visiting him a few times on tour, I got jealous that he had this amazing opportunity of being on stage every night and traveling the world while sharing our culture. I hoped I would get this opportunity as well…and it happened!


Question: Is Totem your first Cirque du Soleil show?

Shandien Larance: Yes. TOTEM is the only Cirque du Soleil production that features the Hoop Dance.


Question: What should Australian audiences expect from Cirque du Soleil Totem?

Shandien Larance: I think the audience should expect to come into a new world filled with magic and amazing acts that are tied to the evolution of mankind.


Question: Can you talk about your Cirque du Soleil training schedule and what is involved?

Shandien Larance: Before joining TOTEM, I trained for 2 months in Montreal to adapt my routines to the style of the show and learn new choreographies. Because we do 8 to 10 shows a week, I need to train outside the show to keep my body in shape and ensure the quality of my performance. Every day I warm-up for an hour, train and manipulate the hoops by myself for an hour and then do 20 minutes of cardio work-out either on the bicycle or the elliptical machine. Twice a week I train on stage for an hour with my partner and attend a Pilates class.


Question: What do you enjoy most about being a part of the Cirque du Soleil family?

Shandien Larance: I love the cast and crew members of TOTEM. Everybody is nice, awesome and passionate about what they do. I love to be able to experience other cultures, languages and food. I feel I am growing a lot by being surrounded by 21 different cultures on a daily basis. It doesn't feel like work when you work with a unique group of people like this.


Question: What's a typical day like for you during the performing season?

Shandien Larance: On a one-show day, I wake-up at noon and slowly make my way to the Big Top. I start by eating lunch, doing my training and work-out (see 2 questions above), apply my make-up (it takes 90 minutes for me to apply my make-up) and then start stretching for the show.


Question: How do you fit other commitments in around your Cirque du Soleil schedule?

Shandien Larance: On work days, it is difficult to fit other commitments. I usually do art & crafts on my days off or go hiking and running.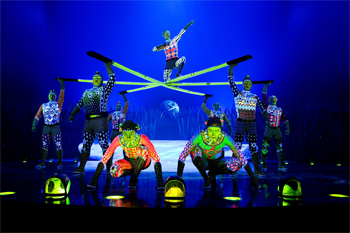 Question: What difficulties have you had to overcome to perform in Cirque du Soleil?

Shandien Larance: I joined TOTEM at 19 years old; this was actually the first real job I had ever had. I had to learn how to become professional and take care of myself without waiting for people to tell me what to do. I had to learn how to train seriously and to be committed fully to my art form. I pushed my limits and discovered new skills within me. I learned how to work with higher-ups and deal with different positions. Since we do the same show every day, I had learn how to keep myself occupied to not fall into a routine and keep myself entertained to step on stage fully motivated and ready to give to the audience. I basically learned how to stay happy and be healthy.


Interview by Brooke Hunter
OSA Images / Costumes: Kym Barrett / ©2010 Cirque du Soleil Inc.