Laura Houson OVO by Cirque du Soleil Interview
OVO, meaning "egg" in Portuguese, is a headlong rush into a colourful ecosystem teeming with life, where insects work, eat, crawl, flutter, play, fight and look for love in a non-stop riot of energy and movement.

When a mysterious egg appears in their midst, the insects are awestruck and intensely curious about this iconic object that represents the enigma and cycles of their lives. It is love at first sight when a gawky, quirky insect arrives in this bustling community and a fabulous ladybug catches his eye - and the feeling is mutual.

The cast of OVO is comprised of 55 performing artists from 14 countries specialising in many acrobatic acts. One highlight of OVO is the stunning Flying Act in which a group of scarabs soar high above the stage, from both edges to the middle landing on a platform. This breathtaking act combines many circus disciplines: banquine, Russian swing and swinging chair.

The Creative Team behind the world of OVO is: Artistic Guides Guy Laliberté and Gilles Ste-Croix; Writer, Director and Choreographer Deborah Colker (first female director at Cirque du Soleil); Director of Creation Chantal Tremblay; Set and props Designer Gringo Cardia; Costume Designer Liz Vandal; Composer and Musical Director Berna Ceppas; Lighting Designer Éric Champoux; Sound Designer Jonathan Deans; Acrobatic Equipment and Rigging Designer Fred Gérard; Acrobatic Performance Designer Philippe Aubertin; and Makeup Designer Julie Bégin.

Cirque Du Soleil OVO 2012/2013 Australian Tour
Brisbane - From July 14 2012, Northshore Hamilton
Sydney - From September 13 2012, Showring at The Entertainment Quarter, Moore Park
Adelaide - From December 6 2012, Tambawodli (Park 24)
Melbourne - From January 17 2013, Melbourne Docklands
Perth - From April 14 2013, Langley Park

Tickets for OVO are on sale now at www.cirquedusoleil.com/ovo


Interview with Laura Houson
Born in Drewsburd, England, Laura Houson joined the cast of OVO in 2009 after she sent a DVD to the casting department.

Laura discovered gymnastics because her mum used to do it and she wanted to try on her side. At the age of 5, she started gymnastics and decided to change for tumbling at 11. She did a lot of competition around the world and European championships.

When she is on stage, Laura likes to impress the audience, show her talent and be creative with her character. She is part of the act that features some 20 artists running, jumping, and walking across - and straight up - an 8 m vertical wall without artificial support. Power track and trampolines give them the speed, lift and momentum to take flight. Their athletic ability, physical strength and team coordination take care of the rest.

Laura Houson is 23 years of age and is part of the OVO Trampoline act, her insect in the show is a cricket.

Question: What should audiences expect from OVO by Cirque du Soleil?

Laura Houson: The audience should expect to have a fun and high level acrobatic experience full of colourful costumes!


Question: How did you go about joining Cirque du Soleil?

Laura Houson: Before joining Cirque du Soleil I was competing for Great Britain in Tumbling. At competitions Cirque du Soleil had talent scouts that you could approach and ask about joining the company. I spoke to one of the scouts and she told me to send a demo of my skills and tricks to their casting team, so I did and a little while later I got a phone call saying I had been chosen for OVO.


Question: You are a part of the trampoline and power track act - can you describe what you do on the Cirque du Soleil stage?

Laura Houson: In the show I'm a cricket and I am part of the trampoline and power track act. Throughout the show I appear in different acts and scenes mainly doing character work and moving props around the stage. At the end of the show I feature in the trampoline and power track act. During the act I work mostly on the power track, flipping, twisting and jumping. This act is full of high level energy and acrobatics.


Question: Has your family always been supportive of your Cirque du Soleil commitments?

Laura Houson: Yes, my family has seen the show in Texas, Chicago and Los Angeles. My parents are extremely supportive and very proud of me being in Cirque du Soleil.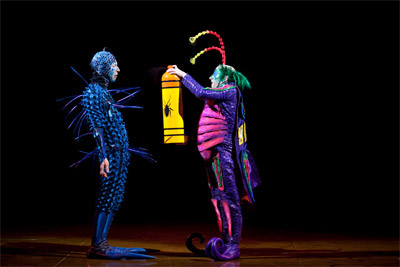 Question: You're a cricket in OVO by Cirque du Soleil - what is the best thing about being a cricket?

Laura Houson: I would say the best thing about being a cricket is that it allows me to be an acrobat but at the same time be a character, whether serious, funny, or even silly.


Question: Can you talk about your Cirque du Soleil training schedule and what is involved?

Laura Houson: Our training schedules mainly consist of training on the power tract and trampoline two times a week. If there is a change in the show we will also work on stage. We also have two physiotherapists that tour with us so I see them a few times a week. I also do strength and conditioning work after the show.


Question: What do you enjoy most about being a part of the Cirque du Soleil family?

Laura Houson: The thing I like the most is getting to know people from different nationalities. We have so many countries represented on tour and it's very interesting to see and hear everyone's opinions and view on things.


Question: What originally inspired you to begin gymnastics?

Laura Houson: I started gymnastics when I was 5 years old. My grandma took me and my brother to a local sports centre for a gymnastics class. I wouldn't join in unless my brother was going to the class too. After a while I started to enjoy myself more and more- my brother finished and I continued on.


Question: What do you love most about gymnastics and acrobatics?

Laura Houson: The thing I love the most whether it's performing or training is that you can always push yourself to the limit, try new skills and of course the adrenaline rush.


Question: What's a typical day like for you during the performing season?

Laura Houson: I wake up around 10/11 am and eat breakfast and check Facebook and my emails. I arrive at work at 2.30pm, do my make-up for the show, do the first show, at 8pm do the second show, after the second show do some strength and conditioning, arrive home at around midnight, call my family and then finally go to bed.


Question: How do you fit other commitments around your Cirque du Soleil schedule?

Laura Houson: At the moment I'm trying to learn French- my boyfriend is from Switzerland and speaks French.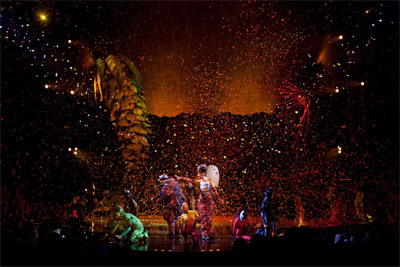 Question: Do you see yourself with Cirque du Soleil for years to come?

Laura Houson: I would like to see myself being with Cirque du Soleil for many more years but it's very demanding on my body especially being an acrobat. Maybe in a few years I can have more of a character role rather than an acrobat.