Cirque du Soleil: TOTEM Review
As we left the Cirque du Soleil blue-and-yellow big top my husband asked "Which was your favourite act?" and I had no answer - I couldn't begin to choose. Each and every act in Cirque du Soleil: TOTEM is breathtaking and insanely perfect.
Cirque du Soleil: TOTEM is far from regular and like nothing I've seen before with spectacular acrobatic skill showcased throughout the entire production.
The storyline of the show progresses with two comedic actors (Valentino the arrogant tourist and Misha the modern clown) which keeps the show moving (and allows you to breathe between acts).

It's impossible to list all of my favourite acts (because to be honest it was every single act) however crowd highlights included the Trapeze Duo love scene; the muscle ring act featuring two male and one female acrobatics; a Native American roller skating scene; and the opening act, which featured a very impressive and well-timed parallel bars performance.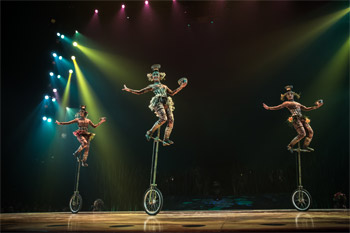 It would be worth seeing Cirque du Soleil: TOTEM just for the five unicyclists who juggle metal bowls, thrown with their feet onto their heads (or another's) and the two Crystal Ladies who spun many sparkly fabric squares, using just their legs and arms, all whilst lying upside down.

All of the performances are equipped with stunning costumes, amazing stage makeup and beautiful music.

Whether you've seen Cirque du Soleil before or not; you'll be overwhelmingly impressed by Cirque du Soleil: TOTEM.


Since its World Premiere in 2010, more than 3 million people across 25 cities worldwide have been mesmerized by the intimacy and beauty of Totem, winner of the 2013 Drama Desk Award for Unique Theatrical Experience. Featuring a cast of 45 acrobats, actors, musicians and singers, Totem is an uplifting array of athleticism, comedy, heartfelt emotions and surprising visual effects.

Written and directed by multidisciplinary artist Robert Lepage, Totem traces the fascinating journey of the human species from its original amphibian state to its ultimate desire to fly. The characters evolve on a stage evoking a giant turtle, the symbol of origin for many ancient civilizations.

Inspired by many founding myths, Totem illustrates, through a visual and acrobatic language, the evolutionary progress of species. Somewhere between science and legend Totem explores the ties that bind Man to other species, his dreams and his infinite potential.

To watch Robert Lepage's official interview about the concept of Totem click here.

For more information, visit www.cirquedusoleil.com/totem


Cirque Du Soleil: Totem – 2014/2015 Australian Tour

Melbourne: From January 21st, 2015, Flemington Racecourse
Brisbane: From April 10th, 2015, Northshore Hamilton
Adelaide: From June 11th, 2015, The Plateau in Tampawardli
Perth: From July 31st, 2015, Belmont Racecourse

Tickets for all cities on sale at cirquedusoleil.com/totem.
Photography by Matt Beard, Costumes by Kym Barrett.