Justine Schofield Hunter Valley Gardens Chocolate Festival Interview
Chocolate Festival at The Hunter Valley Gardens Promises a Sweet Weekend
Hunter Valley Gardens is proud to announce that on Saturday 6th and Sunday 7th of August, the fourth annual Chocolate Festival will take place. Proudly sponsored by Callebaut Chocolate this year is gearing up to be bigger, better and sweeter than ever, where visitors are invited to enjoy 'the sweet life' at the Gardens. The event will feature plenty of chocolate, breads, pastries, desserts, cakes, truffles and a number of sweet celebrities too including;
Adriano Zumbo (Masterchef and Zumbo on SBS) Daily Between 10am-3pm
Adriano is best known for his famous macaroons. His creations have gained him the highest respect from food critics and the public. The Champion of Patisserie will share his knowledge and dessert inspirations over the two days, and he will also judge the showpiece competition.
Justine Schofield (former Masterchef contestant) Daily Between 10am-3pm
Justine is a favourite from the first series of MasterChef, and since leaving the show has expanded on her knowledge of food by working in some of Australia's top restaurants. Justine will share her love of all things sweet at the Chocolate Festival.
Ed Halmagyi (Better homes and Gardens) Daily 10am-3pm
Fast Eddy, who is a whiz in the kitchen, believes 'when you do less, the ingredients can do more.' This fast cooking chef will share his encyclopaedia of knowledge on chocolate and food when he hosts the main stage over the weekend.
Celebrity Cafe
Visitors can sample their favourite celebrities' delicacies at the Celebrity Café, where a two course menu will be prepared by Justine and Ed.
Degustation Dinner - Saturday 6th of August from 6.30pm
For the true chocoholics, why not indulge in a special chocolate inspired degustation dinner prepared by award winning Hunter Valley Gardens Executive Chef Nick Vivian and award winning Dessert Chef Anna Polyviou from Bathers Pavilion Sydney. The mouth watering 7 course degustation dinner will be hosted at The Barrel Room at Tempus Two Winery on Saturday August 6. Tickets cost $150 per person, and bookings are essential.
Chefs and industry experts will perform demonstrations at the 'Live Patisserie Kitchen' giving guests a special insight into how the professionals operate in a commercial kitchen.
The Callebaut showpiece competition, now in its 2nd year, will challenge competitors to build works of art using chocolate. Visitors can also tempt their sweet tooth by visiting the Chocolate Pavilion, which will feature many of the Boutique Chocolate providers within NSW. Best of all visitors can sample and stock up on all the chocolate products.
Kids can also join in the fun and participate in an 'Ice cream sundae eating competition', and create and decorate their own cupcakes at the cup cake kitchen.
Entry to the Gardens is $23.50 per adult, $20 for Seniors, children aged 4 - 15 are $15 and older, with children 3 years and under admitted free. For further information please call 02 4998 4000 or visit
www.hvg.com.au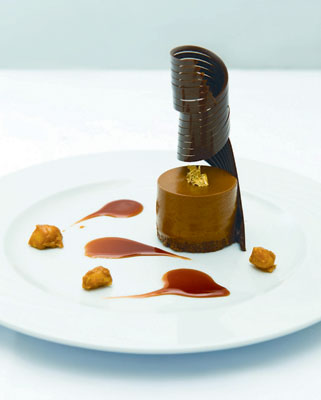 Interview with Justine Schofield
Justine Schofield was born and raised in Sydney. Her Mother is as French as you can find, (even after living in Australia for 25 years) and her Father as Aussie as they come.
Being half French Justine was lucky enough to be brought up in a bilingual house and so speaks French like a native.
After completing a diploma in hotel management and deciding it wasn't for her, Justine decided to follow her two great passions - travel and food. On the agenda was a trip each year to some far flung destination, where she could soak up the lifestyle and learn about the cuisine and of course, in particular were regular visits to France to further discover her heritage.
'My fascination with the food, and the French way of life draws me back every time, it's amazing how the food and culture change each time you arrive in a different region. I am equally proud of my French heritage as I am of my Australian and when the opportunity arises I would like to live in France for a while to discover every little corner I can!'.
2009 brought the opportunity for Justine to apply for Ch10's first ever series of MasterChef. She made it through a gruelling audition process to the Top 20 and then went on to blow the judges away week after week with, for someone so young, the extent of her food knowledge and her calm and organised approach to cooking.
Her highlights in the series where cooking for Jacques Reymond one of her icons and cooking off against Celebrity Chef Matt Moran. From around 7,000 applicants Justine made it to the top 4 of the highly acclaimed series and with an average of over 3 million viewers per night, she ended up with her fare share of fans!
Since leaving the MasterChef kitchen she has established her own catering business 'Justine Schofield Catering' and is flat out travelling around Australia doing personal appearances and catering for private functions. She is the food editor for TV Week magazine and a regular food commentator for Ch 9's A Current Affair. In 2011 Justine is considering several TV project and planning her next trip overseas.
Question:
What will you be doing at the Hunter Valley Gardens Chocolate Festival?
Justine Schofield
: I will be doing three different dishes over the two day festival. A lot of people don't know how to cook with chocolate in savoury dishes and I want to explore that. I will be doing one of my favourite old school recipes, chili con carne with chocolate through it and not using mince meat but using steak and slow cooking the meat so it falls apart. The chocolate will provide an intense, rich flavour; the meal isn't sweet but the chocolate gives it an extra depth.
I will also do two other dishes. The second will be Madeleines Stuffed with Mascarpone Cheese with chocolate chips all the way through it and then coated with a Spanish chocolate sauce which is for the chocoholics because the recipe is a chocolate explosion. The other dish will be for the kids who are coming down for the festival and I'll be doing my famous Chocolate Caramel Salted Brownies. There will be lots of chocolate involved and afterwards I think I'll be saying "no more chocolate"!
Question:
Can you share your tips and tricks for cooking with chocolate?
Justine Schofield
: I don't know why but some of my friends put chocolate in the fridge but when you put chocolate in the fridge it sweats. My tip is to keep chocolate in a nice, dry area and buy good quality chocolate. Honestly buying good quality chocolate is second to none, great chocolate will take you to another level in regards to a chocolate experience. Investing in a better quality chocolate in your chocolate fondue will make it ten times better because you can tell the difference with a good quality chocolate.
Question:
You have a French background - how does the way the French use chocolate differ from in Australia?
Justine Schofield
: Australia is a very multi-cultural country and we use chocolate in all different ways, not just eating the Cadbury chocolate bar on the couch! With French cooking, chocolate is used in a variety of ways even in savoury meals including red wine sauce with chocolate which is very French. The chocolate used in profiteroles is good quality chocolate, which makes the dish stand out more than anyone else's. I am using a French influence in some of the dishes I will be preparing at the Hunter Valley Chocolate Festival; you will see the French influence in regards to cooking with good quality chocolate.
Question:
You have travelled a lot, can you talk about the different types of chocolate you have seen, eaten and cooked with in other countries?
Justine Schofield
: I have just returned from South Africa where I was doing some catering and they had fantastic chocolate, I'm not quite sure if it was from the area or Belgium chocolate. It was phenomenal to see different people cooking with chocolate, in different ways, it is really exciting. The dishes I am cooking at the Hunter Valley Chocolate Festival have all originated from my travels. I met a friend who is South American and I learnt a dish from her and my Madeleines' recipe is my mum's recipe that she learnt from her Grandma.
Question:
What have you been doing since the first season of MasterChef?
Justine Schofield
: I just launched my website which is
www.justineschofield.com.au/
. The website contains lots of different things including recipes and a blog about my food travels. I went hunting in Africa and we cooked the meat that we hunted - I have had the most amazing food experiences in South Africa and a lot of people don't know about the food there, so I will write and post lots of photos about that.
My show, Everyday Gourmet With Justine Schofield, is on television at 4pm on Channel Ten at the moment too and I am working on my catering business.
I am very lucky, I know I have an amazing life that allows me to go to the beautiful Hunter Valley to cook with chocolate and meet great chefs.
Question:
Do you think MasterChef has motivated Australians to get cooking in their own homes?
Justine Schofield
: Absolutely! Doing Everyday Gourmet with Justine Schofield has really opened my eyes to home cooking. Being on at the 4pm slot where there is lots of Mums at home has changed my ideas, I started off cooking all these extravagant meals and that wasn't working. Now I have bought it back down to what people really want to see which is home cooked, fast meals that are delicious and are a little bit different to what they usually know and buy. The feedback has been phenomenal with people saying "I watched the show at 4pm, at 4:30 I was out the door and I bought all the ingredients to cook it for my family that night; everyone loved the meal and the recipe worked. Thank you!"
I love hearing the feedback, it's a pleasure to be able to be doing that for people. Before MasterChef it was about fine dining restaurants and I think at the moment there is a real interest in home cooking and everyone is becoming interested with trying things they would not have tried in the middle of the week before but still keeping it simple instead of doing a chicken stir-fry. People are taking their meals to another level and are genuinely interested in trying different techniques with cooking.
Question:
What tips do you have for home chefs wanting to audition for the next series of MasterChef?
Justine Schofield
: Make sure you're prepared for a lot of long, long, long, long hours (laughing)! Prepare yourself for the intensity because the criteria for MasterChef is that you have never worked in a kitchen before and because of that the show is intense, exciting and a completely different world. At the end of the day if you stay true to yourself, cook from the heart and progressively get better the judges will see that and you'll have a really good chance to do fantastic on the show.
Question:
When you're at home, what are your favourite dishes to serve?
Justine Schofield
: Oooh! I change my mind all the time, right now I am slow cooking Beef Cheeks in a French heavy based casserole dish with red wine, mushrooms and bacon. It is so cold outside and with this winter weather my favourite dishes are anything stewed, roast, slow cooked or braised. I might even put some chocolate in my Beef Cheeks to see how it goes, as a test!
Interview by Brooke Hunter