Jurlique Rose Hand and Body Ritual $120
The Rose Hand and Body Ritual set provides a nurturing self‐care ritual over the holiday season, featuring a selection of Jurlique's most‐loved products, including a 300mL Rose Shower Gel, 300mL Rose Body Lotion and 125mL Rose Hand Cream.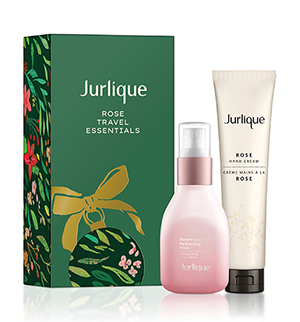 Jurlique Rose Travel Essentials $58
The Rose Travel Essentials is a rose‐powered gift set perfect for jet‐setting friends and family.
The set contains a travel‐sized 50mL Rosewater Balancing Mist and 40mL Rose Hand Cream to help hydrate and soothe both face and hands.
Jurlique Hand Care Discovery Set $103
Jurlique's uniquely scented hand care discovery set, containing botanical extracts, are the perfect gift for nature lovers.
Each set includes a nourishing Rose, Lavender, Citrus and Jasmine Hand Cream 40mL to help hydrate hands while awakening the senses.
Each radiance‐boosting set features a 75mL Activating Water Essence+, 15mL Rosewater Balancing Mist, 5mL Rare Rose Serum and 50mL Rare Rose Cream.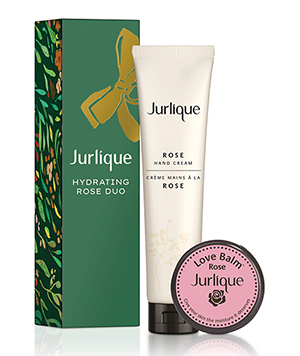 Jurlique Hydrating Rose Duo $43
The Hydrating Rose Duo is a rose‐powered stocking filler set featuring a travel‐sized 40mL Rose Hand Cream and Rose Love Balm 15mL that help hydrate and soothe both hands and lips.
Jurlique Restoring Hand Duo $60
Revitalise your senses with Jurlique's Restoring Hand Wash & Lotion Duo that protects and enhances the skin's barrier function.
This set features the Restoring Hand Wash Lemon, Geranium & Clary Sage, 300ml and Restoring Hand Lotion Lemon, Geranium & Clary Sage, 300ml
Review: Nothing quite says Christmas than one of these beautiful luxurious Jurliqe packs, spoil your family and friends, you can't go wrong with Jurlique skincare!
We love the rich nourishing texture and gorgeous scent that is Jurlique.