Couple-duo Jess & Matt's trademark harmonies have grabbed attention around the globe. In 2015, their debut self-titled album hit #1 on the Australian Album ARIA Chart and their 2018 album 'Songs From The Village' featuring Chris Isaak and Rick Price reached #2.

In 2019, Jess & Matt were finalists in the Vanda & Young Global Songwriting Competition with entries from 48 countries and their much anticipated debut original album 'Wildflowers' which showcases these new songs, is available globally now.

Jess & Matt's sound showcases influences of folk-rock and contemporary country, with a pop-centric approach bases around the pair's lush harmony driven acoustic roots and honest songwriting.

"The last two years have been a huge period of growth, creativity and self-discovery for us, and the last 12 months specifically have gifted us the ability to throw ourselves into the development of this new musical chapter. We knew we wanted to be completely hands-on in independently co-producing this debut original record."


Interview with Jess
Question: How would you describe your music?

Jess: Songwriting is often a therapeutic process for us and our music has always been rooted in raw acoustic story telling. If we had to define it genre wise, it sits somewhere between singer / songwriter and indie acoustic folk with some contemporary country influence from all our time spent in Nashville.


Question: Can you tell us about Wildflowers?

Jess: Wildflowers is a pretty personal document to our musical freedom and intense self-discovery. We've been writing these songs over the past few years here in Sydney and in Nashville, and stepping out independently gave us the freedom to produce these songs the way we always wanted. The album is a journey of our relationship, with all the struggles and triumphs we've faced over the years. The album concept is a celebration of the silver-lining - it's through the harshest and wildest conditions that wildflowers bloom and flourish.


Question: Is there a particular message you hope listeners take from your music?

Jess: I think it's important for people to hear through our songs that every life is complicated, fragile and certainly not perfect despite what the world sees. We all have a past, whether that be traumatic or beautiful and each year we learn to grow and become stronger when we accept these past experiences.


Question: Has Covid19 influenced your music?

Jess: The pandemic has definitely had a huge influence on this record. Right before our first lockdown, we shacked up in a cabin in the Southern Highlands of New South Wales, just up the road from where Matt Corby made Telluric. Hooking up power and hot water, we started creating the record that we so longed to make, while the world around us hoarded toilet paper. Now flash forward to the release we find ourselves in another lockdown, so it feels like we've come full circle.. a lot of these songs definitely relate to a lot of the challenges we've all faced over the last 18 months.


Question: Do you prefer performing live or recording?

Jess: That's a tough question as they are such different experiences… one is birthing a new song, experimenting with the process and sounds and the story. The other is trying out these songs in front of real-life people, seeing if what you made actually works and connects. It can be a very daunting thing performing songs for the first time, and sometimes it's the songs that you least expect to connect that people want you to release!


Question: What can we expect from your upcoming shows?

Jess: One of our favourite venues in the world is Chapel off Chapel in Melbourne, which is an old church converted into music venue. There is something so magical and nostalgic about these chapel venues and the natural acoustics are really special. We played many of these songs for the first time at Chapel Off Chapel with our band just before Covid hit our shores, and trying to replicate that same-vibe in Sydney has always been difficult, until now. We thought, let's hire a church! So for the first time we are taking over the incredible Jubilee Chapel in Waverley with our full band, playing the album track by track - bringing those magical intimate moments and incredible natural acoustics to all of our live shows.


Question: What motivates you most when writing music?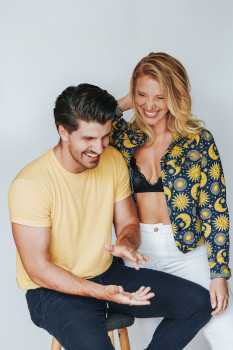 Jess: The craziness that when you first sit down you have a blank canvas and depending on how you are feeling at the time completely steers what song you write. By the end of the day you have something that didn't exist a few hours ago…


Question: What or who was your inspiration to go into the music industry?

Jess: I was working in a bar and writing songs in my bedroom, and Matt was gigging full time. He convinced me to quit my job and buy myself some audio gear, and I quickly found myself gigging 3 times a week. They say you should never work with your partner, but we started writing together and then playing in a duo…. That was 7 years ago now!


Question: What is the biggest challenge you have faced along the way to your musical success?

Jess: We've experienced a lot of setbacks, especially with covid… Shows being cancelled, all our work being pulled from underneath us in the midst of making our first independent record. It's been a crazy time for us both, but it's definitely made us more resilient and makes this debut release even more sweet!


Question: What has been your favourite part of being a couple-duo?

Jess: Being able to travel the world together to play our music has been pretty incredible. It always feels like you are on a new adventure and having new experiences together.


Question: Tell us about your experience in the Vanda & Young Global Songwriting Competition?

Jess: We were so overwhelmed finding out we were nominated as finalists in Vanda & Young with entries from over 48 countries. Being listed alongside some incredible fellow Aussie artists who we look up to like Matt Corby, Dean Lewis and Jarryd James was pretty surreal. When you write songs you have no idea how they will be received, so just to know that our songs are connecting with people is the greatest prize of all.


Question: What's a typical day like?

Jess: Typical day starts off with Matt putting on Frank Sinatra and delivering me my morning coffee, followed by some morning meditation, exercise and then getting into work preparing for shows or writing new songs.


Question: What's next, for you?

Jess: After the album release we would absolutely love to book in some more tour dates, before we start thinking about starting a little family of our own!


Question: Can you share your socials? (links please)

Jess: Instagram
Facebook
TikTok
YouTube
Website


Interview by Gwen van Montfort


27 AUG Wildflowers Album Tour
Jubilee Chapel, NSW

10 SEP Wildflowers Album Tour
The Chapel Theatre, VIC