Did you know that since coming to life 20 years ago that over 700 Star Wars sets have been released?
This year marks the 20th Anniversary of LEGO Star Wars, one of the most loved and iconic toy brands in the world.

To celebrate, Jens Frederiksen, LEGO Star Wars Creative Director is coming down under from LEGO HQ in Denmark. Jens has worked with the LEGO Star Wars team for 20 years – meaning he has worked on every LEGO Star Wars model possible.

Jens will be hosting the world's biggest LEGO Star Wars unboxing, at Westfield Chatwood, Sydney from the 4th – 5th May, for international Star Wars Day (May the 4th be with you!). Australia's very own LEGO Certified Professional Ryan McNaught will also be on ground to help with the unboxing and building of this top secret set.


Interview with Jens Frederiksen, LEGO Star Wars Creative Director
Question: How are you celebrating the 20th Anniversary of LEGO Star Wars?

Jens Frederiksen: I'm going to be taking part in the world's largest LEGO Star Wars unboxing to reveal and build a surprise giant LEGO Star Wars model. The event is happening on May the 4th Be With You day with Australia kicking off celebrations around the world.


Question: What are you looking forward to most during your Australian visit?

Jens Frederiksen: I have never been in Australia, so I really look forward to my trip! I am especially looking forward to the unboxing event, meeting people and chatting about LEGO Star Wars. I do hope I will have enough time do some sightseeing in Sydney.


Question: How did you become the LEGO Star Wars Creative Director?

Jens Frederiksen: I was educated as a lithographer, and spent ten years in the graphic business. The career shift happened more or less as a coincidence! I have been a scale modeler my whole life (plastic kits of mainly WW II subjects: tanks, ships and planes, classic wooden ships, ships in bottles and many other things). I was contacted by LEGO at a model exhibition in Copenhagen. I was hired initially as freelance designer for making prototypes, but shortly after I got a permanent job as model designer.
Soon after I heard that LEGO Star Wars was going to be launching so I asked my leader straight away if I could join the team. I started out sketching models for LEGO Star Wars, as well as designing for Harry Potter and LEGO Batman. In 2002 I took over as the creative lead on LEGO Star Wars meaning I head up the awesome design team.
Question:
Is the LEGO Star Wars Creative Director the coolest job, in the world?
Jens Frederiksen
: I think so! I work for the best toy brand in the world designing toys that give children around the world hours of fun and creative play. Also, getting to be a part of the Star Wars universe is fantastic!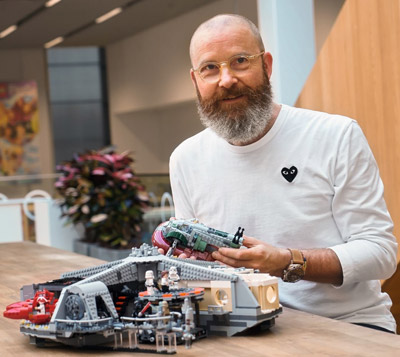 Question:
Which of the LEGO Star Wars models holds the most memories, for you?
Jens Frederiksen
: The Ultimate Collectors Millennium Falcon set 10179 is special to me and one of my favourites. When I designed it back in 2007 it was the biggest LEGO set ever made with 5,174 pieces!
It came to life in a very unusual way! It started out as a side project I worked on in my spare time as I wanted to make a Millennium Falcon in true minifigure scale.
Some colleagues saw the project and asked if we could make it a real product, so that's what we did. It was a huge challenge for the whole company, as there had never been a LEGO product of that size before!
Question:
Who is your favourite Star Wars character and why?
Jens Frederiksen
: It is hard to choose just one, but there is one mini-figure that is very special to me… Greedo! I actually sculpted the mould for his head, so to this day I've had a hand in all the Greedos still featuring in LEGO Star Wars sets, today.
Question:
What's next for LEGO Star Wars?
Jens Frederiksen
: There's always more to come – the Star Wars universe is endless. With new movie Star Wars: Episode IX coming out later this year as well as a TV series in the works it means even more models to be designed and built. I think that should keep us busy for at least another 20 years.
Interview by Brooke Hunter