Jenolan Caves House
Along with frost and flurries of snow, an annual Blue Mountains tradition is rushing towards us again - Yulefest (Christmas in July). During Yulefest, Christmas-style festivities are offered by all the best Blue Mountains establishments, including heritage-listed Jenolan Caves House, where children can even visit Santa inside one of the famous caves.
During Yulefest, Caves House guests are offered log fires, a huge Christmas tree, roast turkey and plum pudding, plus children can receive a gift from Santa inside a cave - quite an experience. Jenolan Caves draws visitors from all over the world, not only for its world famous caves, but also for the historic Caves House.
In the 1890s when Caves House was built, the arduous journey to the isolated caves made it necessary for visitors to stay at least one night. Now, it's a comfortable day trip from Sydney, however an overnight stay in the grand Caves House allows guests to appreciate the recent revival of Caves House to its glory days. Caves House caters for all guests, from families and backpackers to bridal couples and corporate groups.
Aside from Yulefest, current Caves House temptations include 'Country Luncheon' in magnificent Chisolm's Restaurant, lunch & cave tour packages, indulgent dinners, and the new wine cellar hidden deep inside one of the famous caves. Overnight guests can choose from a range of lavish dinner, bed and breakfast packages, including the Yulefest Package, which includes plum pudding and cave tours, or the indulgent Romance Package, which includes chocolates, champagne, rose petals and candles.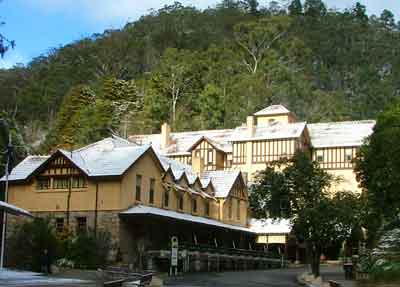 Jenolan Caves House is one of the Blue Mountain's 'hidden gems'. It was designed in 1897 by Government Architect, Walter Liberty Vernon, as a resort or retreat for the wealthy. (Vernon designed many now famous buildings, including the Art Gallery of NSW). To cater for the high expectations of the well-to-do, Vernon included a ballroom and magnificent grand dining room (now Chisolm's Restaurant). In the elegant style of the Victorian era, Chisolm's bay windows stretch far up to lofty ceilings. The crackling fire, candlelight, antique sideboards and grand piano, make dining an experience in itself. Today the world famous Jenolan Caves are visited by people from all walks of life. There are budget overnight packages for families and pensioners, lower priced bar meals, plus overnight guests receive cave tour discounts.
For more information, call 1300 76 33 11 or visit
www.jenolancaves.org.au