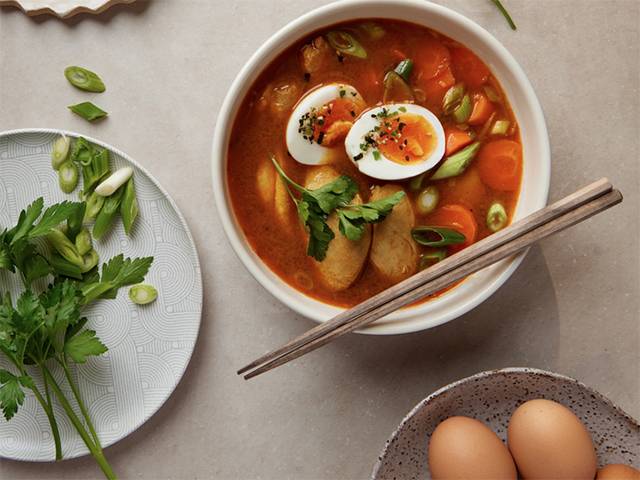 Whether you're a busy parent looking for quick and easy weeknight dinners or an enthusiastic home cook seeking delicious yet wholesome options,
Australian Eggs collection of 'Family Friendly Feeds' has got you covered.
Japanese Chicken & Egg Curry Soup
Serves: 4
Time: 30 minutes
Ingredients:
4 large eggs
2 tbsp extra virgin olive oil
3 chicken thighs (500g), trimmed of excess fat and cut each thigh into 3 pieces
40g ginger, finely sliced or grated
2 cloves garlic, finely chopped or crushed
1 tbsp curry powder (for authenticity look for a Japanese curry powder, but any good one will do the job)
1 tbsp corn flour, mixed with 2 tbsp water
2 tbsp tomato paste
1 tbsp honey
1tbsp miso paste
1 litre chicken stock
2 carrots, cut the Japanese way 'rangiri' (on the diagonal into bite sized chunks)
2 green onions, sliced diagonally into small pieces
1 tsp soy sauce
Method:
Heat large saucepan over medium-high heat and pour in 1 tbsp extra virgin olive oil. Once hot add the chicken. Brown on all sides and remove from the pan. Set aside.
Lower the heat and add another tbsp extra virgin olive oil to the pan. Add the ginger and garlic and sauté for a minute. Add the curry powder and corn flour mixture. Stir to make a paste. Add the tomato paste, honey, miso and chicken stock. Stir and bring to the boil.