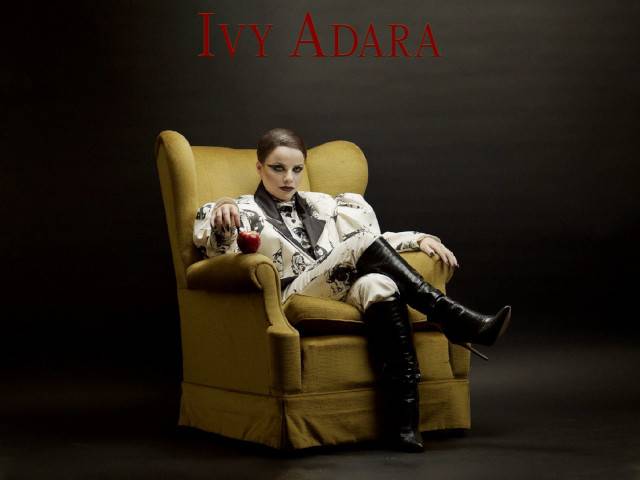 Offering clever and catchy confessions magnified by expansive pop soundscapes, Australian-born and Los Angeles-based singer and songwriter Ivy Adara, encourages such a connection, especially with her newest single "Want What I Can't Have."

"If you ever want something you can't have, this song is for you," said Ivy Adara."I fell for a guy who was in a relationship. The story of Adam and Eve seemed interesting to me as a thematic backdrop because it's the origin story of temptation. I wrestled with temptation. I hated it, but I was scared and surprised how much I loved it. I was a victim to the double bind of knowing on the one hand I wanted something, but on the other, it wasn't good for me. Why do I always want what I can't have?"

"Want What I Can't Have" was written in Los Angeles with David Pramik in only a few hours. Ivy had the concept for the track floating around her head for months and was continuously mapping out in her mind the best possible way to tell the story. "Want What I Can't Have" is a classic rock song with a modern, minimalistic twist.

Speaking further on the song's production, Ivy said, "My main production reference for this song was INXS "Need You Tonight." The way the layers call and respond to one another is soothing in a way that is forgotten in most of today's music. Incredible attention was given to every melodic layer and each sonic motif became the star player of the song. When we started to refine the production, it had a beautiful simplicity to it, so we tried to keep the lyrics as simple and cohesive as possible to not overpower the melodies. One of the special things about this production is how it follows the natural story arc of the lyrics with music. The music grows and crescendos at the same time as the story, when the turmoil and agony set in as she realises she can't have what she wants, that's when the speakers start hitting you in the chest."

Ivy's raw, dreamy vocals chase a vintage acoustic guitar that provides an organic canvas to tell the story of a girl who's brave enough to face her demons in order to find herself again. Inspired by her love for the acoustic genre, she wanted to channel the integrity that undergirds the music of Carol King and Carly Simon. Wrapped in a warm, driving rhythm, the lyrics make you want to dance and cry all at the same time. "Stranger" and "Apartment No. 2" - Ivy's most recent singles, received warm reception from Jaxta, Women In Pop, Thomas Bleach, Milky, Amnplify, and more, plus "Stranger" was added to Unearthed Radio. "Apartment No. 2" premiered on triple j's Good Nights with Bridget Hustwaite.

Adara has had countless sync success on shows such as So You Think You Can Dance (FOX) and Love Island (CBS) with upcoming releases featured in the JLo movie, "Marry Me" and with artists such as Mae Muller, Cheat Codes and Tinashe. The songstress has received recognition on a global scale as a songwriter collaborating with renowned producers, artists and songwriters such as: Cirkcuit, Captain Cuts, Roget Chahayed, Oak, Selena Gomez, Rita Ora, Daya, Jennifer Lopez, and G-Eazy.

Ivy recognized her path early on and wrote her first song at seven-years- old (inspired by Aussie artist Kasey Chambers). From then on, the budding talent simply never stopped writing, leaving her discography's total streams exceeding 200 million on Spotify alone. Becoming an in-demand talent behind-the-scenes, she seamlessly transitioned into the spotlight as a solo artist with her first EP Introduction. She then went on to perform co-written song "Bye Bye" at Coachella and on many more stages with acclaimed DJ, Gryffin.