Singer-songwriter and multi-instrumentalist Interstellar Tay has today shared her emotive new single Garden Song, a memorable, heartfelt record detailing the shock of grief, out now.

Garden Song is a deeply special track – one that will remain with the listener long after the music ends. With influences such as Paul Kelly, Edward Sharpe and the Magnetic Zeros and First Aid Kit, Garden Song is a true amalgamation of sublime folk songwriting. Comforting and sweet, acoustic guitars gently cushion the layers of vocal harmony and textural percussion. Garden Song has such a precious feel to it - and the story behind it is moving and sacred, as Tay explains, "Garden Song is about the night my grandfather died. I'm not a particularly spiritual person, but we were very close. At 11pm that night I had a dream about somebody stomping on piano keys which woke me up. In the morning I called my grandmother and she told me that he had passed away at 11pm that night. I didn't think too much of it at the time. However, after his funeral we were all having a chat about the night he died. Both my uncle and grandmother told us that they were also woken up at 11pm. So the song is about how jarring losing the connection of a loved one can be." But don't be misled, this exquisite song is upbeat and authentic, a celebration of life and the connection the two shared, with the melancholy of loss intertwined within the joy.

On track to accompany the drop was a supremely fitting video for Garden Song that is reflective of the meaning behind the track, with Brazilian animator Patricki Lucas interpreting the story of grief through his artwork. The clip is full of movement, life and spirit, as Tay describes the process, "Patricki's storyboard idea was to have a mage and a student. The mage guides the student throughout the film clip. In the end the student is alone, but carries the mage's teachings. A little more left of field than I was originally imagining! However, I feel that it captures the transfer of my grandfather's love and knowledge to me, without the heaviness of clearly spelling the literal meaning of the song lyrics." However, an asthma sufferer, Patricki was awfully struck down by Covid19 lastweek and still remains in hospital in ICU, so there is an understandable delay on the delivery of the video.

A Conservatorium-trained bassist, Tay grew up in a musical household with several generations of her family working as professional musicians. This early influence shaped her work ethic and musical taste throughout the years, as she says, "For me, music was sort of more of a given rather than a choice. There have been a few occasions where I've walked away from music, but ultimately there are emotions and stories that I can only seem to voice through playing and writing."

Set to release a new EP on September 1, Interstellar Tay is fast making a name for herself and winning over fans with her honest, biographical blues folk songs and the EP is no different, where audiences will easily be able to find themselves in her words.


Interview with Interstellar Tay
Question: How would you describe your music?

Interstellar Tay: I would describe my music as catchy and upbeat, yet also emotive. I've always aimed to create music that is accessible to people, but also with musical integrity and depth. Hopefully that comes through!


Question: What inspired Garden Song?

Interstellar Tay: Garden Song is inspired by the death of my grandfather and the connection we had. However, it's also a joyful celebration of his life.


Question: Can you tell us about your upcoming album?

Interstellar Tay: The upcoming album is a collection of songs I've had on the backburner for the past few years. I recorded it on the Gold Coast at Studio Circuit. As I understand it, I was the last artist to ever record in that studio, so that's sort of a cool thing. I'm fortunate that lots of my close friends and family are musicians. My dad played mandolin and guitar, my sister played cello and sung, and my best friend was on violin. It was an important album to get out of my system in many ways, but I'm also looking forward to recording new tracks and finding my voice more moving forward.


Question: Is there a particular message you hope listeners take from your music?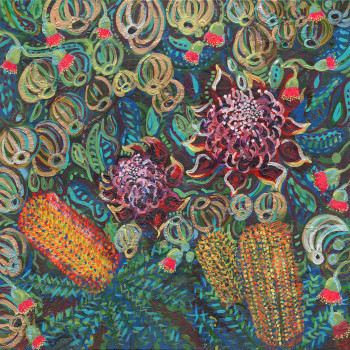 Interstellar Tay: Great question! Honestly, if I can make people's feet move without them meaning to move them, then I've won the battle. Hopefully my music can make people feel happy, connected, maybe a sense of belonging to some universal emotion.


Question: Do you prefer performing live or recording?

Interstellar Tay: It depends entirely on the band I'm working with. If I am playing with musos who I respect and connect with, I'm stoked either way.


Question: Can we expect any upcoming shows?

Interstellar Tay: I've decided to put shows on ice at the moment for personal reasons. I am, however, planning to get back into it later in the year.


Question: What motivates you most when writing music?

Interstellar Tay: It's usually just a strong emotion. I start with the chords and melody, then the lyrics happen. The whole thing is usually finished within 20 minutes. If it doesn't happen quickly, I've found that it doesn't happen at all.


Question: Which music/artists are you currently listening to?

Interstellar Tay: Nobody in particular! My music tastes are vast. Growing up in the 90s, I can't help getting into a whole bunch of horrible 90s pop. I love it so much haha. But I also enjoy Motown, some folk stuff, country, rock, blues, jazz, electronica, the living end, salsa music is unreal. Just anything with catchy hooky melodies and a solid back beat and I'm there.


Question: What or who was your inspiration to go into the music industry?

Interstellar Tay: If possible, I grew up with the music industry as a constant. Most of my family are musicians, I grew up going to gigs every weekend and having big jam days at our house.


Question: If you could collaborate with another artist, who would it be?

Interstellar Tay: Paul Kelly, hands down. What a legend.


Question: Did you have any pre-conceived ideas about the music industry?

Interstellar Tay: Not necessarily? To be honest, I'm still getting my head around the social media thing! I'm pretty horrible at it.


Question: What has been your favourite part of becoming a music artist?

Interstellar Tay: Man, knowing that people I have never met have heard or are listening to my music is very cool. It feels like such a privilege to be invited into their lives, into their cars, or kitchens or headphones.


Question: What's a typical day like?

Interstellar Tay: My husband usually forces me out of bed around 7ish. We live in an old queenslander, it's bitter cold in the morning these days, so that's a pretty horrible start to the day! Then I get my 5 year old son sorted, drop him off at school (usually late because I'm chronically disorganised) and then I go to work as a HR Manager. The day usually ends with wine. That's the basic summary! Nothing particularly exciting.


Question: What's next, for you?

Interstellar Tay: Recording! I've got a few real solid tunes in my back pocket. Can't wait to lay them down and see what happens.


Question: Can you share your socials? (links please)

Interstellar Tay: Facebook
Instagram


Interview by Gwen van Montfort