New Zealand's thrilling indie pop darling Isla Noon has released her sparkling new single Talk About Us, an infectious, layered track about trying to reach a partner who has closed themselves off. The exciting new artist has also released a visually stunning video to accompany the song, directed by NZ music industry legend Mareea Vegas (bass player for Veruca salt and Tim Finn, behind the lens for Shapeshifter, Julia Deans (Fur Patrol), Anna Coddington). Talk About Us is the second single from Isla Noon, following her breathtaking debut Summer In August, released last year.

Talk About Us has all the makings of an absolutely classic pop smash – killer chorus, standout vocals, crisp, modern production and playful samples, all working together to inject powerful personality and charm into this striking bop. It's like a combination of Maggie Rogers and Carly Rae Jepsen, but there is something electric that is unique to Isla Noon percolating within. Speaking on the inspiration behind the song, Isla Noon reflects, "On the surface, 'Talk About Us' is about trying to reach someone in your life who has become closed off. It's confronting, almost melodramatic. The song leans into the self-consciousness of that situation, the bargaining, the unraveling, the white-knuckled holding-on-so-tight that sees the other person slipping through your fingers. It can be a fuzzy place emotionally, and if you're not careful, you can lose yourself in that place too. I wrote about it as something I and some close friends around me have experienced at different times in life, not only because it's such a confronting state to be in but also because it's kind of beautiful in its vulnerability."

The clip for Talk About Us is chic, honest and brilliantly reflective of who Isla Noon is as an artist. It plays with light and energy as she sings alone about trying to reach a partner. Speaking about the creation of the clip, the pop songstress says, "The song has a melodramatic quality with a raw centre underneath, so we kept it intimate with mostly tight framing, and played on these elements with lighting and my two 'looks' in the video. I had a strong vision in terms of styling and was super fortunate to style myself in an absolute piece of art that is the 'David Bowie Blouse' by NZ designer Trelise Cooper, as well as a whole lot of gold glitter thanks to makeup artist Shania Hales."

Talk About Us is the result of a wonderfully vast array of influences – Isla Noon credits her Dad's love of 60s/70s folk songwriters, her Mum's passion for the pop and disco of the 70s and 80s, as well as modern icons Robyn, Troye Sivan and MUNA for the brilliant cocktail of inspiration sparking the new single. This is a thrilling follow up single from this newcomer, and if it's any indication of what's to come, pop enthusiasts around the globe should be keeping a very close eye on Isla Noon.


Interview with Isla Noon
Question: How would you describe your music?

Isla Noon: Recently, some have called it "glitter and grit". A coming together of personal, gritty, songwriting, pop sensibilities, shimmery synths and vocals at the forefront. All creative choices with my music flow from the core emotion of the song, and I really let that guide me. That said, I have a natural tendency toward pop hooks, eccentric production choices and metaphor in lyrics to bring that emotion to life. "Indie pop" is what I'm getting most of the time!


Question: What inspired your new song Talk About Us?

Isla Noon: 'Talk About Us' was written about the kind of silence that can occur in a relationship when there's a sense that things are going downhill, and you're trying to grasp on before it's too late. It's that last shot for what you hoped the relationship would be, where a slow silent breakdown of communication can often feel so much more disorienting and hectic than an abrupt breakup. Musically, it's high energy and a little wacky, pushing the melodrama and self-consciousness of that emotional state.


Question: Can you tell us about the music video?

Isla Noon: Oh man, I must have fallen off that mini trampoline a million times, and somehow director Mareea Vegas still made this video slick! I'm really proud of it. Mareea is a music industry legend and incredible human, and I don't think I've ever laughed at myself so much as when we filmed this video. We played on two looks within the video - one more editorial to reflect the element of melodrama in the song which was super fun to perform in and a real standout experience. The whole thing was shot in one room at BigPop Studios here in Auckland, in the same building where the song was also produced and mixed.


Question: Is there a particular message you hope listeners take from your music?

Isla Noon: Each song carries its own message for me, but the overarching theme really is connection through shared experience. I hope listeners find the space in my music to sink into both the euphoric as well as the difficult emotions they're dealing with in a way that feels healing and freeing. I hope they can allow themselves to luxuriate in textures and dance around to it. Radical self-acceptance, whatever that means to the individual at the time. I hope my music can be a safe space for that for others, in the way it has been for me my whole life.


Question: Can we expect any upcoming shows?

Isla Noon: My band and I are currently preparing our live set - and I'm so psyched for it! There's nothing I can announce yet, but I'm so keen to get out and play this music. The energy it's taking on in a live setting is already feeling electric. I'm looking forward to doing some shows in Australia in the future, the support for my music has been so overwhelmingly positive and I'm really grateful to everyone who has been streaming and engaging with it in Aus!


Question: What motivates you most when writing music?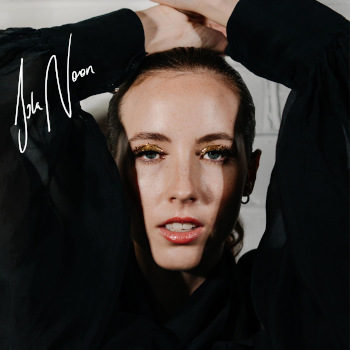 Isla Noon: Writing is cathartic for me. It's not only the creative challenge, where I can get really into the mechanics of songwriting, but also the emotional release of getting something out into an artistic medium. So many songwriters have said it before me, but it truly is incredibly therapeutic and affirming. I'm also very inspired by visuals when I write, and often have an image, colour scheme or scene in my head that's setting the mood of what I'm writing. Sometimes I'll encounter something in my day, a piece of street art or particular lighting in a room, that really inspires something in me musically or lyrically. It's all quite curiously interconnected.


Question: Which music/artists are you currently listening to?

Isla Noon: I'm really loving Wolf Alice's latest album 'Blue Weekend'. It's a concept album of sorts, so listening to it as a whole piece of work is really rewarding. Other artists I'm really enjoying at the moment include Caroline Polachek, Sigrid, MUNA, Joni Mitchell and Sharon Van Etten. Sharon Van Etten's recent collaboration with Angel Olsen on the song "Like I Used To' is such a stand out for me. I can't stop watching this live performance they did together on The Tonight Show.


Question: What or who was your inspiration to go into the music industry?

Isla Noon: I've always wanted to be a musician, ever since I was little! It really was a personal connection to music from a young age that led me down this path, and entering the music industry has been the by-product. I was always really inspired by artists who wrote their own music when I was younger. These days this feels much more prevalent in the pop space but it was kind of a rarity in the 2000's. Taylor Swift was one of those artists who really showed me what could be achieved as a young, female songwriter, and definitely lit the way for so many of us who are now entering the music industry across a whole spectrum of genres.


Question: If you could collaborate with another artist, who would it be?

Isla Noon: There are so many artists I would love to collaborate with. My ultimate dream would be a Paul McCartney collaboration, how crazy would that be?! There are a few artists I'm really loving at the moment who would be amazing to collaborate with. Troye Sivan is an artist that I feel is doing some really innovative work in the alt-pop space, it would be a dream to collaborate with him! His latest live stream set of performances here is crazy beautiful.


Question: Did you have any pre-conceived ideas about the music industry?

Isla Noon: I remember being 14 and thinking most people walked into record labels with a demo CD and got signed. These ideas have changed pretty radically since then. The biggest thing that has taken me by surprise is the time split between actually writing and making music vs. promoting it. Promotion and work of that nature is so much more time-intensive and demanding than I think many people realise, and so much of what artists do is trying to find the balance between getting back to the thing they love about music, writing or performing, and making sure they do justice to their product by getting out there and promoting that creative work.


Question: What has been your favourite part of becoming a music artist?

Isla Noon: My favourite part of being an artist is still writing! I love songwriting and crafting music, and there really is no other experience like it for me. It's cathartic and fulfilling, and a lot of the time I just write to process something in my personal life. It's still very novel to me that I can essentially "make something up", decide it has value, spend a lot of hours making it into something more and then release it out into the world to have a life of its own - all because I had a little idea. And to take it further, that this thing can have an emotional impact on other people. It's wild!


Question: What's a typical day like?

Isla Noon: No day is really the same for me at the moment! Today I had a meeting with a local radio station, a meeting to plan my next music video and tonight I'm on a Zoom interview with a radio station in Aussie! Not the most typical day for me (it's not every week I put a new track out!), but I'm really grateful for the response I've had from this latest single. It's keeping me busy for sure and I'm enjoying meeting so many new people who are resonating with my music.


Question: What's next, for you?

Isla Noon: There may or may not be another single on the horizon, which I may or may not currently be in the midst of planning a music video for... My band and I are also putting together the live set, so hopefully getting out and playing some gigs in the latter half of 2021. Other than that, I'm always writing and playing around with ideas for songs in the studio! Can't wait to share more of the music I've been working on, as I said, the reaction has been so overwhelmingly positive and I'm so grateful to everyone who has supported the two singles that are currently out.


Question: Can you share your socials? (links please)

Isla Noon: Instagram
Facebook
Website


Interview by Gwen van Montfort