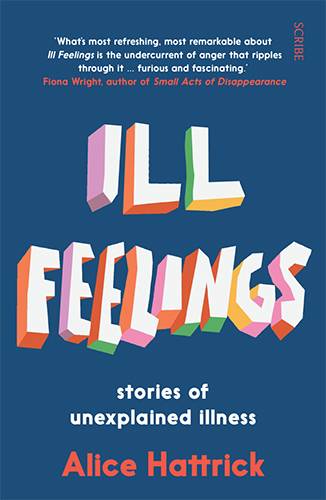 Ill Feelings is a collective biography of medically unexplained illness. Structured around the narrative of their own ill feelings, Alice Hattrick uncovers their and theirmother's case histories,and branches out into the records of ill health that women have written about in diaries and letters.
Their cast of characters includes Virginia Woolf and Alice James, the poets Elizabeth Barrett Browning and Emily Dickinson, John Ruskin's lost love Rose la Touche, the artist Louise Bourgeois, and the nurse Florence Nightingale.
Suffused with a generative, transcendent rage, Alice Hattrick's genre-bending debut is a moving and defiant exploration of life with a medically unexplained illness.
'Ill Feelings is a deeply personal and deeply political reckoning with the nature of illness, inheritance, time, silence, bodies and invisibility. Alice Hattrick offers both a radical redefinition of the dominant narratives surrounding health and pain, and the knowledge we need in order to name, understand and resist them. Hattrick has found a voice and form which open up new and exciting possibilities for writing the self and making sense of the collective past: I read this remarkable book with outrage, fascination, and immense admiration.'
Francesca Wade, author of Square Haunting
Ill Feelings
Alice Hattrick
Scribe Publications
RRP: $27.99
Buy Now