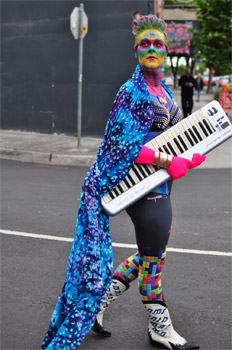 IKIGAI Metanoia
IKIGAI set to debut her 7-track EP -Metanoia' Comedian-turned singer, Justine McInerney aka IKIGAI, launches her EP with live 8-piece, cosmic soul, funk, hiphop band.

Metanoia: the journey of changing one's mind, heart, self, or way of life – the theme of the night. On Thursday, December 3rd, 7:30pm at 4Dverse, Carlisle St, St Kilda, Ikigai will see take to the stage, along with great support acts; Eurynome, Madison Avenue, Dayle Alderson and Motion:Theory:Music.

Tickets: www.trybooking.com/JQKO

Known for her stand-up and the hit comedy track -Disco Fanny', Justine's transition into the music world hasn't been an easy path. She talks publicly about her coming into awareness of other dimensions, trying to go about her daily life, but hearing people's thoughts and seeing their light bodies / spirit. She shares this journey of moving from head to heart with us on her EP, and can be quoted as saying, 'I had to lose my mind to find my heart."

Now going by Ikigai, a Japanese concept and -a reason for being', her music is something like Jamiroquai, meets Earth Wind and Fire and an alien.

Empowering lyrics lift audiences, and tracks like -Ricky Martin's Hips' bring about nineties nostalgia. A soulful voice and energetic performance, mixed in with her stand-up background, results in an act and stage presence that is second-to-none.

During JMAC's 2014 International Comedy Festival tour, Herald Sun said, 'She can absolutely sing. Deep and soulful, I would not be surprised if she was offered a record deal on this tour." They were right. Collective GHC picked her up and she began collaborating with artists like Connor Jones (Australia's fastest rapper on the Optus ads), who helped produce the album. Guest musicians like Blue King Brown's Steve Allingham offered up their skills during the recording, making this one special E.P. Further to this, the entire CD is embedded with a Triad Wave© - a sub-acoustic sine wave which is below the human level of hearing. This wave brings human beings into harmony with the natural world, mind, body and spirit. i.e. This album is a sub conscious funky meditation and an experience in itself.

Ikigai has performed at Rainbow Serpent, St Kilda Festival, Queenscliff Music Festival and Seven Sisters, on the bill with the likes of Lisa Mitchell. She's also opened for MeloX and Jasmin Solano's -Electric Punanny Tour'.

With air-play on various community radio stations nation wide already, Ikigai is on her way to becoming a household name. Be sure to catch a live show, for full effect. It's super stellar sexy.

A sneak peak of the EP un-mastered can be found: http://ikigai.world/ here.