Hi-5 Turn the Music Up
Hi-5 cast members Lauren Brant, Casey Burgess, Fely Irvine, Tim Maddren and Stevie Nicholson are inviting all their friends to join them as they tour Australia in 2011 with the Turn the Music Up! live stage show.
The Hi-5 team will take you on a great big adventure as they ramp up the volume to sing and dance in this fabulous new show. Turn the Music Up! will feature some of Hi-5's most popular songs from their latest Turn the Music Up CD and television series as well as many Hi-5 favourites.
Of the upcoming tour, Hi-5's Casey Burgess says: "We can't wait to see all the families across the country again. It's always a joy to see the kids and the parents singing, dancing and really enjoying themselves. Turn the Music Up! is sure to deliver a great time for everyone... including us!"
Hi-5 Turn the Music Up! is presented by Australian theatrical producer Andrew Kay, in association with Southern Star Entertainment and Nine Network Australia. Over the last decade, Andrew Kay and Associates has presented a diverse range of highly successful, quality theatrical productions around the world including Waiting for Godot starring Ian McKellen, The Graduate with Jerry Hall, Soweto Gospel Choir, The 39 Steps, Tango Fire and Lazy Town Live.
Andrew Kay said today, "Since we last presented Hi-5 on tour in early 2010 Tim, Fely, Casey, Lauren and Stevie have been busy winning hearts with a new television series, CDs, DVDs and charity work. We are thrilled to be taking Hi-5 out on tour again so that their legion of fans, including the Mums and Dads, will have the chance to see their favourite television friends live on stage."
Martin Hersov and Cathy Payne, directors of Hi-5 Operations, said "Turn the Music Up! will be a magical adventure guaranteed to be an experience for all to remember."
Hi-5 Turn the Music Up! will tour New South Wales, Victoria, the ACT, South Australia, WestAustralia and Queensland in April and May 2011 and will be directed by Garry Ginivan, widelyrecognised as Australia's leading producer of quality musical theatre for children.
After entertaining audiences around the world for over a decade, Hi-5 celebrated the impressive milestone of 500 episodes as stars Casey, Fely, Lauren, Tim and Stevie filmed the 12th series in 2010. The hit show currently screens in 220 countries, reaching an average weekly audience of 1,000,000 children. A vibrant mix of stories, songs, investigation, imagination and adventure, Hi-5 is specially created for children between two and six years old. Series 12 will air on Nickelodeon here in Australia from 3rd January 2011.
If you enjoy watching Hi-5 on television, you'll love seeing them in person as they share their favourite songs and dances at this very special concert for you.
For tour details and tickets, visit
www.hi-5.com.au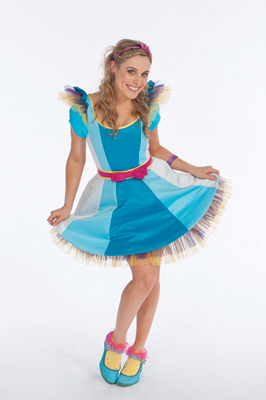 Interview with Casey Burgess
Question:
What should audiences expect from Hi-5 Turn the Music Up tour?
Casey Burgess
: Out of all the tours this one definitely has a lot more music and a lot more song. Hi-5 Turn the Music Up tour is more of a party rather than a complete narrative story. It is a concert with a story, obviously but I think we have taken from all the tours what the fans like the most and that's the music.
Question:
Can you talk about the training and preparation going into the upcoming tour?
Casey Burgess
: We have had a little bit of time off and finished touring around Asia and now we are trying to get 'show-fit' again by doing our own bits and pieces on the side to keep our fitness levels up. Hi-5 is a pretty high intensity dancing show and we have to sing and dance at the same time which means we need to be super doper fit. As a group we did the Kids Day Out which was nice training to help us all get back into the swing of things. Also we will be doing 5-6 or even 7 days a week rehearsing the script, going over the songs and putting the whole show together with our producers.
Question:
How has the Hi-5 experience been for you, so far?
Casey Burgess
: It has been pretty amazing! I went from audition to audition wondering what I should do with myself and then Hi-5 came along and it has been a whirlwind! I have been busy touring all over the world, it is almost like a dream that you don't want to finish. Every day I have something different to do and it's not like waking up and working 9-5, like we all have done. Hi-5 is completely different; we have done so many amazing things and worked with charities such as World Vision and Children's Hospitals.
It is amazing to know I have trained in this industry and worked on television as well as doing things that I couldn't do in any other job such as helping with charities because that is something you can't do with all jobs.
Question:
Has the experience been anything like what you expected?
Casey Burgess
: When I went for the audition a lot of people did tell me that it would be full-on and life consuming but it doesn't really feel like that. When you're doing what you love it doesn't feel like it is life consuming because you are enjoying every second. Hi-5 was half what I expected because I knew how hard the previous cast worked, I knew the hours that they did which allowed me to set myself up for the hard work.
Question:
How much input do you have into the Hi-5 shows?
Casey Burgess
: Definitely. We are given a script and we get to do a lot of talking and playing around to figure out what fits best with us to make the show as real as possible.
Question:
What have your learnt whilst being a cast member of Hi-5?
Casey Burgess
: Hi-5 is what we all enjoy doing, which means it is not too difficult in that sense. I have learnt when to pull back or push forward and when to rest.
Question:
How is it watching yourself on television?
Casey Burgess
: It is something I am used too and to be honest I don't see myself on television that much.
Question:
Do you prefer performing live or recording for Hi-5?
Casey Burgess
: I think when I am doing one of them; I prefer the other, because you miss what you're not doing. When I am on tour I can't wait to film the series but when I am filming the series I can't wait to be on tour. At the same time they are both very different, for filming you spend every single night learning your script for the next day and you have massive days in the studio. Whereas during a tour we are in another state or country, away from family and friends, doing three shows a day for thousands of people.
Question:
What/who was your inspiration to go into this industry?
Casey Burgess
: I think it is something you are born with, I don't believe you could do a job like this unless you loved it. My Dad is a singer, my Mum was a dancer and my sister was on television- I think it came naturally. I think if I decided to be an astronaut it would have been a little bit weird.
Question:
What is your favourite Hi-5 song and dance?
Casey Burgess
: In the new series we have a bunch of new songs and I think I really enjoy doing a song called Turn the Music Up, funny because that's what the name of the tour is! Turn the Music Up, the song, is a lot of fun, it is like a disco and the young and old can get involved.
Question:
Do Hi-5 fans recognise you in the street?
Casey Burgess
: It depends, if I am wearing bright colourful clothing then yes. If I am wearing jeans and a black t-shirt then the kids won't even notice; I think it's more the parents. Or you have kids who look at you with wide open eyes because they are thinking 'how do I you're your face?'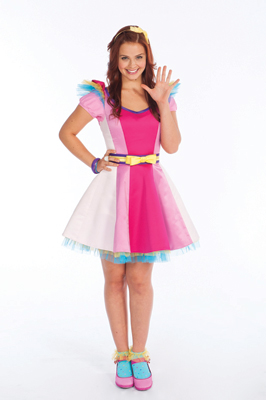 Interview with Lauren Brant
Question:
What should audiences expect from Hi-5 Turn the Music Up tour?
Lauren Brant
: Well this tour is going to be different to all the other tours. It is more of a classic style show and isn't as much a theatre experience but more like a concert because we have more songs than we ever have had before and they explore all different things. We also have a very special DJ Chaps, who is Casey's best friend in the show; she DJ's the entire show whilst we visit farms, space, under the sea and lots of other fun things.
Question:
Can you talk about the training and preparation going into the upcoming tour?
Lauren Brant
: The script writer knows us extremely well, she is our series producer and she really has our personalities down pat, so we will be able to have a lot of fun when we are performing because the script is written to our personalities. Also we have singing and dancing training and we will need to get our fitness right up because we three shows a day, every day, with 12 songs! We have rehearsals everyday heading into the tour and we can't wait to kick off the show because it will be lots of fun.
Question:
How has the Hi-5 experience been for you, so far?
Lauren Brant
: It has been amazing, the thing with Hi-5, which is different to other jobs in the industry is that we play ourselves, my name is Lauren and it is also Lauren in the show, I am not playing a character I am playing a heightened version of myself. No matter if I am at work or at home I am always having fun and I am always the same person. The most amazing thing about Hi-5 is that we get to do television, stage and record CD's and DVD's - we get to do everything and we get to work with charities. I am an ambassador for charities with Hi-5 and on my own, away from Hi-5. Hi-5 has really allowed me to make a different in people's lives. Although Hi-5 is full time work it is a lot of fun all year round, it is seriously the best job ever.
Question:
You recently headed to Queensland to help out during the floods, can you talk about that experience and why you thought it was important to help?
Lauren Brant
: I am from Queensland, from the Gold Coast. When the floods actually happened I was with my family, on the Gold Coast and we had many friends living in Brisbane, Toowoomba and areas around. My Dad does a lot of business for the rugby teams as he owns a sporting brand so we were affected as a family. When I came back we had a few days off and as a whole group we asked "can we please do something to help with the floods, it would be the best because at the evacuation centres there are a lot of children involved and I'm sure we could lend a hand, there."
We were flown up to Brisbane and we went to three different evacuation centres and by the time we went it was a week after the devastation hit. The centres contained mostly families who had their whole lives wiped out, not just a little bit of flood damage that they could restore, these families had lost everything. We were dealing with some pretty distraught families and the thing is in times of chaos parents can't give their children 110% of their energy because they are feeling so low themselves and can't share any love and affection and the kids are sometimes forgotten about. We went to the evacuation centres and found that children were just hugging us and wanting touch and somebody to be there; the Hi-5 team were just playing with children whilst their parents were out looking for new homes. It was a really emotional experience and I am so glad that we went.
Save Our Children Foundation are helping out with children during the floods and they have the same attitude as we do, which is that you just have to remember the kids, you need to realise that they're only children, not adults and sometimes they don't know how to deal with things like this which is why we need to protect them from the yukky things that happen.
Question:
What charities are you involved in, outside of Hi-5?
Lauren Brant
: Yes. I work with the Sony Foundation which is a foundation that is aimed towards teenagers. Sony Foundation has found that children and adults receive a lot of attention but there hasn't been a foundation that helps teenagers. As you know growing from children to a teenager and to an adult is hard, it is hard to go through puberty, begin to take on responsibility and have to take things more seriously without the childhood innocent fun whilst also thinking about what you want to do with your life. It is really tough on teenagers and they can suffer from depression or anxiety and the Sony Foundation concentrates on kids who are not only dealing with that but extra problems on top such as homelessness, addiction, down-syndrome or if they are recovering in hospital. Sony Foundation organised cool people, leaders and activities within the community to help teenagers overcome extra troubles they may have on top of that already hard stage of their life. It is awesome because the Sony Foundation have donated so much of their money to pay for everyone who works there and the activities so every single cent raised goes directly to the charity; no percentage of the donations go to paying off bills or employees.
The other charity I am involved with is the McGrath Foundation which is a Breast Cancer Foundation. I have just joined up with McGrath Foundation and I am very happy about it; it all began because I thought I would hold a 'Pink Tea Party' to raise money for the McGrath Foundation, my friends and I dressed up in pink and had a pyjama party to raise money. I as a woman feel passionately about how important a woman's influence is on children and everyone, at all ages, for guidance and warmth. When woman do have breast cancer and they are not able to show affection, guidance and warmth all the time, nurses help out with looking after them and help out with making sure that essence of a woman is not lost throughout their families' lives as well.
Anything that I feel I can help with, I love to help with, it is so easy!
Question:
How much input do you have into the Hi-5 shows?
Lauren Brant
: We have amazing script writers who know us and when we do the television series the script is often pretty on par because we never feel uncomfortable with anything. We obviously get our own input about what we would like to do or what we don't want to do. But for the series in particular on top of having to learn all the scripts and perform if we had to write anything more (laughing) there would not be enough hours in the day.
When we rehearse we workshop everything whether it is for the stage show or the televisions show; we always have our input as we go. In regards to charities we lead a lot of that and express a lot of the things that we want to participate in. We have a really nice relationship between ourselves and the people that look after us, it is very open and we are always very comfortable and have a lot of freedom to be ourselves.
Question:
What/who was your inspiration to go into this industry?
Lauren Brant
: I have no idea! My Grandpa was a tap dancer and my Grandma was a singer - but my parents don't seem to have a performing bone in their body! I have three older brothers who all play rugby and now work for my Dad's rugby company. From a young age I had something in me; I would sing into microphones and make up little stage shows.
I think all of us have a flair of artistic talent but I am the only one out of my siblings that flew with it. One of my brothers is a painter and graphic designer and the other does love to sing and dance but feels that he can't do it because he is a little bit uncoordinated (laughing).
My Mum loved taking me to ballet and dance classes so I have my parents to thank for everything including all the education they helped me with. I just couldn't stop acting, singing and dancing all from a very young age; I always had to have a hobby outside of school where I was doing that.
I audition for Hi-5 because I thought it was a great job and an awesome opportunity and I was so happy to get it! Often you need to choose between television or stage and with Hi-5 you get to do both! I love children, I swear when I am ready to have children I am going to have 10!
Question:
Do Hi-5 fans recognise you in the street?
Lauren Brant
: It is actually not that common in Australia for us girls because I think on the show we have makeup on and our hair done in pig tails and we are wearing fluro colours whereas in my day to day life, coming from Queensland, I am a very beachy girl and I don't really wear makeup and I leave my hair out and wear dresses or bikinis; it is very rare that someone notices me. Although if they know we are going to be around or appearing in a certain suburb they always know to expect me. Often if is out of the blue kids will do a double take and be a little bit confused and the parents normally say "that's not her, that's not her".
Although when I go overseas it is a whole different story, we are reconised EVERYWHERE! Obviously we stick out as being Australian but we have so many fans in Asia and we are hoping to go to South America this year because we have fans who talk to us via our social network profiles.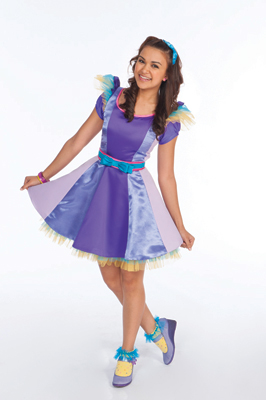 Interview with Fely Irvine
Question:
What should audiences expect from Hi-5 Turn the Music Up tour?
Fely Irvine
: All your favourite Hi-5 songs and groovy dance moves with all of Hi-5 and even Chats as DJ Chats too!
Question:
Can you talk about the training and preparation going into the upcoming tour?
Fely Irvine
: It's important to keep our fitness up as we're singing and dancing to some of the most energetic songs you'll ever here! We've been tirelessly rehearsing our songs over and over so as to build our stamina.
Question:
How has the Hi-5 experience been for you, so far?
Fely Irvine
: Unbelievably fun! I feel so lucky to have the opportunities I have had being in the group. From being able to gain experience both on and off stage and in front of the camera. And the work we do with charities and hospital visits has given me new perspective on life, and I feel blessed to help people who need it most. Even putting a smile on a sick child's face is incredibly rewarding!
Question:
Has the experience been anything like what you expected?
Fely Irvine
: It was what I thought it would be, and then some. I think getting into the group I was aware of filming the series but wasn't completely aware about the massive amount of touring that we do when not in front of the camera. I love being busy though - I'm a little bit of a workaholic, even though most days I find it hard to call it work because we just have way too much fun.
Question:
How much input do you have into the Hi-5 shows?
Fely Irvine
: We always give ideas out; I feel that there's quite a bit of ourselves in everything we do. And we're all so close that we bounce off each other and run with everyone's ideas.
Question:
What have your learnt whilst being a cast member of Hi-5?
Fely Irvine
: I've learnt that children are brutally honest. If you're not being real with them and giving them your all, they can tell and aren't afraid to pull you up on it.
Question:
How is it watching yourself on television?
Fely Irvine
: While watching the show with a nephew of mine, he pointed out that I pull really strange faces. Apparently I screw up my face, completely involuntarily.
Question:
Do you prefer performing live or recording for Hi-5?
Fely Irvine
: I love being on stage and having the instant connection with the audience, but I love learning new scenes every day and trying to connect with the children through a camera. I love the fact that I get to do them both!!
Question:
What/who was your inspiration to go into this industry?
Fely Irvine
: Lea Salonga. Growing up, my mother always spoke of her. My dream was to be in Miss Saigon, as Lea was the first 'Kim'; I fortunately landed the role of Kim understudy in the recent production of Miss Saigon. Lea also is the voice of Princess Jasmine in Aladdin, who is my favourite Princess of all time.
Question:
What is your favourite Hi-5 song and dance?
Fely Irvine
: I absolutely love 'Dancing bus'; I can't help but groove to it whenever it pops in my head.
Question:
Do Hi-5 fans recognise you in the street?
Fely Irvine
: All the time, I don't think it's ever going to be something I'll get used to.
Interviews by Brooke Hunter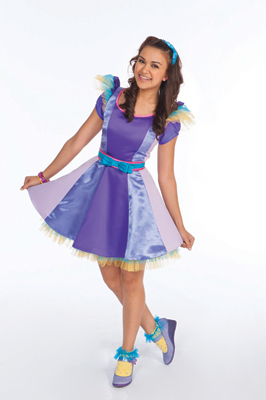 Hi-5 Turn The Music Up Tour Dates
New South Wales
8 and 14th of April: Penrith Panthers: 1800 061 991 or
www.panthersworld.panthers.com.au
9th of April: Enmore Theatre, Enmore: 02 9550 3666 or
www.ticketek.com.au
11th of April: Civic Theatre, Newscastle: 02 4929 1977 or
www.ticketek.com.au
12th of April: Sutherland Entertainment Centre: 02 9521 8888 or
www.suthentcent.com.au
13th of April: Campbell Town, The Cube: 02 4625 0000 or
www.thecube.net.au
27th of April: Kingsford, The Juniors: 02 9349 7555 or
www.southsjuniors.org.au
29th of April: Wollongong, Illawarra PAC: 02 4224 5999 or
www.ipac.org.au
Victoria
15th of April: Dallas Brooks Hall, Melbourne: 132 849 or
www.ticketek.com.au
16th of April: Drum Theatre, Dandenong: 03 9771 6666 or
www.drumtheatre.com.au
18th of April: Frankston Arts Centre: 03 9784 1060 or
www.artscentre.frankston.vic.gov.au
19th of April: Monash Robert Blackwood Concert Hall: 03 9905 1111 or
www.monash.edu.au/monart
20-21st of April: Moonee Ponds, The Clocktower Centre: 03 9243 9191 or
www.clocktowercentre.com.au
ACT
28th of April: Canberra Theatre: 02 6275 2700 or
www.canberratheatre.org.au
South Australia
1st of May: Her Maj, Adelaide: 131 246 or
www.bass.net.au
Western Australia
7th of May: Bunbury Entertainment Centre, Bunbury: 1300 661 272 or
www.bunburyentertainment.com
8th of May: Concert Hall, Perth: 08 9484 1133 or
www.bocsticketing.com.au
Queensland
13th of May: Nambour Civic Centre, Nambour: 07 5475 7777 or
www.nambourciviccentre.com.au
14th of May: Logan Entertainment Centre, Logan: 07 3412 5626 or
www.logan.qld.gov.au/lec
15th of May: Gold Coast Arts Centre: 07 5588 4000 or
www.theartscentregc.com.au
Tickets
: Premium $45.90 Price includes a Hi-5 gift to the value of $15.00
A Reserve $34.90