Nicholas Maksymow 2012 Russian Resurrection Film Festival Interview
Comrades... the largest showcase of Russian cinema outside Russia is back! Celebrating its ninth year, 2012 Russian Resurrection Film Festival will screen Australia-wide from this September.
To date, 14 Australian premieres have been confirmed and two retrospectives with five films. The 2012 program will include a variety of new dramas, animations, comedies, arthouse cinema and award winning classics.
Lovers of cinema and Russian culture can enjoy a full month of Russian film culture in Sydney, Melbourne, Brisbane, Canberra and Perth from 30th August to 26th September. Known for its distinctive cultural style, Russian hospitality and proud, passionate films, over 44,000 people embraced the celebration and attended the festival in the past few years.
The Russian Resurrection Film Festival is renowned for its opening night parties with high profile visiting Russian directors and actors. Each capital city will play host, providing a vibrant celebration of Ruski culture.
"2012 promises more award winning films and box office smashes, plus every new film will be an Australian first! Whether you're looking to immerse yourself in Russian culture, a historical visual journey or for an entertaining romance or something to take the kids, this year's program will satisfy everyone,"
said Nicholas Maksymow, Director Russian Resurrection Film Festival.
Confirmed films include There Once Lived a Simple Old Woman (2011) marks Andrei Smirnov's return to directing after a 32 year break from filmmaking (Smirnov who also acts, played Vladimir in Elena, which screened at Russian Resurrection 2011). Named Best Russian Movie, awarded Best Actress (Darya Yekamasova) and Best Supporting Actor (Roman Majyanov) at the Nika Awards, the film chronicles the life of an illiterate Russian peasant woman between 1909 and 1921, focusing on her private life and major historical events in the country.
Vysotsky the most successful Russian box office film of 2011-2012 was written by Vysotsky's son Nikita and directed by Pyotr Buslov. It is a film about Russia's answer to Bob Dylan, the iconic Soviet musician and poet Vladimir Vysotsky.
Festival visitors can enjoy a double feature with the heart-warming comedy Six Degrees of Celebration (Elki 2010) returning with sequel Six Degrees of Celebration 2 (Elki 2 2011). Connected by six-degrees of separation, once again a diverse range of characters are bound together trying to reunite lost lovers who have been pining for each other for forty years.
Children and adults alike will love animated feature Ivan Tsarevich and the Grey Wolf (i seryi volk 2011), the fairy tale of Russian heroes! Directed by Vladimir Toropchin, it has become Russia's highest grossing animated film of all time.
The Festival pays homage to its authentic Russian roots and this year to mark the bicentenary of the 1812 defeat of Napoleon, there will be a 1812 retrospective with three stunning dramas and comedies. 1812 (1912), the first ever film about the war of Russia against Napoleon's invading army. Made on the site of real battles, the silent black and white film successfully combines fictional scenes with documentary.
Responding to demand, this year War & Peace (1956) will again screen. Directed by Sergey Bondarchuk, the eight-hour Oscar Winning masterpiece based on Leo Tolstoy's book, is an intertwined love story of young Countess Natasha Rostova and Count Pierre Bezukhov, set against the magnificently described background of Napoleon's Invasion of Russia in 1812.
The festival will again be presenting must-see Q&A's, opening the lid on modern filmmaking in a country steeped in a filmmaking tradition that has survived countless political and social upheavals.
2012 Russian Resurrection Film Festival Dates
Sydney: Chauvel, Paddington and Event Cinemas, Burwood - 30th August - 12th September
Melbourne: Palace Como - 5th - 17th September
Brisbane: Palace Centro - 7th - 16th September
Canberra: Greater Union, Manuka - 14th - 19th September
Perth: Cinema Paradiso - 19th - 26th September
For more information visit
www.russianresurrection.com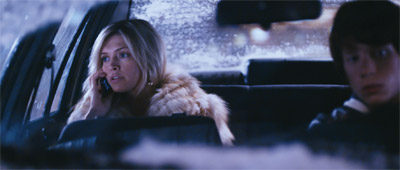 Interview with Nicholas Maksymow
Nicholas Maksymow is the Director of the Russian Resurrection Film Festival.
Question:
How would you describe this year's Russian Resurrection Film Festival in a sentence?
Nicholas Maksymow
: The biggest and most exciting event celebrating Russian film (and culture) across Australia in 2012.
Question:
What should those attending the 2012 Russian Resurrection Film Festival expect?
Nicholas Maksymow
: Audiences will get a taste of the best new Russian cinema to come out in the past 12-18 months. As has become tradition over the past few years, the festival will also screen a couple of International Premieres - films which are yet to be released in Russia. We have specifically tried to build a diverse program for our audience this year; this should ensure that everyone is able to find a film which will appeal to their tastes. And in 2012, there will be not one, but two retrospective programs - one focusing on Chekhov adaptations, the other on the 200 year anniversary of the 1812 battle with Napoleon. All these decisions were made specifically with our viewers in mind, to ultimately create a more broader genre focused program for 2012. It's what we choose to do different that makes this, the best festival on the Australian Festivals Calendar. Quality films and unforgettable opening night parties are synonymous with Russian Resurrection.
Question:
How did you go about collating the films for this year's film festival?
Nicholas Maksymow
: The selection process has not really changed over the past 5 or 6 years. Our committee studies closely new Russian films that have either created a stir at the Russian box office or at international festivals around the world. We also keep a pulse on upcoming features - the films that have generated a vibe and anticipation. The committee has watched some 30-40 new films over the past 6 or so months, from which we then break them down according to categories. Films are also ranked in an ever-changing short list of contenders. The retrospective program is chosen according to themes which may be prevalent in relation to significant anniversary dates, directorial works or audience requests.
Question:
Which film are you most proud to have included in the festival, this year?
Nicholas Maksymow
: This is a difficult question. Personally, I have tried to ensure we got more light hearted films than in previous years and hence there are a few comedies to mention: Five Brides, My Boyfriend is an Angel and the sequel to one of last year's most popular films at the festival, Six Degrees of Celebration 2. One film we were chasing in particular was Home, a powerful and extremely tense drama thriller, which focuses on the present day Russian crime world.
Question:
What Q&A's will be presented at the festival?
Nicholas Maksymow
: Again a little early to say. At this stage the director of an espionage type thriller called Spy, Alexei Andrianov, should be coming to do selected Q&As. Vera Storozheva, who came to the festival back in 2007 with her film Travelling with Pets, will hopefully also return to present her romantic comedy, My Boyfriend is an Angel. But it's too early to tell.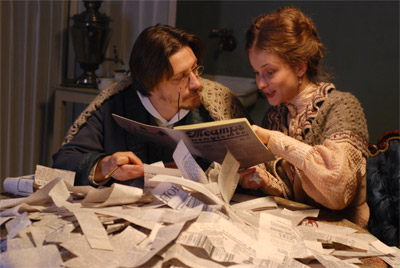 Question:
How has the Russian Resurrection Film Festival changed and developed over the past nine years?
Nicholas Maksymow
: What started as a short one-week festival in Sydney and Melbourne has grown to screen in all mainland capitals around Australia. Today, Russian Resurrection is recognised as being the largest festival of Russian cinema anywhere in the world (outside of Russia). It is also the biggest annual celebration of Russian culture in the whole of Australia. Over the years we have tried to refine the structure of the whole program and though it has been a challenge, the results prove its working.
Question:
Do you have an overall favourite Russian film that you wish you could include in the festivals program, every year?
Nicholas Maksymow
: There is one comedy called Gentlemen of Fortune made in the 70's which I have a soft spot for, but to date, have not been able to screen it because a subtitled print does not exist. One day we'll need to strike a new subtitled print to ensure it can actually be screened. They are currently making a new version of this classic comedy, so maybe, it could mean the classic will also be revived. Time will tell.
Interview by Brooke Hunter