4 Ways to Spring Clean Your Dinnertime Routine
As we say hello to Spring and goodbye to chilly Winter nights, there's no better time to shake up stale dinnertime routines. Here, Accredited Dietitian and HelloFresh Head of Culinary, Hannah Gilbert, shares her tips on how to spring clean your dinnertime routine.
Out with the old, in with the new...food!
The first step of any good Spring clean is to declutter! Just like you swap out heavy clothes from your wardrobe, swap out some heavy foods from your diet. Take advantage of the fresh spring produce to reacquaint yourself with a lighter, fresher, diet.
In Spring we're spoiled for choice when it comes to produce! Get going on asparagus, beetroot, spinach, mushrooms, avocados and more! Not only will these foods add a nutritional punch to your dinnertime routine, but they all have such unique flavours - just like our Dukkah roasted sweet potato & beetroot salad with fetta.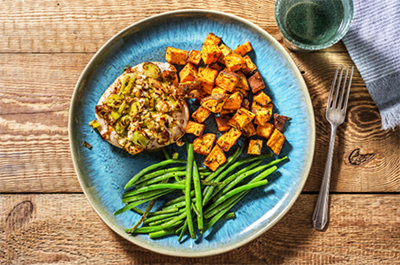 Foolproof way to always get portion size right!
Sometimes it's not what you eat, but how much. 'Portion distortion' is a term that refers to the growing portion sizes that people call 'normal'. It can be difficult to determine what a normal portion is as meals come in all different sizes. It's particularly easy to let serving sizes creep up during the winter months - everyone indulges!
A simple way to keep your portion sizes in check and ensure a balanced meal is to use a smaller dinner plate and imagine it divided into quarters when serving up. Follow this simple guide: One quarter of your plate should be your protein, one quarter your wholegrain carbs, and the remaining half your veggies and salad.
Learn some new kitchen tricks!
Quick fixes like takeaway and fast food might be convenient, but home-cooking can also be very easy. If you're short on time or bored with your cooking repertoire it might be time to consider meal kits. Many Aussies are using meal kit services because they offer a range of benefits like convenience and get rid of the daily dinnertime dilemma like what to cook! They also teach you new skills in the kitchen and build up your confidence to eventually expand your cooking repertoire. Say hello to new flavours and cuisines each week!
Whether you're a brilliant cook or someone that's still learning, cooking for yourself means you take control of what you put in your body. You may even find these meals leave you feeling more energised than fast food does - exactly what you need to enjoy the warmer nights.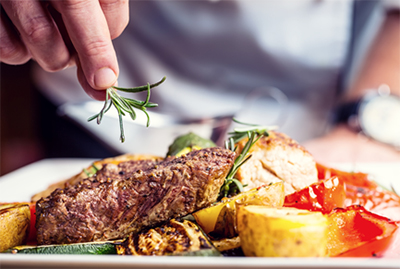 Remove the hassle from meal planning
It can be a real hassle and take a lot of discipline to plan and shop for your weekly dinners but the good news is you don't have to! These days, meal kit services like HelloFresh do all the thinking for you. With HelloFresh, your chosen recipes get delivered straight to your door each week.with all the fresh seasonal ingredients you need to cook them. The recipes are easy to follow and quick to cook, so you can spend less time in the kitchen and make the most of longer, warmer nights.