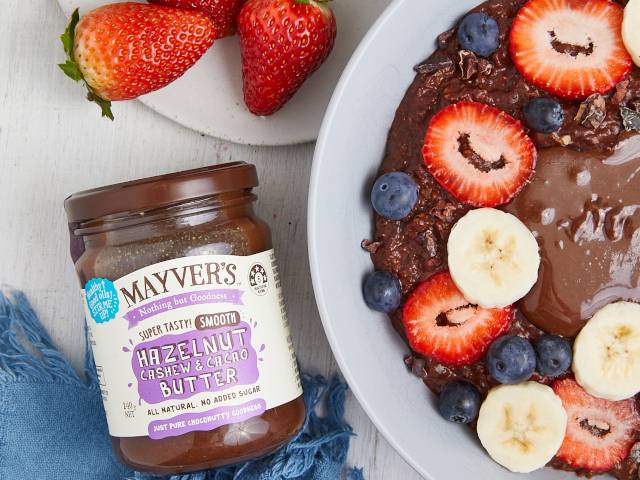 Hazelnut Porridge Bowl
By Mayver's
Time: 15 minutes | Serves: 1
Dairy Free/Gluten Free/Egg Free

Ingredients
2 tbsp Mayver's Hazelnut, Cashew & Cacao Spread
1/2 cup rolled oats
1 cup almond milk
1 tsp chia seeds
1 tsp cacao nibs
1 tsp cacao powder
Fresh berries & banana slices to serve

Method
1. In a small saucepan, place the almond milk, cacao powder and rolled oats over medium heat.
2. Stirring continuously, heat until oats have softened and mixture has thickened, approximately 5-7 minutes.
3. Remove from heat and stir in Mayver's Hazelnut, Cashew & Cacao spread, chia seeds & cacao nibs.
4. Pour into a bowl and top with a dollop of Mayver's spread of choice and garnish with fresh berries.
5. Serve hot and enjoy!