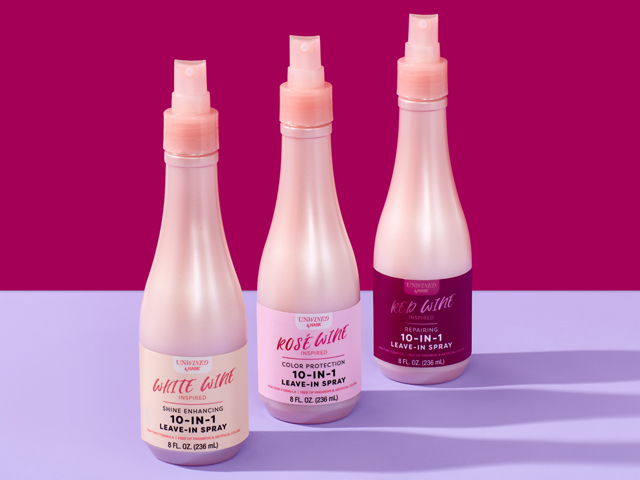 Raise a (wine) glass to smoother, healthier hair with the new UNWINED Treatment Collection by HASK.

Inspired by White, Rosé and Red wines, the collection features nourishing wine extracts and intoxicating scents that work to tame frizz, hydrate and strengthen all hair types. With powerful antioxidants and nutrient-rich vitamins, the UNWINED Collection nourishes and restores hair leaving dull strands revived and full of shine.

The UNWINED Collection features a non-tipsy range of ingredients free of sulfates, parabens, phthalates, gluten, drying alcohol and artificial colours.

White Wine Collection: SHINE + SMOOTH + CONDITION
This shine enhancing collection is infused with Wine Extract, Resveratrol and Grape Seed Oil, known for its ability to smooth and fight frizz. Perfect for any hair type, strands are left looking glossy with an essence of fresh and fruity lemon, pear, apple and melon.

Wine-O-Fact: the Grape Seed Oil in white wine contains a high concentrate of Vitamin E, along with antioxidants that help block the production of DHT, a hormone that causes hair loss.

White Wine 10-in-1 Leave in Spray ∙ Pinot Grigio Deep Conditioner ∙ Sauvignon Blanc Deep Conditioner

Rosé Wine Collection: RESTORE + HYDRATE + PROTECT
Say yes to Rosé (and colour protection) with the power of Grape Seed Oil and Wine Extracts found in this hydrating collection. Restoring the strength and appearance of colour-treated hair, these luscious ingredients work together to condition hair with crisp scents of rose florals, and sweet fruits like watermelon and strawberry.

Wine-O-Fact: Rosé is packed with antioxidants such as Resveratrol, which help prevent the aging of hair and block the absorption of UV rays from the sun – ultimately working to preserve and protect colour treated hair.

Rosé Wine 10-in-1 Leave in Spray ∙ Provence Rosé Deep Conditioner ∙ Brut Rosé Deep Conditioner

Red Wine Collection: REPAIR + MOISTURISE + STRENGTHEN
Bold and indulgent, Red Wine isn't only a dinnertime necessity, but also tames frizz and repairs dry, brittle strands. Peptides provide Amino Acids found in Red Wine build volume to protect and rejuvenate every follicle. With the rich scent of full-bodied fruits like pomegranate, plum and black cherry, hair is left refreshed, hydrated and strengthened.

Wine-O-Fact: Red Wine is packed with Polyphenol, a healing antioxidant that helps rejuvenate, strengthen and soften damaged hair.

Red Wine 10-in-1 Leave in Spray ∙ Cabernet Sauvignon Deep Conditioner ∙ Pinot Noir Deep Conditioner
Review: Rich, nourishing and totally worth the effort and $.