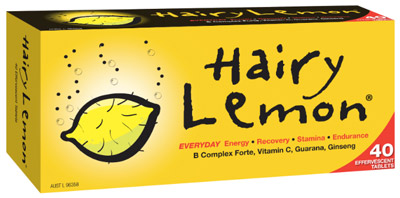 Hairy Lemon
Unfortunately for us, life's as busy as ever and there's no time to slow down. Don't let yourself get dragged down by the weather - get your pick-me-up from Hairy Lemon!

Hairy Lemon is an ideal formulation that helps to optimise energy levels, aid the recovery process and improve mental alertness. Containing several key ingredients such as B-group vitamins and Vitamin C, plus Guarana, Ginseng and Biotin, Hairy Lemon also helps with nervous tension and stress, and provides energy.

Gluten and Lactose-free, Hairy lemon also contains no artificial colourings. Take one or two tablets daily dissolved in a cool drink of water and beat the 'lag 'n' drag'.

Hairy Lemon is available at selected pharmacies and Woolworths nationally in three pack sizes:
10 Effervescent Tablets - perfect for your purse or glove box: $6.95
20 Effervescent Tablets - for the bathroom, kitchen or office: $9.95
40 Effervescent Tablets - at home value pack: $14.95

See Hairy Lemon at www.hairylemon.com.au and 'like' Hairy Lemon on Facebook at www.facebook.com/hairylemonpickup

Always read the label, use only as directed.

Hairy Lemon Active Ingredients
The ingredients in Hairy Lemon have been specially formulated for fast absorption by the body, to provide energy and improve mental alertness, and help with nervous tension. Each tablet contains:
Guarana (Paullinia Cupana): a herbal tonic containing 4mg caffeine that helps maintain stamina and physical endurance. Guarana helps improve mental alertness and may also aid in relief of stress and nervous tension
Siberian Ginseng (Eleutherococcus senticosus): a herbal supplement used to improve overall energy and vitality, particularly during times of physical fatigue and stress.
Thiamine (Vitamin B1) and Riboflavine sodium phosphate (Vitamin B2) 20mg: both help the body's cells to convert carbohydrates into energy.
Nicotinamide (Vitamin B3): used in the body for the metabolism of fats for energy. It is also sometimes called niacin.
Calcium Pantothenate (Vitamin B5): Essential for the metabolism of food into energy.
Pyridoxine hydrochloride (Vitamin B6): helps the body make proteins and provides energy
Cyanocobalamin (Vitamin B12): needed for fat and carbohydrate metabolism in the body to produce energy.
Biotin (Vitamin H): aids the metabolism of carbohydrates, fat and proteins for energy and is beneficial in the utilisation of the B-complex vitamin.
Ascorbic Acid (Vitamin C): an antioxidant. It also helps the body's immune system.

Review: Great for a bit of a pick me up on those mornings that seem to be moving in slow motion where you can't focus.