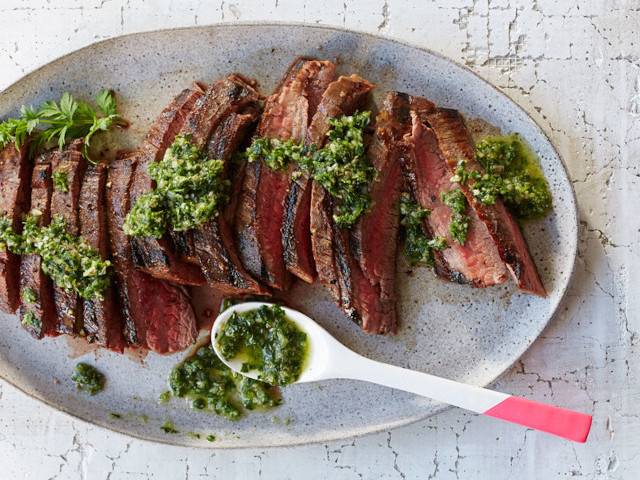 Grilled flank steak with carrot top salsa verde
Total Time: 35 min
Prep: 15 min
Cook: 10 min
Serves: 4
Difficulty: Easy

Ingredients
Cooking spray, 4 spray(s)
Uncooked lean flank steak, 1 pound(s)
Kosher salt, ½ tsp
Black pepper, ¼ tsp
Uncooked carrot(s) 1 cup(s), greens (the leafy tops), lightly packed (trimmed from tops of carrots)
Uncooked shallot(s) 1 Tbsp, finely chopped
Capers 2 tsp, rinsed and drained
Garlic clove(s), ½ small clove(s), minced
Fresh tarragon, ½ tsp, finely chopped
Anchovy paste, ½ tsp
Dijon Mustard, ¼ tsp
Extra virgin olive oil, 2 Tbsp
Sherry vinegar, 1 tsp

Instructions
1. Off heat, coat grill rack or grill pan with nonstick spray. Preheat gas grill or grill pan to medium-high, or prepare medium-high fire in charcoal grill.
2. Season steak with salt and black pepper. Grill steak until desired degree of doneness, about 5 minutes per side for medium-rare. Transfer steak to cutting board and let rest for 10 minutes.
3. While steak is resting, in mini food processor, pulse carrot greens, shallot, capers, garlic, tarragon, anchovy paste, and mustard until coarsely chopped. Add oil and pulse just to combine. Transfer to small bowl. Stir in 1 to 2 tsp water to thin salsa slightly.
4. Thinly slice steak against grain. Stir vinegar into salsa just before serving. Top steak with salsa or serve salsa alongside.
5. Serving size: 3 oz steak and 2 tbsp salsa

Healthy recipes by Weight Watchers.