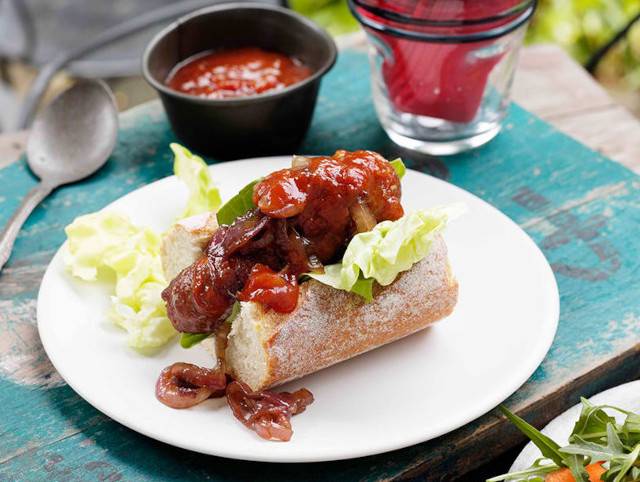 Gourmet sausage roll with onions and relish
Total Time: 35 min
Prep: 10 min
Cook: 25 min
Serves: 4
Difficulty: Moderate

Ingredients
Red onion 2 medium, thinly sliced
Sea salt 1 tsp
Balsamic vinegar 1 tbs
Brown sugar 1 tbs
Extra lean beef sausages 4 thin, (4 x 60g)
Wholemeal bread roll 4 large, (5 x 70g)
Butter lettuce 40 g
Tomato relish ⅓ cup(s), (80g)

Instructions
1. Preheat a medium non-stick frying pan over low heat. Add sliced onions and sea salt and cook, stirring, for 10–15 minutes or until onions have softened. Add vinegar and sugar and cook for a further 8–10 minutes or until onions have caramelised.
2. Meanwhile, heat another large, non-stick frying pan over moderately high heat. Cook beef sausages for 10–12 minutes, turning occasionally until browned and cooked through.
3. Top bread roll bases with lettuce, sausage, onion and relish. Sandwich with roll tops and serve immediately.

Notes
SERVING SUGGESTION: Salad of thinly sliced carrot, red and green capsicum and baby rocket leaves.

TIP: As a time-saving alternative, you can use store-bought caramelised onion instead of making your own.

Recipe by Weight Watchers.