Show your #GLO with the newest, glowy-ist, on-trend fashion dolls to hit the toy store shelves in forever - the GLO-UP Girls™.
Welcome to the world of GLO-UP - where we believe a little #GLO-tivation is all you need to achieve your goals! With super cool fashions, surprise transformations and a face mask for YOU with every Doll, the GLO-UP Girls™ empower tweens to explore and celebrate who they are today and who they are becoming.
Based on the transformational 'glo-up' social trend, the GLO-UP Girls™ Dolls invite you to give them a complete top to toe, self-care experience! Your GLO-UP Girls™ arrives in her pyjamas and sleep mask, just waiting for you to transform her. Each doll comes with more than 25 fashion surprises to use for her total glo-up.... start with a bath bomb, reveal her make up, dip into a manicure and slip her into new fashions, shoes and accessories.
You get to play stylist, completing her transformation, revealing her glo-up!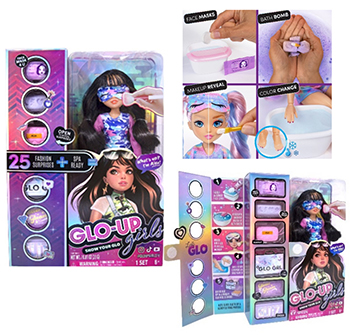 Six Gals to GLO-UP!
Erin, Tiffany, Alex, Sadie, Kenzie and Rose are fab and fierce friends that make up the #GLO squad. They are always each other's biggest fans, with different styles, passions, thoughts and talents that see them living their best lives.
The GLO squad exist in a world where you can be anything you want; and they're here to help you explore exactly that! Are you ready to Glo-Up?
#ShowYourGLo and take on the world!
Each GLO-UP GIRLS™ doll comes with unique styles and surprises, and lets you experience the whole process of GLO-UP! including:
* A beauty face mask for YOU
* 25 fashion surprises to discover for your doll
* Bath bomb with a surprise inside
* Foot spa for your doll
* Makeup that magically applies to your doll's face
* Colour-changing nail play
* Fabulous hair styling fun
* Fashions such as pants, skirts, tops, jackets, and shoes
* Accessories such as earrings, bags and purses
* Pyjamas and sleep mask for Pre-GLO and After-GLO relaxation
With GLO-UP GIRLS™ dolls, tweens can express themselves as they play, exploring selfcare, spa play, manicures and makeup, plus role play and dress ups, immersing themselves in a world of their own creation.
GLO-UP GIRLS™ also has their own TV show, The GLO Show! Follow the adventures of six REAL teenage influencers living in a social media content creator mansion, and taking on sensational Glo-Up adventures. Check it out on YouTube on the GLO-UP GIRLS™ TV channel.
Suitable for 6+ years, the GLO-UP GIRLS™ are available from Target.
RRP: $39.99
For more visit www.gloupgirls.tv
Instagram @gloupgirlstv
#ShowYourGlo #GLO #GLO-UP #GLO-tivation #gloupgirls #gloupgirlstv #TheGLOShow #GLOHouse