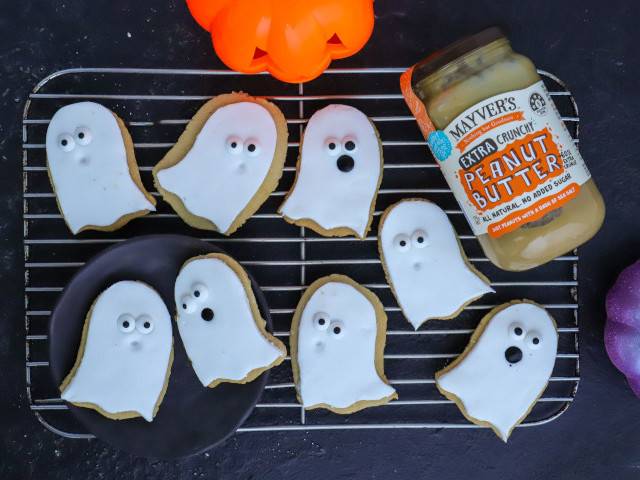 Ghost Cookies
By Susie Burrell
Time: 1 hour, 15 minutes | Serves: 35

Ingredients
1/2 cup Mayver's Extra Crunchy Peanut Butter
3 tbsp. of butter
½ cup caster sugar (or sugar alternative)
¼ cup brown sugar
1 egg
1 tsp vanilla
1 ½ tsp. baking powder
2 cups plain flour, sifted
White icing and candy eyes, to decorate

Method
1. Place butter and Mayver's Extra Crunchy Peanut Butter in a medium mixing bowl. Mix well with an electric beater until light and fluffy. Add both sugars, egg and vanilla and pulse until well combined.
2. Stir in baking powder and flour. Place in the fridge for 1 hour to rest.
3. Preheat the oven to 180C/160C (fan forced) and line three baking trays with baking paper.
4. Use a lightly floured rolling pin to roll out dough on a large sheet of baking paper until 4-5mm thick. Cut out ghosts with your desired cutter and place onto lined baking trays. Repeat with remaining mixture.
5. Bake for 10 minutes or until golden. Transfer to a cooling rack to cool.
6. Decorate with icing and candy eyes.