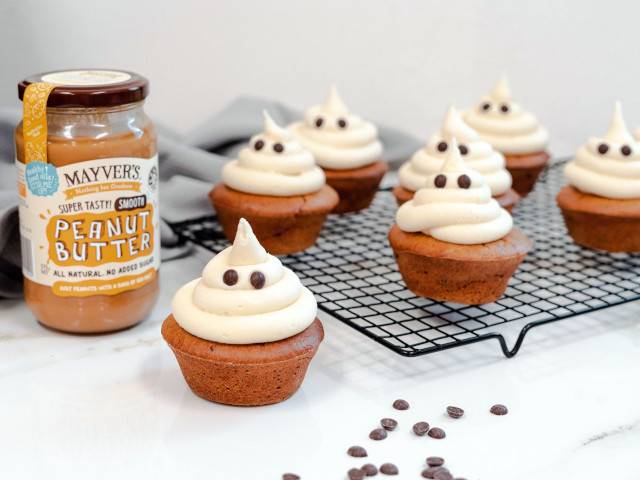 Choc Chip PB Muffin Ghosts
By Sam Wood
Prep time: 30 minutes | Cook time: 25 Minutes | Serves: 35

Muffin Ingredients
2 cups wholemeal spelt flour
1/2 cup coconut sugar
1 tbsp baking powder
1/2 tsp ground cinnamon
3/4 cup Mayver's smooth peanut butter
2 free-range eggs
100g butter, melted
1.5 cups coconut milk
100g dark chocolate, roughly chopped into small chunks

Icing Ingredients
2 cans coconut cream, chilled in the fridge overnight
1-2 tsp stevia, adjusted to your liking
1 tsp vanilla extract
20 mini dark chocolate chips

Method
1. Preheat the oven to 180 °C, on a fan forced setting.
2. Grease 10 holes of a muffin tray and set aside.
3. Combine the flour, coconut sugar, baking powder and cinnamon in a bowl.
4. Next, add the peanut butter, eggs, melted butter and coconut milk to the bowl and stir well to combine.
5. Stir through the chocolate chips and divide the muffin mixture amongst the muffin tray.
6. Place the muffins in the oven to cook for 25 minutes, until a toothpick comes out dry.
7. After this time, remove the muffins from the oven and allow to sit for 5 minutes.
8. Transfer the muffins to a cooling rack.
9. Remove the coconut cream from the fridge. Do not shake or mix the can. Scoop out all of the solid coconut cream and place it in a bowl. Avoid the liquid, leaving that in the can.
10. Add the stevia and vanilla to the bowl and use a hand mixer to whip the cream, until creamy and smooth.
11. Place the coconut cream icing in a piping bag with a round attachment. Pipe the mixture onto each muffin.
12. Once the muffins have been iced, make the eyes by adding 2 mini chocolate chips to each.