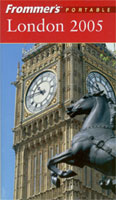 Experience a place the way the locals do. Enjoy the best it has to offer. And avoid tourist traps. At Frommer's, we use 150 outspoken experts around the world to help you make the right choices. Frommer's, your guide to a world of travel experience.


A compact guide on getting to and enjoying the City of Light.
Outspoken opinions on what's worth your time and what's not.
Exact prices, so you can plan the perfect trip no matter what your budget.
Off-the-beaten-path experiences and undiscovered gems, plus new takes on top attractions.
The best hotels and restaurants in every price range, with candid reviews.

Frommer's London 2005

London Bridge, Big Ben, Trafalgar Square, and Buckingham Palace. If you've only got a short time to spend in old London town, but feel like there is too much you want to see, this handy guide from Frommer's wil make it easy. From the main attractions, like the Changing of the Guard and the Tower of London, to the slower pace of the markets of Notting Hill, or Covent Garden, 'Frommer's Portable London 2005' offers you the best advise for making the most of your holiday time. Complete with restaurants and hotel listings for every budget, maps, contact numbers, opening hours, transport tips and more, 'Frommer's Portable London 2005' has all you need to plan a truly memorable visit.




Frommer's New York 2005

Times Square, the Rockefeller Centre, Central Park, the Gugenheim, and much more. New York City has so much to offer and this handy guide is perfect to get you started. Complete with chapters on how to plan your trip, finding your way around, choosing where to stay, where to dine, and the best attractions the Big Apple has to offer during the day and after dark, 'Frommer's Portable New York City 2005' is the handy, lightweight alternative for travellers. With a focus on Manhattan, hotels, restaurants, and attractions in each neighbourhood have been judged on their quality and comfort, and all expamples range from the inexpensive to the luxurious giving you a range of choices.




Frommer's Paris 2005

L'Arc de Triomphe, the Champs-Elysees, the Musee Du Louvre, and the Eiffel Tower; Paris is the home of some of the world's most beautiful and most-visitied attractions. No trip to Paris would be complete without a trek to the top of the great tower, a pain au chocolat from a traditional French patisserie, or a quick peek at the Mona Lisa and the Venus de Milo. Compact, comprehensive and updated, 'Frommer's Portable Paris 2005' will recommend a hotel, restaurant, bar and attraction to suit any budget.


All RRP $18.95
www.frommers.com