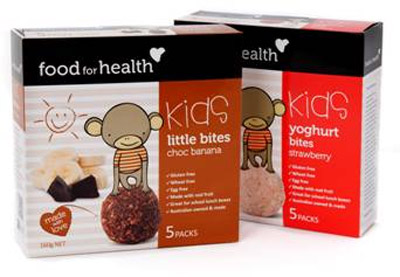 Food for Health Kids Bites
Send the cheeky monkeys back to school, safe in the knowledge that you've provided a healthy, natural and allergy-friendly snack to keep them fuelled throughout the day.

Food for Health has launched its NEW Kids Bites range of bite-sized gluten and egg free balls in two yummy flavours - Yoghurt Strawberry and Choc Banana that are sure to leave the lunch box come home time.

These allergy friendly snacks are loaded with real fruit pieces and healthy wholegrains. Individually packed, Kids Bites are the perfect kids 'treat'.

Review: "Can you get them again", was my fussy eater's comment.

Available now for RRP $5.95 (pack of 5) at Woolworths and independent supermarkets and health food stores.


Food for Health in the Spotlight

Born from naturopath and founder Narelle Plapp's desire to create delicious and healthy food options for people with food allergies, Food for Heath has fast become one of Australia's most trusted allergy-friendly health brands.

It all began when Plapp, a practicing naturopath, developed two of her own homemade allergy-friendly mueslis to satisfy her patients' digestive needs. The feedback was overwhelming and demand for her mueslis high, giving Plapp the confidence to take her delicious range to the masses.

Since its launch to the Australian market in 2005, Food for Health has come a long way since Plapp's humble hand-mixing days now boasting an average 80% year on year growth and rapid global expansion. Food for Health's gluten free mueslis and health bars are currently sold in 2,200 stores nationally including Coles, Woolworths, Costco and Caltex, delivering an annual turnover of $3.7million.

Plapp believes much of this success if due to the rapidly increasing consumer demand for convenient, healthy and allergy-specific foods trending around the world.

"Consumers are becoming increasingly aware of individual dietary needs and looking for healthy and convenient solutions. Recent studies1 have shown that 15-25% of the Australian population now desire gluten free foods as a healthier lifestyle option and this is on the rise, providing strong opportunity for continued growth for Food for Health," she says.

This same demand is evident around the globe, allowing Food for Health to venture overseas into the Asian market, with the company now thriving in Singapore, Brunei, Malaysia, Hong Kong and Indonesia. Further cementing the business's global success story, Food for Health has recently secured a place in the American market where it will be rolling out the range later this year.

For Plapp, her company's global expansion is a way of mitigating the threat posed by the private label monopoly currently challenging small businesses such as her own.

"With the large players controlling over 71% of the grocery market and an increase in private label products on shelf, it is important that we continue to spread our distribution, invest overseas and continue to invest in building our brand in order to stay ahead of the game," says Plapp.

"We plan to be around for a long time. And with the health food industry and allergy diagnosis in such a significant growth phase, as long as we stay true to our core values we're extremely confident we to will continue to see significant growth."

Australian made and owned, Food for Health combines diet-specific needs and superior nutrition to deliver a range of allergy-friendly mueslis and health bars, without compromising on taste. All products use the highest quality ingredients including sulphur free fruit and are wheat, sulphur, dairy, yeast and cane sugar.