Beat the winter blues with flax fibre - original
Have you noticed a change in your hair, skin and nails with the cold change in the weather? Lowered immunity? A greater increase in illness? Don't fret! waihi bush organic farm flax fibre - original is the perfect addition to your diet to beat the winter blues.
Generating beauty from the inside out - flax fibre - original, milled from certified organic flax seed (linseed), is high in Omega - 3, 6 and 9 giving your eyes a sparkle, your skin a shine and a general kick in your step.
Also high in protein, low in carbohydrates, antioxidant rich for cell protection and loaded with phytoestrogens for hormonal and immune system balance - all you need to do to reap the benefits of healthy and glowing winter skin is add one tablespoon to your diet a day!
flax fibre - original can be added to muffins or bread, meatballs or patties, smoothies, sprinkled on your breakfast cereal or added to your baking - so incorporating it into your diet is quick and easy!
As well as this, flax fibre - original has superior qualities to assist in the treatment of Omega-3 imbalances including symptoms such as:
o dry skin, hair conditions, soft or brittle nails
o inflammatory problems such as acne, eczema or arthritis
o lowered immunity, slow healing or allergies
o learning disorders and behavioural changes like ADHD
o mental deterioration and mood swings
o weakness, low energy or fatigue
o tingling sensations in arms and legs
o excessive thirst or frequent urination.
The powerful properties of flax fibre - original can also help with:
o blood sugar stabilisation - diabetes, hypoglycaemia or insulin resistance
o bowel health - Irritable Bowel Syndrome or inflammatory bowel disease
o cardiovascular health - better heart health
o hormonal balance - prostate health, breast health, menopause, osteoporosis, PMS, endometriosis
o immune system balance - allergies, cancers and other conditions where the immune system is not functioning optionally
o oxidative damage - protects the body against free radicals
So don't delay - winterise your body today! After a week of adding one tablespoon of flax fibre - original to your diet you will feel and look healthier - from the inside out.
Carrot slice/muffins
1 1/2 cup grated carrot
1 cup flour
1 tsp baking soda
1 tsp cinnamon
1 cup sultanas
1/2 cup raw sugar
1/4 cup flax fibre - original
1/2 tsp salt
2 eggs
1/2 cup cooking oil
1. Beat eggs and oil together
2. Add to previously mixed dry ingredients
3. Spread mixture into prepared cake tin
4. Bake at 180°C for 30 minutes
5. Sprinkle seeds, nuts of choice or ice when cold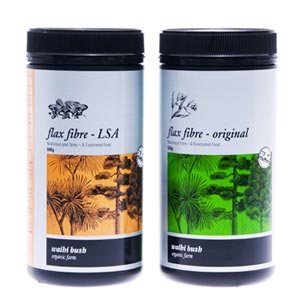 Functional Whole Foods New Zealand Ltd waihi bush organic farm flax fibre - original
550g RRP: $9.95
For stockist enquiries please call Organic Trader +61 2 8399 0122 or Relish Fine Foods (formerly Health Magic) +61 3 9555 9390
www.waihibush.co.nz
Review: Coming soon
Who is Functional Whole Foods New Zealand Ltd (FWF):
FWF specialises in producing high quality functional food products that are widely believed to protect against disease and sustain health and well being through regular usage.
All FWF products - including waihi bush organic farm oils - are the result of thorough scientific research and knowledge gained through 18 years industry and personal experience.
FWF cares about people's health and well being and its mission is to spread the word about the benefits of functional foods and make them fun for consumers.