FINLANDIA GRAPEFRUIT FUSION VOTED BEST-TASTING FLAVOURED VODKA AT THE SAN FRANCISCO WORLD SPIRITS COMPETITION
Launched to widespread critical acclaim, Finlandia Grapefruit Fusion is set to take Australia by storm
More than 250 years ago the Grapefruit, otherwise known as the "forbidden fruit" was found in Barbados, and since then it has continued to rise in popularity throughout the world. Today, Finlandia Vodka has taken the natural taste of grapefruit and brought to life the best tasting flavoured vodka.
Twenty-two distinguished judges agreed - Finlandia Grapefruit Fusion is the best flavoured vodka in the world. Trumping a field of 32 other flavoured vodkas, the vote on Finlandia Grapefruit Fusion was unanimous. In the world's largest and highest regarded spirits competition, where 700 spirits from 51 countries were represented, this is truly a landmark achievement.
US-based 'Cocktail King' and renowned mixologist, Tony Abou-Ganim says, "This is the real deal; honest grapefruit from start to finish... I detect all aspects of the grapefruit, an honest nose which follows beautifully on the palate."
Fellow 'Cocktail King' and mixologist, Dale DeGroff, famous for popularising the Cosmopolitan, agrees; "Finlandia Grapefruit is as bright and fresh as a half grapefruit for breakfast and doesn't need anything but a glass!"
Wine Enthusiast magazine gave Finlandia Grapefruit Fusion 96/100; Classic/Highest Recommendation, saying, "The fresh, citrusy, acidic, juicy, just-squeezed grapefruit is unbelievably attractive and genuine. The palate entry is engagingly grapefruit-like, juicy, tart and ripe; by mid-palate the grapefruit flavour is so authentic as to be more like an infusion. It finishes as seductively as it began."
Today's consumers are looking for bold new flavour experiences. Finlandia Grapefruit Fusion combines a distinct taste of fresh juicy pink grapefruit and the smooth, clean taste of Finlandia Vodka. Grapefruit Fusion is made using the skin, the peel and the juicy pulp of pink grapefruits, delivering a fresh, authentic flavour with balanced acidity and sweetness. The combination of 100 percent natural fruit flavours with Finlandia Vodka means that the end product is untouched by artificial flavours, colours or additives.
Finlandia Vodka is made from pure glacial spring water and the finest six-row barley grown under the under the gentle warmth of Finnish Midnight Sun. This barley, the most expensive distiller's grain, used by many distinguished single malt scotches and premium beers, offers the highest quality starch and the lowest possible content of natural oils, which contributes to the crisp, clean taste.
Finlandia Grapefruit Fusion (40% ABV - 700ml) has a recommended retail price of $37.99 and joins Finlandia Classic, Mango Fusion, Lime Fusion and Cranberry Fusion in the Finlandia family of brands.
Finlandia Grapefruit Fusion is one of the few vodkas that can be enjoyed on the rocks or mixed. Suggested mixers include tonic water, lemonade, pomegranate juice, orange juice and pink grapefruit juice.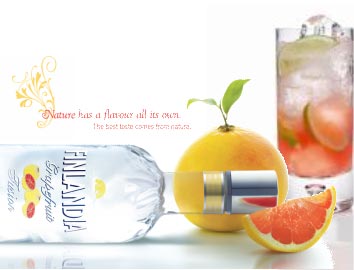 For a true crowd pleaser, try this zesty new cocktail:
Finn 'Grape Expectations'
· 45ml Finlandia Grapefruit Fusion Vodka
· 15ml peach schnapps
· 30ml pink grapefruit juice
· Topped up with lemonade and a squeeze of fresh lime
Method
· Build over ice in a tall glass and stir
· Garnish with a lime wedge
Drink responsibly. Legal drinking age in Australia is 18.