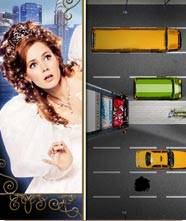 Enchanted Princess Crossing Free online Game is centred around the Disney movie Enchanted.Starring: Amy Adams, Patrick Dempsey, James Marsden, Susan Sarandon, Timothy Spall, Idina Menzel
Director: Kevin Lima
Rated: G

Enchanted is a classic Disney tale about a Princess whose animated world collides with modern day New York City and unexpectedly finds herself in present day Manhattan. As the hard reality of New York City life sets in, Princess Giselle begins to change her views on life, love and happily ever, when she is befriended by handsome no-nonsense divorce lawyer Robert and his young daughter, Morgan. In turn Giselle brings some magic into Robert's and Morgan's life, but can a storybook romance survive in the real world?

The film's fantastical and contemporary characters are brought to life by an accomplished cast of actors which includes Academy Award® nominee Amy Adams (Junebug), Patrick Dempsey (Grey's Anatomy), James Marsden (Hairspray), Timothy Spall (Harry Potter and the Goblet of Fire) and Academy Award® winner Susan Sarandon (Shall We Dance).

Walt Disney Studio's Enchanted, only at the movies Boxing day, December 26.

More on the Movie Enchanted - Enchanted The Movie

Let's play the Enchanted Game


Users must help the Enchanted character to get to the other side of Times Square, while avoiding taxi cabs and trying not to cause a major pile up.