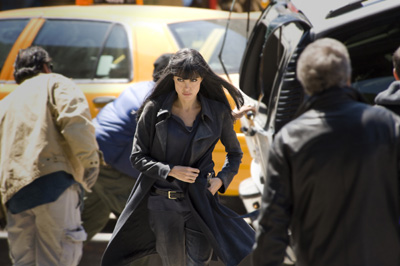 EXPERIENCE ANGELINA JOLIE'S 'SALT' WITH THE
DAY X EXISTS GAME


An on-line game has been launched that will give audiences a unique look into the story-line of the upcoming contemporary action thriller SALT. The film stars Angelina Jolie and opened in the U.S. over the weekend to a huge $US 36.5 million dollars.
The Day X Exists game combines video based story telling with espionage themed missions and asks users to delve into the world of Agent Evelyn Salt after she is accused of being a sleeper spy within the CIA. Players are recruited by Salt to stop a mysterious plot called 'Day X' and clear her name.
As told to mX Newspaper, "This is about participation and rewards we can give - if you play, you might learn something about Salt that you won't get from just seeing the film," said Nathan Mayfield co-founder of Hoodlum, a Brisbane based company that designed and produced Day X Exists for Columbia Pictures.
9 missions will be released across a 4 week period with the first mission activated on Tuesday July 27. Upon the completion of the final mission, users can enter a sweepstakes to win Sony Electronic prizes valued at $12,000.
About the Film:
Angelina Jolie stars in the contemporary action thriller SALT directed by Phillip Noyce. As a CIA officer, Evelyn Salt (Jolie) swore an oath to duty, honour and country. Her loyalty will be tested when a defector accuses her of being a sleeper spy. Salt goes on the run, using all her skills and years of experience as a covert operative to elude capture. Salt's efforts to prove her innocence only serve to cast doubt on her motives. As the hunt to uncover the truth behind her identity continues, the question remains: "Who Is Salt?"
View the Game Trailer and play Day X Exists at
www.DayXExists.com.au
now.
SALT is in cinemas nationally from August 19.
www.WhoIsSalt.com.au