This amazing nail care treatment promotes stronger, longer and healthier nails. The benefits of using Revitanail include: Hardens, strengthens and protects natural nails, restores nails damaged from nail extensions, the strengthening formula will help eliminate peeling, flaking and chipping. Directions: Apply 2 coats on day 1, then 1 coat daily for 5 days. Remove then repeat the program. Best used in conjunction with Dr LeWinn's Private Formula Cuticle Treatment Oil. RRP per 30mL $27.95.
Review: If you have ever struggled with flaky weak nails, you are in for a real treat, Dr LeWinns Revitanail is awsome.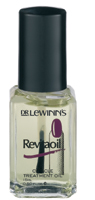 Dr LeWinns Revitaoil
This cuticle treatment oil is made from a blend of essential oils and vitamins to assist nail strength and to condition cuticles. RRP per 15mL $14.95.
Available from Myer, David Jones and all major pharmacies nationally. For stockists, call 03 9676 1800 or visit