Dr Lisa to the Rescue Interview
Forget The Bachelor! Bones replace roses when true, life-lasting love finally comes to TV with the launch of Dr Lisa to the Rescue, a riveting new reality show which finds forever homes for rescue dogs. Dr. Lisa Chimes, of Bondi Vet, is on a personal crusade to change Australia's view of shelter dogs, one pooch at a time. The show debuts Saturday, July 18, 4:30 pm on Channel 9 - http://wtfn.com/program/dr-lisa-rescue/

Finding the right match for a life-long commitment is a challenge. Dr. Lisa combs the Animal Welfare League to search for the exact right rescue dog for each pet-yearning family. For each case several dogs are presented, sometimes with hilarious antics, but which lucky pup will they choose? It's a heart-warming show that has you questioning just whom is rescuing whom.

"Each year over 100,000 homeless dogs find refuge at shelters across Australia," says Dr. Lisa. "Sadly, many Australians have misconceptions about rescue animals. They may not be aware that shelters regularly retrain and work with the animals to help them become loving lifelong companions."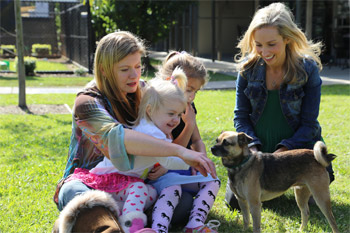 Over the course of 10 weeks, Dr. Lisa must find and fit dogs to lifestyles ranging from a search for a companion to horses and chickens on a farm, to a single career woman in a tiny apartment; from a grieving couple looking to replace a beloved pet, to a large family excited to own a dog for the very first time. It's a must-match of personalities and places, people and pets. Along the way, there are tips and guidance on pet care and proper set-up to ensure a happy home.

"All these rescue dogs have stories, but their stories are not over," adds Dr. Lisa. "My goal is to ensure their stop in the shelter is just the beginning of the next chapter for them, with a very long and happy ending. They have so much love to give, and the reality is, it's their new owners who are the lucky ones."

All manner of breeds, tiny to large, some shy, others boisterous and brimming with personality, the rescue dogs have one thing in common- they're looking for love. "You won't get a more grateful, loving pooch than a pound dog," she says. "These dogs know they've been given a second chance at life and they are so happy. They couldn't love their owners more for giving them a home."

Dr Lisa to the Rescue is sponsored by Nestle PURINA Petcare, who has partnered with Animal Welfare League Australia to provide the dogs and cats at AWLA affiliated shelters looking for new homes, with the best nutritional care possible and to promote the adoption of rescue pets in Australia.


Interview with Dr. Lisa Chimes
Question: What is the show, Dr Lisa to the Rescue about?

Dr. Lisa Chimes: It's all about match-making people with pets from shelters and teaching people about responsible pet ownership. You can see the promo here.


Question: What inspired the show Dr Lisa to the Rescue?

Dr. Lisa Chimes: I want to encourage people to adopt pets from shelters, like the Animal Welfare League, rather than buy them from backyard breeders, pet stores and puppy farms. The show is a great way to combine this message with educational content that teaches people how to be better pet owners.


Question: Can talk about the importance of finding forever homes for rescued dogs?

Dr. Lisa Chimes: It's not only important to find out whether a particular pet is right for a family, it's also essential to make sure that the family are suitable for the pet as well. A shelter pet has already been through so much in their life, so we need to make sure that the family are suitably prepared for the big commitment ahead of them if they decide to adopt the pet - we don't want them to end up back in a shelter! That's why It's been fantastic working with Purina and the AWL to ensure we're making the best choices for each rescue dog and family.


Question: Where are these dogs often rescued from?

Dr. Lisa Chimes: Most of the pets are either strays, victims of neglect or they have been surrendered to the shelter as the owners can no longer look after them. A big reason why pets end up in shelters is that people don't realise how much work owning a pet actually is and they fail to look at the big picture: the pet will be around for many years!


Question: What is involved in rehoming these beautiful dogs?

Dr. Lisa Chimes: We assess the families to make sure they are equipped to actually own a pet. Part of this includes assessing their home environment, lifestyle and family situation. We then create a short-list of pets that will work for that particular family, who eventually come out to the shelter to choose which one they form a connection with.


Question: What questions do you ask to find the right dog for the right home?

Dr. Lisa Chimes: There are so many things to think about, like: what kind of home environment they live in; what lifestyle the family lead; what are their working hours; are there kids around; how much can they exercise a pet, just to name a few.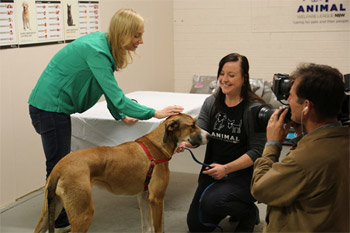 Question: What are the most important things we need to know before looking at getting a dog?

Dr. Lisa Chimes: Owning a dog is a 10-15 year commitment - you need to make sure that you can look after the dog for all this time. Being a dog owner is a big responsibility - they need constant attention, food, training, exercise and trips to the vet. Finances must also be taken into account - it costs money to look after the day-to-day care of your pet, and unexpected vet bills from accidents and illnesses are also possible.


Question: What attributes does a person need to home a rescue dog?

Dr. Lisa Chimes: They need to be able to give the pet the long term love and daily care they need. Continuous training is also important for any pet, as well as the time to exercise them each day.


Question: What do you hope Australians learn from Dr Lisa to the Rescue?

Dr. Lisa Chimes: Owning a pet is a huge long-term responsibility, so it's important to make sure that you are actually ready for this commitment before you get the pet. Consider adopting pets from shelters, like the Animal Welfare League so that we can give these beautiful animals a second chance.


Question: Can you tell us about your books My First Kitten and My First Puppy?

Dr. Lisa Chimes: My First Kitten and My First Puppy are narrative picture books for 3-6 year olds that aim to teach children about looking after a pet. The stories are entertaining and also provide the reader with important educational messages about choosing their first pet, as well as how to care for them. Children love their pets and thrive on being given some responsibility. Hopefully the parents will learn something too!


Interview by Brooke Hunter