Downton Abbey Season 2 Recipe Cards
To celebrate the hit TV series Downton Abbey: Season 2 on DVD and Blu-ray, style expert, author and fashion designer Clare Press has created three Downton Abbey inspired recipes: Pear Upside-Down Cake, Mrs Press's Yorkshire Scones and Dainty Afternoon Tea Sandwiches.
Pear Upside-Down Cake
Bothersome wartime rationing couldn't stop the pears growing in the orchard. This simple sponge is elevated by the wonderful addition of syrupy seasonal fruit. Serve on a crystal cake stand.
Ingredients
Plain cake mix:
125g butter
125g sugar
2 eggs, well beaten
250g self-raising flour
¼ tsp salt
½ cup milk
½ tsp vanilla essence
Topping:
60g brown sugar
60g unsalted butter
2-3 pears poached and thinly sliced (425g can sliced pear drained is also an option).
Method
Preheat oven to 180.
Sift the flour and salt and set aside.
Cream the butter and sugar, then add the beaten eggs gradually. Now add flour and salt, alternating with milk, vanilla and mix.
For the topping, soften the butter and mix with brown sugar.
Press into the base of an 8-inch cake tin and arrange pear slices on top.
Layer the cake mix on top of the fruit and bake for 35-40 minutes.
Stand for 5 minutes before inverting onto your finest cake platter.
Serve warm and enjoy oohs and ahs!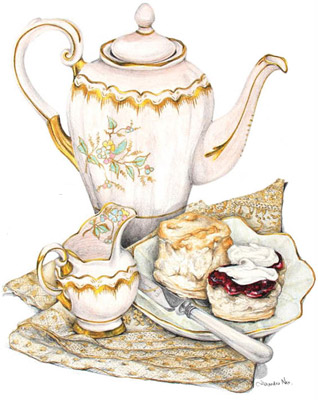 Mrs Press's Yorkshire Scones
Like Lady Mary, I'm from Yorkshire (though alas I've never been to tea at Downton Abbey). Not that I don't know my way around a scone. These are best served warm, fresh from the oven (by your maid if you're lucky). And remember your manners - spoon on your jam, then add a ladylike dollop of cream, don't be greedy and never mix the spoons!
Ingredients
250g self-raising flour
½ tsp salt
1 tbsp butter
1 cup milk
Milk or egg yolk for glazing
Method
Preheat oven to 220 and grease scone tray.
Sift flour and salt together.
Cut butter into flour, and rub in lightly using your fingers.
Turn onto a floured surface and knead slightly.
Remember, the less you handle the dough, the lighter your scones will be.
Flatten out the dough with the heel of your hand for approx ½ inch thickeness.
Stamp out with a scone cutter - or a glass dipped in flour works just as well.
Place scones touching each other on a tray, glaze tops and bake 8-10 minutes.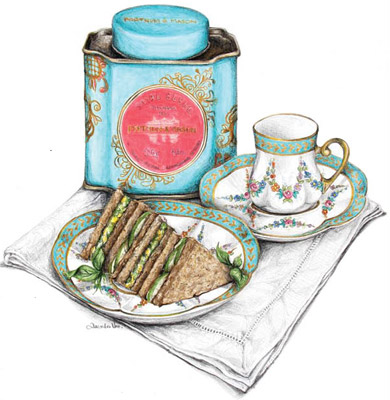 Dainty Afternoon Tea Sandwiches
Traditionally come tea-time, the Brits nibbled bite-sized triangles of brown bread filled with classic cucumber or egg and cress. We've taken our cue from venerable London department store and tea sellers, Fortnum & Mason: they suggest adding zest to cucumber sandwiches with vinegar and white pepper. Don't forget to cut the crusts off!
Ingredients
1 slice brown load
Good quality salted butter
Filling 1:
2 cucumbers from your garden
Cream cheese
Fresh dill
White pepper
White wine vinegar
Filling 2:
6 eggs
Mayonnaise
A generous handful of mustard cress (you can grow this quiet easily from seeds in a window box) .
Method
Filling 1:
Combine cream cheese and chopped dill in a bowl, season with white pepper.
Peel and finely slice cucumbers, splash with a little vinegar.
Filling 2:
Hard boil the eggs (8 minutes please, in salted water, from cold).
Peel, then set aside.
When cool, mash gently with a fork, adding 3 tbsp mayonnaise. Season to taste.
Assemble your sandwiches carefully, remembering that less is more. Aim for pretty and neat - not giant messy mouthfuls. Cut each one into 4 triangles, and arrange delightfully on a bone china plate.
Clare Press
is a style expert, author, and fashion designer. She is a regular contributor to Harper's Bazaar and her monthly column, Style Matters, appears in Instyle magazine.
Clare began her career as a fashion journalist, writing for Harper's Bazaar and The Australian. She then spent five years as Australian Vogue's features director. She has written for the New York Times Magazine and Elle in the US, and was The Monthly's first fashion critic.
In 2008, Clare launched her womenswear label: Mrs Press, which has gained a cult following for its elegant party dresses and vintage sensibilities. The Mrs Press flagshipstore is on Oxford Street, in Sydney's Paddington.
Clare's first book, The Dressing Table, was published by Penguin/Lantern in 2011. Chapter 10 is dedicated to the art of taking tea.