Your Shot DJ Comp Melbourne Winners Announced
YOUR SHOT presented by Alcatel, the DJ competition now in its 10th year, which provides a unique opportunity for Aussies to transform their passion for music into a career, and has launched the careers of world-famous DJs such as Tigerlily, J-Trick and GO FREEK, held its vibrant Melbourne event last weekend, at the Royal Melbourne Hotel.

Following an intense battle, YOUR SHOT and Wild Card contestants hit the decks to compete for the coveted Your Shot title, with their eye on the prize - an opportunity to perform a set at an International music festival such as Imagine Festival, Hideout Festival Croatia, Snowbombing, Chasing Summer Music Festival, The BPM Festival or CRSSD festival.

YOUR SHOT has announced the 2019 Melborune Winners – Alex White (DJ SMBA) won the Your Shot 2019 Melbourne contestant title and Allezar Brookes (DJ Allezar), won the Wildcard division.

According to Alex, he entered Your Shot to gain confidence in front of a public and expand further his music knowledge and DJing skills.

"Initially I chose to do Your Shot because I wanted to gain the confidence to play in front of people, that's it. I never thought I stood a chance for winning."
"The biggest thing I learnt through this competition though is that I could actually do this. I'd been so scared to DJ in front of a crowd for so long so I used this as an opportunity to test that. However, to be perfectly honest I still don't think I could've done it without my mates from the competition who were there every step of the way supporting me and each other, I really felt like it didn't matter what happened when I played my set because they were there."
"Now this gives me an opportunity to build a strong foundation for myself. The thing I'm aware of is quick to rise, quick to fall, so I'm going to set myself up so that my career is strong and that I'm able to achieve everything I hope to achieve. I'm going to bring something to the music industry they didn't know they could live without until now."

Founder and Director of YOUR SHOT, Steve Pillemer commented; "When you hit a 10 year milestone, its really a time to look back and reflect. I started Your Shot with the fundamental goal of helping young Aussies turn their dreams into reality. I really want the contestants to look up at their favourite DJ and think it's totally achievable, not just a fantasy. There are literally thousands of young Australians out there who have a passion for music, but don't know how to go about it.

"Your Shot provides a one-of-a-kind platform, with hands-on training and guidance from some of Australia's best DJ talent, we help young aspiring DJs realise their dreams, all whilst having a lot of fun along the way. And we know it works, with over 60 percent of those that have completed the Your Shot program currently holding residencies or performing regular gigs".

With the ongoing support of our partners, we are thrilled to be back for another year, changing the lives of aspiring DJs across Australia, and unearthing the next generation of the country's most exciting upcoming DJ talent", he added.

The 2019 Sydney Your Shot contestants were selected at registration days where they undertook interviews a matter of weeks ago when they had little to no DJ experience, but a serious passion for music. Since registration days, the contestants have undertaken a rigorous 6 weeks of training at The Academy with some of the industry's elite DJ's, culminating in a 20 minute set on stage.

YOUR SHOT presented by Alcatel, the grassroots initiative, which provides a unique opportunity for Aussies to transform their passion for music into a career, and has launched the careers of world-famous DJs such as Tigerlily, J-Trick, Hydraulix, Go Freek and Nyxen, has returned for its tenth consecutive year.

Your Shot has helped more than 6,700 aspiring DJ's realise their dreams in the Australian music industry. Last year saw over 10,000 registrants and 700 contestants, and with over 20 percent growth year-on-year, 2019 promises to be the most epic year yet! Due to both its success on the East Coast and popular demand, Your Shot 2019 has for the first time, added Perth to the competition schedule.

What Is Your Shot?

The brainchild of Australian entrepreneur Steve Pillemer, Your Shot has grown from humble beginnings to a highly a successful annual presence on the Australian music calendar. It now attracts more registrations than leading reality TV talent shows, enjoys long-term, well-known sponsors and has led to global expansion across USA and China. This year marks the start of Your Shot USA, based on the Aussie format, the Your Shot DJ Competition will kick off in Los Angeles August 2019.

The final YOUR SHOT event in each state will see the contestants performing alongside some top headline DJs from Australia as well as the best up-and-coming talent. Every contestant will perform in the hopes of taking home the title of YOUR SHOT champion along with life-changing prizes, with the winners fast-tracked to perform at some of the best music festivals around the world.

Returning bigger and better than ever in 2019, the competition will see the State Contestant and Wild Card winner for each State fly overseas on an all-expenses paid trip to perform their first International set at one of the world's hottest party destinations around the globe.

Last year, Your Shot winner, Nikki Chong went from having no DJ experience, to joining Rudimental and Gorgon City on stage at Snowbombing, Austria and was asked to perform a second and third set alongside headliners such as Idris Elba.

Wild Card Winner Vivien Timmers joined the Crssd Festival line up in the USA next to the biggest names in dance music, like Claptone and Duke Dumont.

In 2019, the money-can't-buy prizes are better than ever! The Your Shot Winner and Wild Card Winner across each state will get to swap their bedroom for the main stage alongside legendary artists at one of the following International festivals/ party destinations:
• Imagine Festival – USA
• Hideout Festival - Croatia
• Snowbombing - Austria
• The BPM Festival – Portugal
• Chasing Summer - Canada
• CRSSD Festival – USA

Imagine Festival is a new addition to the Your Shot prize line-up, which is a 2-day festival with a stacked lineup of the hottest artists from around the world including Alesso, Galantis and RL Grime, held in Atlanta, Georgia.

Wild Cards & Alcatel DJ

The Wild Card leg of the Your Shot competition will also return in 2019, providing a pathway to DJs with more than six months of experience. This will see a further 50 DJs from each state offered a chance to battle it out behind the decks to prove their passion in front of industry professionals, booking agents and labels.

The #ALCATELDJ competition is open to anyone, regardless of experience, from across Australia. This will see another year of aspiring DJ's upload a mix to SoundCloud to go into the running for a Pioneer XDJ-RX controller, Production Course and an Alcatel prize pack. Luude, one of Australia's fastest growing artists in the EDM scene will be one of the judges for this year's competition.


Interview with Alex White (DJ SMBA) from Surrey Hills – Your Shot Melbourne Winner
Question: How did it feel to be announced the winner of the 2019 Your Shot DJ Finale?

DJ SMBA: Honestly, everything in my body just stopped feeling the way it normally does. I was so overwhelmed and everyone was hugging my and cheering me I felt like I was just sitting watching it all happen. It was like no other feeling in the world.

Initially I chose to do Your Shot because I wanted gain the confidence to play in front of people, that's it. I never thought I stood a chance for winning.


Question: How will you use this opportunity?

DJ SMBA: I believe that Your Shot doesn't necessarily make me an incredible DJ; it only gives people a reason to listen to me now. I'm excited for a strong music career and this is just an opportunity to tell everyone!


Question: Who motivated you to enter the Your Shot DJ competition?

DJ SMBA: For this set in particular, my main inspiration was Township Rebellion, Alex Stein's 2018 Rainbow set and Matador's 2019 Rainbow set, which I actually saw live and fell in love. These guys are my inspiration for a lot of my music.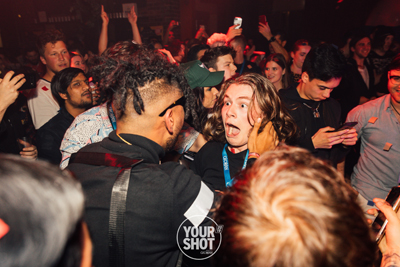 Question: Can you tell us about what you learnt, over the past six weeks?

DJ SMBA: Over the past six weeks the trainers taught us everything from where the cue and play buttons were to transitioning out of a track using a loop, echo and low pass filter at the same time. Shoutout to my trainer, Holly-J, couldn't have done it without her, she is not only super talented but one of the smiliest people I know and I love her to bits.


Question: What did you learn about yourself during this experience?

DJ SMBA: The biggest thing I learnt through this competition though is that I could actually do this. I'd been so scared to DJ in front of a crowd for so long so I used this as an opportunity to test that. However, to be perfectly honest I still don't think I could've done it without my mates from the competition who were there every step of the way supporting me and each other, I really felt like it didn't matter what happened when I played my set because they were there.


Question: Which music/artists are you currently listening to?

DJ SMBA: My music taste can be quite broad, so one day you might catch me listening to In The Shadows by Lovebirds, then you'll hear me listening to some Alex Stein, but chances are I'll have something like Man! I Feel Like a Woman by Shania Twain (one of my biggest guilty pleasures, I love that song!).


Question: If you could collaborate with another artist, who would it be?

DJ SMBA: Now that's such a hard question, I want to make a lot of different types of music and so I'd love to collaborate with many different artists. However, I'd have to say if I could make music with anyone it'd be Township Rebellion, it was their music that made me fall in love with techno.


Question: Can you share your socials?

DJ SMBA: Facebook
@thisisalexwhite


Question: What's next, for you?

DJ SMBA: Now this gives me an opportunity to build a strong foundation for myself. The thing I'm aware of is quick to rise, quick to fall, so I'm going to set myself up so that my career is strong and that I'm able to achieve everything I hope to achieve. I'm going to bring something to the music industry they didn't know they could live without until now.


Interview by Brooke Hunter