ULTRA Australia
After announcing their huge lineup of international heavyweights last month, ULTRA Australia has released their epic phase 2 roster of international and local artists that will be joining the festival in March 2020.

Joining the international elite is the highly acclaimed Markus Schulz, the U.S German DJ and three-time winner of DJ Times' America's Best DJ crown will be bringing his progressive, trance, house style and club hits to the main stage.

Gammer is a highly sought-after DJ and producer who originally made a name for himself in the UK hardcore scene. In recent years, Gammer has been diversifying his sound and is one of the most prolific DJs in trance and hardstyle. Gammer has received many awards including the coveted 'Best Hardcore DJ' award for 6 consecutive years and is expected to be a crowd favourite at the event this year.

DJ, Producer and artist, Tigerlily finds herself among Australia's elite performers and top tier DJs. A main stay across the biggest festival and club stages in both Australia and around the world, Tigerlily is no stranger to the global music community. After her track "Invisible Children," was released through dance music mega-label SPINNIN RECORDS, reaching #1 on the Overall Beatport chart for multiple weeks, Tigerlily continues to tour globally covering all bases across USA, EUROPE and AUSTRALASIA.

APRA award winning and multi-platinum selling artist, Joel Fletcher alongside the superstar DJ Duo Sunset Bros, Mashd N Kutcher, Jesabel, Rojdar, Chloe Wilson, Brynny, young guns Tyron Hapi and Firelite, JaySounds, Marcus Santoro, Orkestrated and more will also bring their impressive performances to the ULTRA Australia stages.

ULTRA Australia will return to Parramatta Park in Sydney on Saturday, 7 March 2020 and to Flemington Racecourse in Melbourne on Sunday, 8 March 2020, on the public holiday weekend in Victoria. The festival will once again feature both the mammoth Main Stage, and the hub of underground sounds with the RESISTANCE Stage. Tickets are on sale now at www.ultraaustralia.com


Interview with DJ Jesabel
Question: Who or what are you most looking forward to at ULTRA Australia?

DJ Jesabel: Of course, the performance! I absolutely LOVE performing – it's my favourite thing in the entire world. The dancers, production, line up…there really is so much to look forward to for this one.


Question: What can attendees expect from your ULTRA Australia set?

DJ Jesabel: I really like to mix things up when it comes to my set – to keep things different. I like to play things that the crowd and I can sing along to but also introduce the crowd to new music because there is soooo much out there. You can catch me playing anything from garage, to bass house, to electro and classics!


Question: How are you preparing ahead of your ULTRA Australia set?

DJ Jesabel: There are a couple of ways to prepare ahead of a show like Ultra. Outfit needs to be on point so I am constantly scouring the internet for the best look for the day. I like to test a bunch of new tunes at all my club gigs to see what works well to ensure my Ultra set is on point. Then in the week leading up I will plan my playlist for the gig and just pump myself up!


Question: What inspired the set your bringing to ULTRA Australia?

DJ Jesabel: The crowd. It's always all about the crowd. At the end of the day, I just want them to have the best time possible so yeah that's what always inspires the music in my set.


Question: Which is your favourite song to perform live and why?

DJ Jesabel: Oooooo, that's a tough one because there are so many. I could say something classic like 'Don't You Worry Child' by Swedish House Mafia because everyone knows it so well and we can all sing it together. Otherwise Dom Dolla 'San Francisco' is a BANGER at the moment.


Question: If you could have anyone, in the world, attend a show, who would it be?

DJ Jesabel: This is a really great question but honestly, I would say my little sisters. They are 11 and 13 and too young to attend my shows but they would absolutely love it!


Question: What motivates you most when creating music?

DJ Jesabel: A mixture between what I love and what I know other people will love. You should always create music that rings true to who you are and what you like but as an entertainer I love seeing the crowd react to something they truly vibe. That in itself is inspiring to me.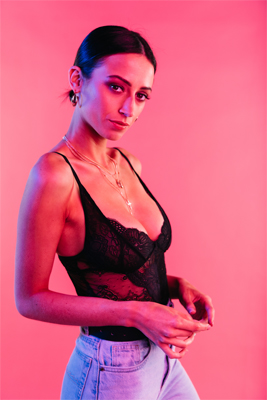 Question: Which music/artists are you currently listening to?

DJ Jesabel: I listen to all sorts of music. I've always just liked what I like and that could be any genre. I'm listening to Dua Lipa, Cxloe, Hayden James, CamelPhat, Offaiah, Chris Lake, Meduza, Jax Jones, Endor…a whole bunch of stuff. Really just depends on my mood.


Question: What or who was your inspiration to go into the music industry?

DJ Jesabel: I was inspired to continue on my musical path and journey. I had been heavily involved in musical theatre throughout my school life so wanted to continue in music in some way. I then had a taste of my first gig and got addicted to the feeling when I perform and that was it! I was in it for the long haul.


Question: If you could collaborate with another artist, who would it be?

DJ Jesabel: Tricky one! Probably Meduza or Dua Lipa at the moment; they are killing it.


Question: What's a typical day like?

DJ Jesabel: Usually I will wake up around 7am and head to reformer pilates (obsessed!). Get home and have my banana on gluten free toast breaky that I have been dying over at the moment. From there I will get on the computer and respond to any emails I might have then jump in the car and head to the studio. That takes up most of the day, sitting with a songwriter and producer to smash out whatever we can. Swing by the shops on my way home and pick up some yummy ingredients so I can cook a nice healthy dinner for my boyfriend and I. Jump on socials for an hour or so and check out what's been going on that day while watching my fave TV show (highly recommend The Bold Type or Cheer!). Have a cuddle with my kitty cat, Zahli and then head to bed around 10pm.


Question: Can you share your socials?

DJ Jesabel: @jesabeldj
Facebook.com/jesabeldj


Interview by Brooke Hunter