Dirty Laundry Interview
Dirty Laundry has been at the forefront of the Australian club-scene since its inception in 2004. The brainchild of Melbourne DJs, JJ Styles and Dean Cherny, Dirty Laundry is a tasty mash-up of Indie Rock, Pop, Dance and Electronica. The five piece band includes: Dean Cherny (DJ/Production), JJ Styles (DJ/ Keyboard/Production), Lee Lee (Vocals), Pete Hypes (Vocals) and Stevie Richards (Sax).
Inspired by the likes of Basement Jaxx, Faithless, Groove Armada and Massive Attack, Dirty Laundry have established themselves as one of the country's most inspiring and energetic live acts. Internationally acclaimed for their unique and mischievous shows, nothing can really prepare you for the DL experience - it's a non-stop action-packed hybrid of video animation, dance and musical performance.
The Intergalactic Video Show adds a new dimension to DL's already dynamic show. It's a ground-breaking series of animated clips, each purposely produced and synced to the music. The show has been produced for arena style events but can be adapted to suit club gigs.
Now in the final stages of production, Dirty Laundry's eagerly awaited first studio album is due for release sometime in 2010. The boys (and girl) have teamed up with some of Australia's most talented writers & producers, including Cheyne Coates (Madison Ave), Styalz Fuego and Timothy Dudfield (Mr Timothy) to craft a mix of funk infused, disco spiked, indy electro-pop.
'Disco Infected', their debut single, peaked at No.10 on the ARIA Club Chart in August 2008. It was closely followed by 'Hate Me' which peaked at No. 8 and spent 5 weeks in the ARIA Club Chart Top 10. The video clip for 'Hate Me' received strong commercial airplay and showcased the bands sublime performance skills. 'I Want You To Fly' is their latest offering and represents a fresh new sound and direction for the band in 2010.
Review
: Dirty Laundry has an intense sound that ensures d-floors Australia wide will be packed when their tracks are on. The collaboration of DJs, keyboard, soft vocals and sax ensure Dirty Laundry have a unique sounding vibe that is perfect for all hot spots. 'I Want You To Fly' is the newest breathtaking track that shows you cannot expect the ordinary from Dirty Laundry. It is impossible to stand still when any of Dirty Laundry's tracks are on and you will never know what beat will hit next.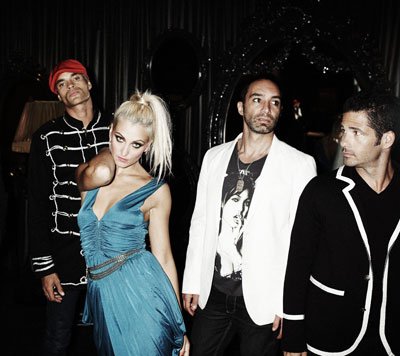 Interview with Lee Lee
Can you tell me about I Want You To Fly?
Lee Lee
: I Want You To Fly is our newest single it is a house-dance song, there are a few different mixes, the radio edition is the Sun-shining mix, with a summery kind of feel, it is doing okay in the ARIA Club Charts at the moment.
Describe Dirty Laundry's music?
Lee Lee
: I Want You To Fly has a great groove that is uplifting and makes you want to dance.
How does it feel to hear your new track all over the airwaves?
Lee Lee
: It is always exciting, this is our third ARIA Club Chart single, but it is always exciting and it always feels like the first time hearing the song on the radio.
What has Dirty Laundry been up to lately?
Lee Lee
: We have all been doing different things. Dean has been doing the George Michael tour and Pete has been doing dance stuff with the Black Eyed Peas, which is great. JJ Styles has been over in Miami at the music conference and travelling. I have been consulting on a fashion label; I've had a good year putting a couple of collections together, I've visited Hong Kong and China it has been really fun and I've learnt a lot. I always have a whole new wardrobe too!
What can an audience expect from a Dirty Laundry live experience and how do you ensure a Dirty Laundry show is action-packed?
Lee Lee
: We are freshening up our set with new mashes; it's going great, it's really good when you have new material.
We have percussion and sax as well as DJ's and then Pete and I who dance. Pete is amazing at dancing; he taught me some break-dancing moves. The whole show is full of energy and we like to get people up to dance with us. Sometimes we'll have live animation playing behind the set that the words pop up and people can sing along, it's really fun! We always have new, fresh tracks to showcase.
What is your inspiration behind the latest track, I Want You To Fly?
Lee Lee
: I personally am inspired by the beats, when I get given the tracks then I am inspired. Sometimes I think that songs are already written up there and you just channel them and they come out. Lots of different things, I try and keep visual things around me as well to draw from.
What music/artists do you listen to when you are not playing your own?
Lee Lee
: I listen to EVERYTHING! I like rock, pop, 70's, 80's and the 90's. I love listening to the radio, I just change the channels all the time for variation.
What/who was your inspiration to go into the music industry?
Lee Lee
: Probably Madonna in the 80's! I think I have always wanted to perform, I have a lot of friends also that are in this industry and I am always inspired by them, which helps.
What is the biggest challenge you have faced along the way to your musical success?
Lee Lee
: We have had sound difficulties, which is always a bit of a bummer. It's scary, even after a sound check sometimes it can fall apart and you have to almost pretend it's not happening or have a sense of humour about it.
What's a typical day like?
Lee Lee
: Now that I've moved to the Gold Coast, I love my beach runs, I'd rather workout outdoors than go to the gym. My days vary, if we're not travelling or touring, I am usually at home with my music, writing and working on new routines for the show. I love reading magazines and watching cooking shows.
What has been your favorite part of Dirty Laundry, so far?
Lee Lee
: I love touring, I love performing, and if I could do it forever I would. The best gig was when we played Kudeta in Bali, it was amazing! We did the White Party, it was huge and so beautiful, it is all outdoors. I love Byron Bay gigs and Festivals too.
If you could collaborate with another artist, who would it be?
Lee Lee
: Will.i.Am.
Do you have a website?
Lee Lee
:
www.dirtylaundry.com.au
What is the story behind the bands name?
Lee Lee
: I came in a bit later, I think they wanted two words that sounded great together and they were tossing a few things around and Dirty Laundry popped! It is memorable and it is familiar.