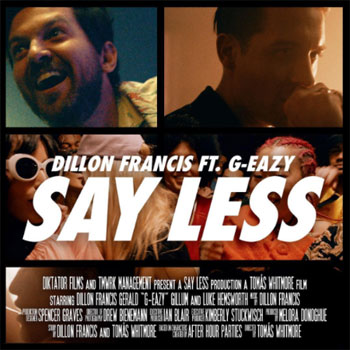 Dillon Franci Say Less ft. G-Eazy
Platinum-selling artist, DJ, and producer Dillon Francis today releases the music video for current single 'Say Less" featuring G-Eazy. The over-the-top video, directed by Francis' longtime collaborator Mr. Whitmore, was shot in Los Angeles and much like the song, chronicles a euphoric and raucous night out. The video stars Francis and G-Eazy and also features a special cameo by Australian actor Luke Hemsworth (Westworld).

'I'm really excited to share this with the world and having G-Eazy and Luke involved enhanced everything," said Francis. 'This is my fifth video with Tomas and I feel like each one keeps getting better and better."

G-Eazy added: 'I've known Dillon forever and it's always fun working with him. With this video, we wanted to do something out of the ordinary with a cinematic feel to it. I think the twist at the end really takes it to another level."

'Say Less" was originally released in April and is the first official release on Francis' own IDGAFOS record label. The song has received over 13 million streams to date and were followed up last month with official remixes by Gorgon City and Eptic.

IDGAFOS originated from Francis' 2011 song of the same name, which at the time, reflected the culmination of his signature musical productions. The term has since evolved into a rallying cry for all things Dillon Francis - his clothing line, epic live show, and now an outlet with which to release his new music. In his own words, IDGAFOS is "to be spirited and happy... to never give a fuck or shit about anything but remaining positive."

"Say Less" received its Australian live debut earlier this year at Groovin The Moo. Fresh from headline sets at Coachella, Dillon Francis' Australian tour received rave reviews for its mix of high energy EDM and Francis' undeniable on-stage charm.