David Burnham One Day Interview
David Burnham has released his first pop CD, One Day. He has teamed up with Los Angeles based record producer, Mark Vogel, to enter into the pop music arena. Eleven new recordings, plus a bonus track feature the incredible range of David Burnham's vocals, combined with hit pop musicians (Tim Pierce, Josh Freese) to create a truly unique sound. The CD features re-envisioned recordings of the classic pop songs "Bridge Over Troubled Water", and "Unchained Melody" as well as new songs co-written by Burnham.

Three of the recordings feature Camp Sing, a new music group in Southern California. Camp Sing is in developement to be a reality series that promotes new young singers, and Burnham stars as the host of the series.

Burnham has just returned from New York where he starred in The Best Is Yet T Come - The Music Of Cy Coleman. He is most known for starring as Fiyero in the Broadway production of "Wicked" having created the role in the original Los Angeles workshop productions. He was a member of the original Broadway cast of the 6-time Tony Award winning musical "The Light In The Piazza", performing on both the "Tony Awards" and the PBS telecast "Live From Lincoln Center". David was the recipient of the prestigious "Helen Hayes Award" for best actor as well as the best actor "Garland Award" for his portrayal of Fabrizio Nacarelli in the national tour of "The Light In The Piazza". David first gained critical acclaim when, after a two year search, he was chosen to replace Donny Osmond in the national tour of Andrew Lloyd Webber's "Joseph and the Amazing Technicolor Dreamcoat" (Dramalogue Award), and also toured the country as Peter in the national tour of "Jesus Christ Superstar" (opposite Ted Neeley).

Burnham's debut album, David Burnham, was his first release for LML Music in 2007, which sold nationwide. On film, David was the voice of the Prince in the Warner Bros. animated feature "The King & I", and can also be heard as "Willy" in Disney's "Home On The Range". Other recordings include the soundtracks to "Ghepetto", "The King & I", and "Home on the Range", "Strouse, Schwartz, & Schwartz", "Lerner, Loewe, and Lane".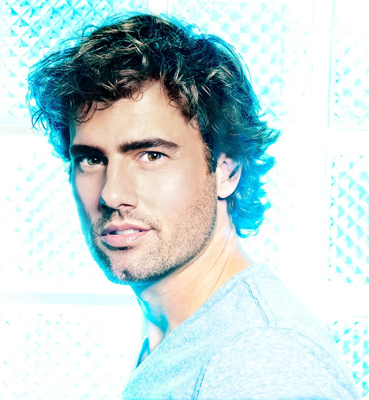 Interview with David Burnham
Question: How does it feel to hear your song played all over the airwaves?

David Burnham: The first time I ever heard my music on the radio, I was so excited I recorded it on my phone so I could relive the moment. It is thrilling!


Question: Did you have any pre-conceived ideas about the music industry?

David Burnham: I have always known that the music industry is a tough business, especially for independent recording artists. But it is also an industry that has changed so much within the past few years with the advent of the internet. People don't go to record stores as much to buy cd's, now they download them or get them online. You have to find new ways to get you and your music out there. Nowadays with YouTube and all the social media sites, an artist can make some waves even if they're not attached a big record label. You have to get as many people as possible to hear about you and your music.


Question: Do you write your own songs? What's your inspiration?

David Burnham: I co-wrote four songs on my new CD "One Day", with my record producer Mark Vogel, who is also an amazing composer and musician. When we write, we like to start with an idea for a song and then play around with it and explore until something starts to form. Sometimes it comes fast and sometimes it takes some time. I always have an idea about what I want to say and then we just let the song find it's own way. Sometimes it starts out as one thing and then ends up in a different place. For instance, the song "Three Little Words" began as "One Little Word" meaning "just say yes and go out with me", we eventually got to "Three Little Words" meaning "Just say I Love you" and it's a much stronger statement. It's fun to see where the song will lead you.


Question: What's next? Tour/Album/Single?

David Burnham: We're promoting the new CD and putting together a new concert tour all over the U.S. and Canada. My bigger goal is to take the show to Europe and eventually I'd love to play Australia!


Question: Was there a moment you contemplated throwing in the towel?

David Burnham: Show business is not easy. Everyday you put yourself out there and some people are gonna love what you do and other people are not. You have to develop a thick skin. Sure, there are moments when you think, it is all worth it? But when I'm on stage and I hear the applause or I'm in the studio singing a new song I just wrote, I realise I am so lucky and blessed to be doing what I love.


Question: Do you prefer performing live or recording?

David Burnham: I love both for different reasons. When I'm performing live there is an immediate exchange of energy between you and the audience that is so thrilling. We're on a crazy ride together and when you finish a song and the audience responds, it is such a rush. Recording is fun because to can do a song over and over until you get it just right. But the hard thing is knowing how people will react to the music when it's all done. You hope and pray that they like what you are doing.


Question: What/who was your inspiration to go into the music industry?

David Burnham: I didn't know I could sing until I was a junior in high school. I had wanted to get into wood shop, but it was full, and the only class that was available was choir. So reluctantly I went in and opened my mouth and found out I could sing. I had a great choir director named Dan Friberg and he took me under his wing and encouraged me to pursue music. I got a scholarship to study music at university and then started auditioning for anything and everything. I got my start doing musical theater and eventually got my big break when I was chosen to replace Donny Osmond as the lead role in Andrew Lloyd Webber's "Joseph and the Amazing Technicolor Dreamcoat". It was so much fun! I've gone on to starring roles in the national tour of "Jesus Christ Superstar" and the Broadway productions of "The Light In The Piazza" and the mega-hit musical "Wicked"(also creating the role of Fiyero in the original workshops.) I always knew that I wanted to recording artist and finally got the chance, when an investor approached me and said let's make a record! My self titled debut recording "David Burnham" was released in a few years ago for LML Music, and now I'm happy to say my new cd "ONE DAY" hits the shelves this month!


Question: What is the biggest challenge you have faced along the way to your musical success?

David Burnham: I guess you just have to keep at it. I try to keep making music that I love and hope other people will love it as well. When I feel like I'm not as far along in my career as I'd like to be, I just have to remind myself that I have to keep true to myself, make music that I'm passionate about and know that even if I'm not a huge star (yet) like Michael Buble or Josh Groban, I'm doing what I love and that's pretty cool.


Question: What's a typical day like?

David Burnham: There are no typical days for me:) I travel so much that when I get home, I just have to rest up for my next gig. My ideal typical day would be a day that I get to spend a little time outside maybe in the garden (I was brought up on a farm, so I love being outdoors.) Hanging out with friends and family, a nice meal, and then working on some new music.


Question: What has been your favourite part of becoming a music artist?

David Burnham: My biggest thrill is seeing my Dad's face when I perform. He has always been so proud and so supportive of me. And I know my Mom is looking down on me and smiling. We lost her to cancer a few years ago. But I'll never forget when I was 8 years old she gave me some great advice that I've always held onto, she said "David, whatever you do with your life, make sure you do what makes you happy". And you know what Mom?...I'm doing just that. The song "Fly Again" on my new cd is dedicated to my Mom, Joanie Burnham.


Question: If you could collaborate with another artist, who would it be?

David Burnham: I am really into Adele right now. She has an amazing voice and I love her music. I would LOVE to sing a duet with her.


Question: Do you have a website fans can visit?

David Burnham: I have a fan-run website www.davidburnham.com. A wonderful lady named Paulette Watson started following me and my career a few years ago and she asked if she could do a site for me, and she has been doing it ever since. I am so grateful for my amazing fans, they inspire me!


Question: Can you tell us 5 things required for a happy healthy & enjoyable life?

David Burnham: 1. Pursue your bliss. It doesn't have to be your full time job, but do something creative that you love.
2. Take time to relax. We must always take time to recharge our batteries, otherwise, we will run out of power when we really need it.
3. Spend time with your loved ones. Like the saying goes, "at the end of your life, no one ever says I wished I'd spent more time at work."
4. Treat your body with respect. I find if I eat right, get a good amount of sleep (I need 8 hours), and exercise, I always feel happier and better about myself.
5. Laugh. I think laughter is the best tonic.


Question: What message would you like to say to your fans?

David Burnham: Thank you to all my fans who have loved and supported me. Without people like you who actually listen to my music, I wouldn't have a career. I hope you enjoy the new album. It was recorded with love and I hope you can feel the love I have for you through my music. And to my new fans...welcome:) I look forward to getting to know you!


Interview by Brooke Hunter