Originally from Cortlandt Manor, New York, Both Danielle Larracuente's parents are of Puerto Rican descent and retired NYPD officers. At fifteen years old she, along with her mother, moved to Los Angeles, California to further pursue her goals and aspirations as an actress. While accomplishing so much in her career, Danielle took the time to earn her Cosmetology License as well as a B.S in Psychology from The University of Phoenix all while being a mother to her son, Benson.

Beautiful inside and out, Danielle landed her first commercial at only four years old, and has had an ongoing success in modeling and acting for over 2 decades. Becoming a Broadway star at only 9 years old, Danielle was cast as 'Young Nala' in 'The Lion King' on Broadway in 2009, which led to many opportunities like performing on "Saturday Night Live" with Jimmy Fallon and hosting a season of commercial breaks for the Women's National Basketball Association. Further credits include guest-starring on "ER", "Without A Trace", "NCIS", "Home Economics", and "Good Trouble" and having a recurring role on "Vida" in 2020. One of her most notable roles was acting alongside Melissa Joan Hart in the Christmas Movie" Mistletoe in Montana" in 2021. Now, the rising star is excited to make her mark in Bosch: Legacy and recurring role in the final season of This Is Us!

In her free time, Danielle enjoys Zumba, salsa, Pilates, yoga, kickboxing, boxing, and hiking. Also, Danielle is an advocate for women's empowerment, Latino charities, The Boys and Girls Club, civil rights, and many other causes. A driving factor for Danielle's aspirations for the future and beyond is to continue to bring a rising presence in TV & Film for the Latino community.
Interview with Danielle Larracuente
Question: Can you tell us about your role in Bosch: Legacy?

Danielle Larracuente: Sure. I play an LAPD officer named Paulina Calderon. I am what they call a "boot" or "rookie cop", fresh out of the police academy. I am a friend/ally to Maddie played by the talented actress Madison Lintz. My character is very interesting as she was inspired by an incredible actor named Paul Calderon. Recently, quite amazingly, I got to meet him on a different set! What an honor! Bosch airs May 6th on IMDB TV.


Question: What can you tell us about the casting process?

Danielle Larracuente: Well, from an actor's point of view, it is such a fluid business. The same reasons you get a certain role can also be the same reasons you don't. There is no right way to act. I whole heartily believe the casting process teaches you to stick to your authenticity more than anything. From my experiences, that is the only way you achieve success in acting. BE YOURSELF, STUDY, and LET GO!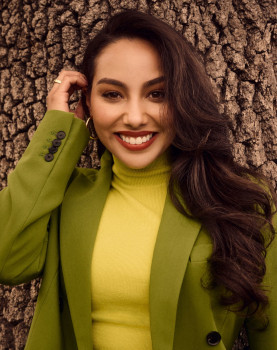 Question: What or who inspired your love of acting?

Danielle Larracuente: I believe I was always a storyteller and so fascinated with the camera, movies, and television. I remember as a little girl knowing in my soul that I was going to be on that screen one day. I would even imagine myself as that actor and practice their reactions in the mirror. One of my first movies where I was so enamored by an actress was Jennifer Lopez in "Selena". I wanted to be Jennifer Lopez so bad.


Question: What moment in your career stands out the most?

Danielle Larracuente: Well, I would have to say my "Comeback" in 2019. Even though I started as a child, I took a period off to concentrate on my studies and being a mom. When I decided to come back, I had to start from scratch. For instance, learning the new industry, self-taping, new faces in the casting offices, and refreshing my skills. I studied with 3 different acting coaches, hit acting workshops, and grabbed reps! The most rewarding moment was when I finally landed my first role back (2020), and I went in guns blazing and did my job. As I was walking to my trailer one of the writers stopped me and said we were all looking you up on google in the video village. I'm like really? She then explained because we all said there is no way she is a new actor, she is seasoned. I called my mom right after and said I'M BACK BABY! Long story short, if you want to go for it, it's NEVER TOO LATE, and you are capable!


Question: Did you always want to pursue a career in the entertainment industry?

Danielle Larracuente: ALWAYS! Even though there were times when I veered into different careers, my heart was always in entertainment. It is where I am the happiest and feel a sense of belonging.


Question: What's your favourite part of your job?

Danielle Larracuente: Yikes! It is hard to pick one! I will pick two. For one "the story!" I think that it is important for actors to not forget the story of their character as well as the overall story of the project. I think it is important not to get so wrapped up in the industry stuff, and what you think people want from you. We are all inspired to act initially by seeing a beautiful story that touched you or you identified with. These concepts are what keep me going, I dive into the character and the story and make it come to life. The second is that it is important to keep in mind the audience-who I touch and inspire. Just knowing I made a difference for someone else with my storytelling and performance is moving for me.


Question: What advice do you have for aspiring actors?

Danielle Larracuente: Yes!

1. Have faith! KEEP GOING!

2. Always make it a point to continually re-assess what you are doing in your career. Ask yourself how can I proactively improve in my career? For instance, working on your acting craft, learn more camera techniques, improve your business skills (updating reels, acting websites, etc), getting your social game on, or the biggest thing for me was knowing when to let go and trust the process?

3. Come from a knowing, confident place as there is no other YOU in the industry, and they are waiting to see you shine!

4. Lastly, my dad always says "This industry is like the DMV, you can't get out of line, or you will miss when they call your number. But they will call it!"


Question: What's a typical day like?

Danielle Larracuente: Ah! The ebb and flow of an actor's day! That's what I love about being an actor. At times it's 12-hour days on set, prepping for an audition or taping for an audition. There are also those class days, improving my skills on camera or on stage, and lots of self-care days. Lastly, my most precious days are spending time with my son and being a mom!


Question: What's next for you?

Danielle Larracuente: From here, I see myself continuing to work on exploring different roles for television, specifically, where the roles expand my range as an actress. I also see myself moving into the movie world and one day on the silver screen! I also really want to make an impact in the Latino community, specifically in the entertainment community. I want to especially focus on Latina moms because I feel like we need more of a presence in the entertainment community.


Interview by Gwen van Montfort