Honest New Single From Dana Gehrman
Reeling off the success of 'Hands Tied' genre-bending Brisbane artist Dana Gehrman is thrilled to finally reveal the entirety of her debut album Find A Way due for release on Wednesday 24 July. 'Find A Way' showcases the edgy blues Gehrman is known for with a mix of upbeat, rhythm heavy tracks, and ballads with unfaltering vocals. With the album spanning across a broad range of genres, standout singles have included 'Find A Way', 'Hands Tied' and now the soothing sounds of 'These Days'. In celebration, Gehrman will be launching Find A Way with a string of shows across her hometown of Brisbane at The Milk Factory and an instore performance at Phase 4 Records before travelling up to Eumundi at the Imperial Hotel and then down to NSW for the Echuca Blues Festival.

New single 'These Days' gives audiences an insight into Gehrman's wide stylistic scope with a gentler sound compared to the heavier rock of 'Hands Tied.' Gehrman's powerful vocals paired perfectly with the addition of Danny Widdicombe's slide guitar is reminiscent of a more traditional country twang, before completely reconstructing the concept of 'traditional country' for the remainder of the LP.

Stream // Download 'These Days' single + Find A Way Album

"These Days' is ultimately about being burnt out. When the daily grind keeps getting you down. Wondering if it's too late to make a change… but it's never too late. This song wasn't always going to make the cut for the album, but I'm glad it did as I really enjoy singing this one… and that slide guitar" – Dana Gehrman

Tracks such as 'Rogue Train (Rattle On By)', 'Grasshopper Ck' and 'Howling Wolves' give the album a gritter and darker sound as Gehrman delivers the vocals with a sense of attitude and sass. '24 Karat Rocker' is another Tom Petty-inspired rock out moment, while the album's title track 'Find A Way' and 'These Days' juxtapose the rocky songs as the albums slower ballads. Not to mention the funk infused addition of 'Hell or High Water' that abandons the cause for genre labelling.

After spending time on the road with Tim Rogers, Mick Thomas & the Roving Commission and The Wilson Pickers and opening for acts such as The Teskey Brothers, Sarah McLeod (The Superjesus), Phil Jamieson (Grinspoon) and more Gehrman is thrilled to take her debut album Find A Way to a live crowd for a string of headline shows in her home town of Brisbane and beyond. Earlier in the year, Gehrman teased her live performances to intimate crowds in both Melbourne and Brisbane for the 'Hands Tied' single launch. This time, Gehrman will be taking the stage all over Queensland, NSW, and Victoria.

Upcoming Dana Gehrman Shows:

Friday 26 July – Sunday 28 July
Echuca Blues Festival, NSW
Tickets available via winterblues.com.au/

Find A Way Album Tour

Saturday 10 August
Phase 4 Records instore, Brisbane, QLD
Free Entry

Saturday 17 August
Imperial Hotel, Emundi
Support: Ruby Gilbert
Tickets

Friday 6 September
The Milk Factory, Brisbane


Interview with Dana Gehrman
Question: What inspired the new song, These Days?

Dana Gehrman: This is one of my oldest songs to make it on to the album. It's about being burnt out, really. Being caught up in the daily grind. I'd been listening to a lot of alt. country rock stuff at the time… It was one of those songs that flowed…written within 10 minutes or so. That doesn't happen all that often.


Question: What can you tell us about Find A Way?

Dana Gehrman: This is my first album - wahoo! It's an up-beat, feel good record. I love a boogie and I love driving with the windows down, good tunes pumping… I'd hoped to put together songs that might lend themselves to one of these activities.

'Find A Way' was created with a little help from my friends… I had Brisbane Legend Danny Widdicombe lend his knowledge, and impeccable taste to co-write and co-produce the record. Yanto Browning, who I've worked with on all of my releases again engineered and mixed. Another good mate, David Orr also jumped on board for a couple co-writes and some guitar cameos alongside Danny's band The Honey Sliders – (Danny Widdicombe – Guitars and BV's, Chris Bosley - Bass , Ben Carstens – Drums & Dan Mansfield – Keys).

There's also vocal appearances by the wonderful Tim Rogers and Abbie Cardwell as well as a horn section! I'm lucky to work with so many talented folk!


Question: How would you describe your music?

Dana Gehrman: 70's West Coast inspired roots-boogie. The LP is a blend of genres drawing on influences from rock, soul, country and blues but leads back to my love of records from the 60's and 70's from artists such as Little Feat, Bonnie Raitt, Linda Ronstadt, The Allman brothers just to name a few…


Question: Which is your favourite song to perform live and why?

Dana Gehrman: I dig playing them all but Hands Tied and Howling Wolves are two tracks that really get me groovin' on stage.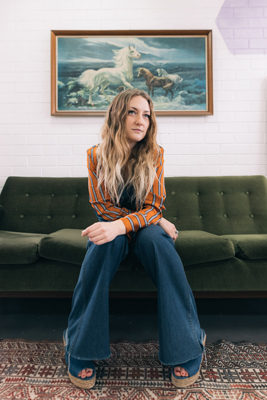 Question: What should we expect from your upcoming tour?

Dana Gehrman: A good time (laughs)! We recorded the album live as a full band so I'm really excited to re-create what we did with these songs in the studio as best we can on stage. There might be a few sneaky favourites by some other artists I love too and hopefully some guest appearances.


Question: If you could have anyone, in the world, attend a show, who would it be?

Dana Gehrman: If he was still with us, Lowell George – but I'd insist he got up and play slide guitar all over my tunes.


Question: Do you prefer performing live or recording?

Dana Gehrman: I love both. Either situation I get to create something with a group of great, likeminded people and that's one of the most rewarding experiences for me. They're both a helluva lotta fun!


Question: What motivates you most when writing music?

Dana Gehrman: A good groove, then the rest follows.

I guess generally I write from personal experience or observation but it's not always the case.


Question: Which music/artists are you currently listening to?

Dana Gehrman: The last album on my turntable was John Martyn's Solid Air. Danny (widdicombe) introduced me to this record a couple years back and it's become a solid favourite.


Question: What or who was your inspiration to go into the music industry?

Dana Gehrman: I'd have to say my parents record collection… hearing all those rock'n'roll guitars! From an early age I was always singing, dancing and yes, air-guitaring. There was no choice, I 'had' to do it. Seeing live music too as a young kid definitely got me inspired.


Question: If you could collaborate with another artist, who would it be?

Dana Gehrman: Bonnie Raitt, she's my hero.


Question: What's a typical day like?

Dana Gehrman: I won't lie; I do enjoy a sleep in.


Question: Can you share your socials?

Dana Gehrman: @danagehrman
Facebook
https://danagehrman.com/


Interview by Brooke Hunter