Most parents love helping their child to celebrate a birthday, but for many parents the pressure and expense of hosting a child's birthday party can all be a bit much. It can be difficult for some parents to ensure their child isn't disappointed if their party is not as extravagant as one of their friend's.
Samantha was part of the testing program for the You'll love Coles™ mini chocolate treat bags. After testing the products, she realised that the individually wrapped portions would be perfect for her daughter's Cleo's upcoming fourth birthday party. The mini chocolate treats were ideal for prizes and goody bags and were also excellent value for money. One of Samantha's concerns when planning the party was making sure that Cleo and her friends had a great time without spending a fortune.
"Some parents really go all out and spend thousands on an extravagant party. I didn't want to invest that kind of money in a party for four year olds, but I was a little creative and ended up hosting a party that the kids loved that didn't cost very much at all" Samantha said.
A little creativity is all you need to throw a great party. A few of the suggestions below can help you get started.
"Firstly, limit the number of kids. A cast of thousands isn't a recipe for a fun day and it will add significantly to the cost. A good rule of thumb is to invite as many guests as the child's age, plus one. "
If you're worried about hurting the feelings of the other children, be discrete about handing out invitations and ask the child's school if you can take in a birthday cake and some other treats to share so everyone feels included," Samantha said.
Next decide on a theme. A theme adds to the excitement and fun of the day and can make things easier to organise. "For younger children you can choose, but older children are likely to want to choose the theme themselves. To keep it memorable, put a list together of what you feel you can handle and let the birthday child choose from the list. Possible themes include the circus, the zoo, the child's favourite colour, football, music, trains or a princess party," Samantha suggests.
Once you are ready to send out invitations, you can either purchase pre-printed invitations or save money by using a computer to make customised invites at home. When setting the time and date, Samantha suggests that is it important to remember to pick a time suitable to the child's age group. "A party scheduled for sleep time for younger ones or clashing with a weekly sporting match is destined to end in tears. Once the invitations have gone out, leave a guest list by the phone so invitees can be easily recorded as they RSVP," Samantha advises.
Simple decorations can add to the fun. Using the theme, plan the decorations, entertainment and menu. Streamers, balloons and glitter are easy ways to decorate the party area and you can also add a few posters or pictures printed from the internet to suit the theme.
Another money saver is 'DIY' entertainment. Entertainment is an area where it is easy to spend a lot of money. While it would be great to hire the entire cast of Sesame Street to come and entertain the kids, this is a sure way to blow the budget.
"To keep the kids entertained, set up some craft activities suitable for their age group, such as fingerpainting, decorating princess crowns, or for the little ones, something as simple as blowing bubbles with bubble mix. For slightly older children, a few organised games such as 'pass the parcel' or 'pin the tail on the donkey' are ideal. A piƱata filled with individually wrapped treats is also a popular favourite!" Samantha suggests.
Samantha warns that it is important to be careful with the menu. "It is vital to check with other parents if any of the children attending have allergies. If a child attending has any serious allergies, make sure that these triggers are not part of the party menu to avoid any problems," she said.
Since it is good to try and make sure the kids eat something healthy as well as all of the usual goodies at a party, there are a few healthy homemade alternatives that will save parents money and leave some room for a few treats. Try these at your next party:·
Homemade sausage rolls with low-fat puff pastry - grate carrot and zucchini into the mix for extra goodness

Turkish bread, carrot and celery sticks with hommus and other dips

Pita pizzas - use pita bread as a base and top with sauce, fresh toppings including mushrooms, tomato, leg ham, rocket or pineapple and then sprinkle with grated cheese

Mini-burgers - make small hamburger patties with lean beef mince and then provide dinner rolls, salads, sauces and cheese for kids to put their own burger together

Melon shapes - use cookie cutters to cut out shapes from pieces of seedless watermelon, rockmelon or honeydew

When putting together goodie bags or prizes, it's easy to get creative. Samantha suggests using noodle boxes for something fun and different that the kids will love or for a simple, inexpensive solution, a brown paper bag tied with coloured ribbon. Fill them with coloured pencils, groovy erasers or inexpensive little toys. For Cleo, Samantha put a few individually wrapped treats, lollies and a balloon into the noodle boxes.

You'll love Coles™ mini chocolate treat bags are perfect for goody bags. Parents get better value by buying the multi portion bags and the individually wrapped portions make it easier to share. You'll love Coles™ mini chocolate treat bags are also perfect prizes for games or to enjoy during the fun.

In order to give mums the best value for money, the Coles team searched worldwide for the best chocolatiers to make the You'll love Coles™ mini chocolate treat bag range. The range, which includes classic everyday favourites such as Happy Rainbows, Chocolate Cherry Bites, Chocolate Wafer Breaks, Light and Whippy, Caramel Mighty and Nutty Nougat Caramel, was then tested by over 100 mums to ensure the highest quality.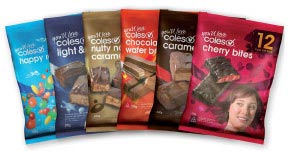 You'll love Coles™ Happy Rainbows, Chocolate Cherry Bites, Chocolate Wafer Breaks, Light and Whippy, Caramel Mighty and Nutty Nougat Caramel are now available from Coles stores nationally for RRP $2.99.