TRUE-BLUE AUSTRALIA DAY RECIPE IDEAS FROM COLES
Celebrate Australia Day with these light and fresh recipe ideas from Coles' summer magazine. Using the best of Australia's seasonal produce, Coles makes it easy to ensure family and friends have a great Australia Day.
From mouth watering prawns to a fresh raspberry salad, Coles' summer recipes are easy and cost effective to make.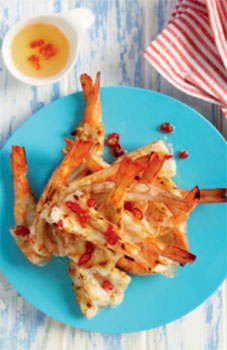 Barbecued split prawns
o SERVES 6
o PREP 20 MINS
o COOK 10 MINS
Ingredients:
1kg raw Australian banana prawns (from Coles deli)
Sauce:
¹/³ cup white sugar
¹/³ cup white vinegar
1 red chilli, finely chopped
1 tsp fish sauce
¼ cup lime juice
Instructions:
1. To prepare prawns, remove heads with a small knife. Trim legs with kitchen scissors. With a small, sharp knife split in half lengthways not quite all the way through. Remove intestinal tract. Lay prawn on a flat surface, shell side up. Using your fingers, press prawn flat.
2. To make Sauce, cook sugar and vinegar in a small saucepan for 5-7 mins until it forms a syrup, add chilli and cook for 3 mins. Remove from heat, add fish sauce and lime juice.
3. Preheat barbecue flat plate to high and cook prawns flesh side down for 2 mins, turn and cook for 1 min. Place onto a platter and drizzle with sauce.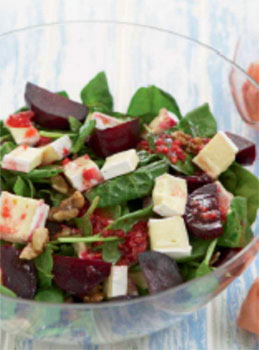 Beetroot, spinach and raspberry salad
o SERVES 6
o PREP 10 MINS
o COOK 60 MINS
Ingredients:
8 beetroot's, skin on (or 850g baby beets)
100g Coles spinach
125g You'll love Coles™ brie, chopped
¹/³ cup walnuts, roasted and chopped
Raspberry Dressing:
125g punnet fresh raspberries
¼ cup olive oil
2 tbsp white vinegar
1 tsp white sugar
Instructions:
1. Preheat barbecue to high (or oven to 200°C or 180°C fan). Wrap beetroot in foil and cook in covered barbecue (or oven) for 50-60 mins until tender.
2. Wearing gloves, peel and chop beetroot. Mix with spinach leaves, brie and walnuts.
3. To make Raspberry Dressing, combine ingredients in a small jug and whisk. Season to taste with sea salt and cracked pepper. Spoon over dressing to serve.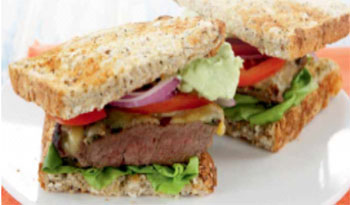 Herbed steak sandwich with avocado cream
o MAKES 6
o PREP 20 MINS
o COOK 10 MINS
Ingredients:
1kg beef rump steak, enough for six people
2 tbsp chopped basil
2 tbsp chopped parsley
2 tsp chopped thyme
¼ cup olive oil
sea salt and pepper
6 slices tasty cheese
12 slices multigrain bread
1 butter lettuce, leaves separated and washed
2 tomatoes, sliced
1 red onion, thinly sliced
Avocado cream:
2 avocados, flesh chopped
½ cup You'll love Coles™ lite sour cream with herb mixture
Instructions:
1. Flatten rump steak with a meat tenderiser, and cut into 6 pieces. Combine herbs with olive oil, sea salt and pepper. Brush steaks.
2. Heat barbecue flat plate to medium and cook steak, turning once, for 5-7 mins or until done to your liking. Place 1 slice of cheese on each steak. Remove from heat, cover with foil and allow to rest for 10 mins.
3. To make avocado cream, combine avocados with sour cream, season with pepper. Toast bread slices and stack sandwich with lettuce, steak, tomato, red onion and avocado cream.
Dressing:
Juice of 1 lime; sesame oil; soy sauce
Instructions:
Combine the ingredients, pour dressing over and serve at once.
For more delicious spring recipes, please visit www.coles.com.au.