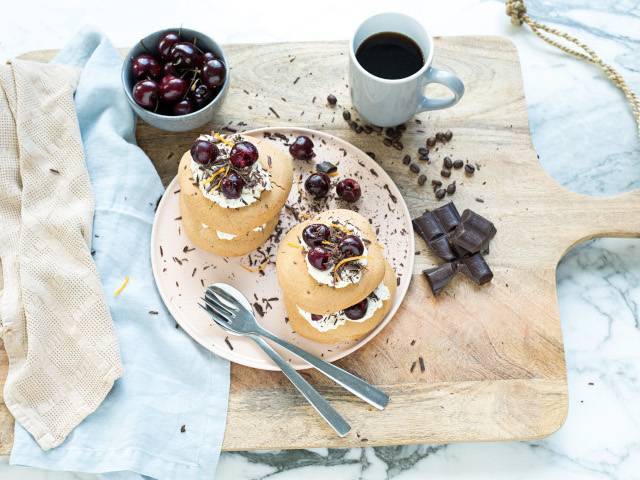 Coffee Meringues
Prep Time: 15 mins
Cook time: 45 mins (plus cooling time)
Serves: 4

Ingredients :
• 4 egg whites
• ½ tsp cream of tartar
• 1 tbs instant coffee granules
• ½ cup erythritol/stevia blend sweetener, plus approx. 1 tbs for ricotta cream
• 1 cup (260g) good quality ricotta
• Zest of an orange
• Juice of ½ orange
• 2 cups cherries
• 120g dark chocolate (at least 70% cocoa), grated

Method:
1. Preheat the oven to 110C.
2. Place the egg whites in mixer bowl and using the balloon whisk beat until frothy. Add the cream of tartar, coffee and sweetener. Beat until stiff peaks form.
3. Line two oven trays with baking paper. Take a spoonful of the egg mix and spread to form a disc on the baking paper. Repeat with the remaining egg mix to form either 8 larger discs or 12 smaller discs (depending on whether you want your final dessert to have two or three layers).
4. Bake for 45 minutes. Turn off the oven and slightly open the door leaving the trays in the oven. Leave to cool completely.
5. Gently peel the meringues off the paper and store in an airtight container until ready to eat. They will keep for up to three weeks.
6. Beat the ricotta with the orange zest, juice and sweetener. Pit the cherries. Spread a layer of ricotta cream on a meringue and dot with cherries and grated chocolate, top with another meringue and repeat the process, whether using two or three meringues per serve. End with the cream, cherries and grated chocolate on the top. Serve straight away.