Christmas Presents for your Pet
Every pet deserves to tear open something special with the rest of the family on Christmas morning.

Thanks to petstock's fabulous range of treats, toys and fashion accessories, all family members in your household will feel loved and cherished.

Play dress ups with bow-ties and reindeer antlers; choose from enticing toys like the gingerbread man and chase wand; or supplement Christmas lunch with tasty treats like edible crackers and treat stockings.

There's even a calendar to help the whole family count down to Christmas.

The following Christmas products, plus more, are available at any of petstock's 115+ stores Australia-wide. Visit petstock.com.au
Xmas Collar Decoration
Your small-to-medium pets will become even more adorable at Christmas when they sport this red, velvet bow-tie with sparkly polka dots by Doggone Gorgeous.
$6.99
Antlers Head Band
Everyone in the family will be fighting to try on these Doggone Gorgeous felt reindeer antlers, but they'll only fit small to medium canine and feline heads.
$6.99
Snuggle Buddy
No time is more lonely than Christmas night, when the food is gone and the guests have left. Make sure your favourite furry friend has a soft Doggone Gorgeous gingerbread friend to snuggle up with long into the evening.
$9.99
Kitty Shake N Chase Teaser
You and your favourite feline will have hours of fun with a Doggone Gorgeous Kitty Shake N Chase Teaser.
$4.99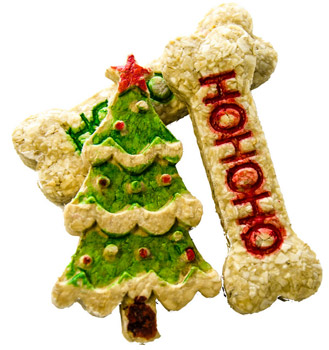 Doggy Treat Stocking
Make sure you hang Fido's stocking from the hearth alongside everyone else's this year. This Doggone Gorgeous Merry Treats Stocking is overflowing with tasty rawhide treats.
$9.99
Dog Treat Trio
The holiday season will become a busy time as your best buddy tries to gnaw through this Doggone Gorgeous Christmas rawhide treat pack.
$5.99
Rawhide Bon-bon
Tastier and guaranteed to last much longer than the bon bon you crack open over lunch, this Doggone Gorgeous Rawhide Bon-Bon will be a complete treat for your cherished pooch.
Small $3.49 and Large $6.99
Doggy Munchy Crunch Treats
Perfect for hours of canine delight, these Doggone Gorgeous Munchy Crunch Doggy Treats are made from rawhide bite size, bone shaped portions.
$6.99
Countdown to Christmas Calendar
No pet wants to forget Christmas, which is why the Doggone Gorgeous Count Down to Christmas Calendar filled with rawhide treats will help the whole family mark off the days leading to the big event!
$9.99