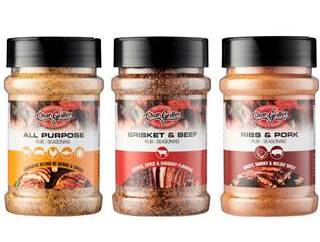 Char-Griller have just launched their new range of mouth-watering rubs that will enhance any BBQ experience.
The Rubs come in three flavours including; All Purpose Rub (RRP $12.95) a versatile unique blend of aromatic herbs and spices that is perfect for grilling and low 'n' slow style BBQing that complements all dishes. Brisket and Beef Rub (RRP $12.95) perfect for the red meat lover! This peppery and mildly spicy blend is ideal for application onto beef brisket and tomahawk steaks. The Ribs and Pork Rub (RRP $12.95) is a well-balanced sweet, smoky and mildly spiced aromatic blend perfect for those low 'n' slow rib enthusiasts.
Char-Griller BBQ Rubs are suitable for vegans and vegetarians and are free from genetically modified materials. The Brisket and Beef Rub and Ribs and Pork Rub are both gluten free.

Char-Griller BBQ Rubs are available from Bunnings stores nationally. For more information visit www.bunnings.com.au